Game of Thrones: Night before the war
The final season has officially begun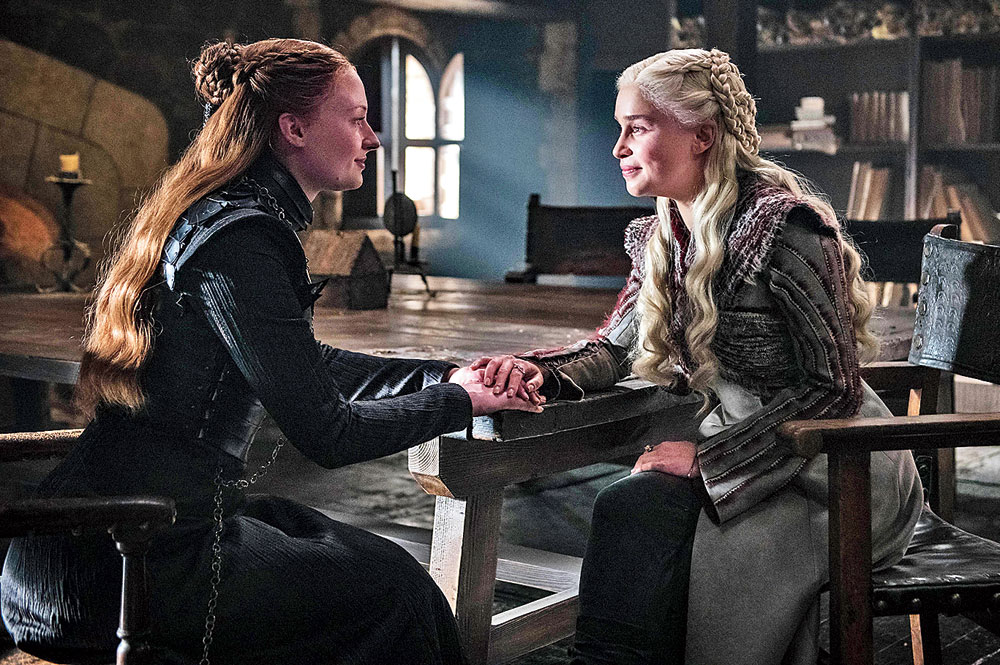 ---
---
The second episode of the eighth season of Game of Thrones packed in the power, passion and calm in the moments of panic that we fans are well versed with. 'A Knight of the Seven Kingdoms' had everything that a night before a battle should have — music, merry-making, poignant moments in the face of death, power struggle and sexual tension, of course. With spoilers galore, here is a look back at the most iconic moments that had us reeling and jumping on the 'overthinking' boat, from this week's episode.
The episode opens with Jaime standing in front of all the people he has wronged — Jon Snow, Daenerys Targaryen, Sansa Stark and Bran Stark. He swears to fight against the dead and reveals his sister Cersei's intentions of never sending an army. While the Starks unanimously agree to forgive him and move on, we get the first glimpse of an inwardly seething Dany, the strong and unmerciful leader who does not believe in forgiveness. She wants to punish the Kingslayer for her father, the mad king's death, despite knowing that it was well-deserved.
Jaime Lannister defends his past actions under the garb of providing protection to his house and family. The show again comes a full circle, as Bran mouths the same lines that was said in the first episode of the series when this very same Lannister had pushed him off a tower — "the things we do for love". This line is not only a throwback homage paid to the show's journey but also a defining moment for the next few episodes left to air. Also, 10 points to the tension in the look shared between Jaime and Brienne in this scene, as the latter vouched for the former, making us wish only impending deaths wasn't on our minds.
Arya Stark has evolved into a strong-willed warrior who gets what she wants, so much so that she appears to be a little cocky, almost making us miss the young, impish Arya. The sexual tension between her and Gendry finally reaches its culmination point but not until she has dragged her boss lady demeanour to bed as well. A little shocking for those still believing Arya to be the little girl with two plaits, her stripping naked and demanding sex before the war begins, could perhaps have been a little softer. "I am not the Red Woman. Take your own bloody pants off," she demands. Then again, no one is what they used to be any more.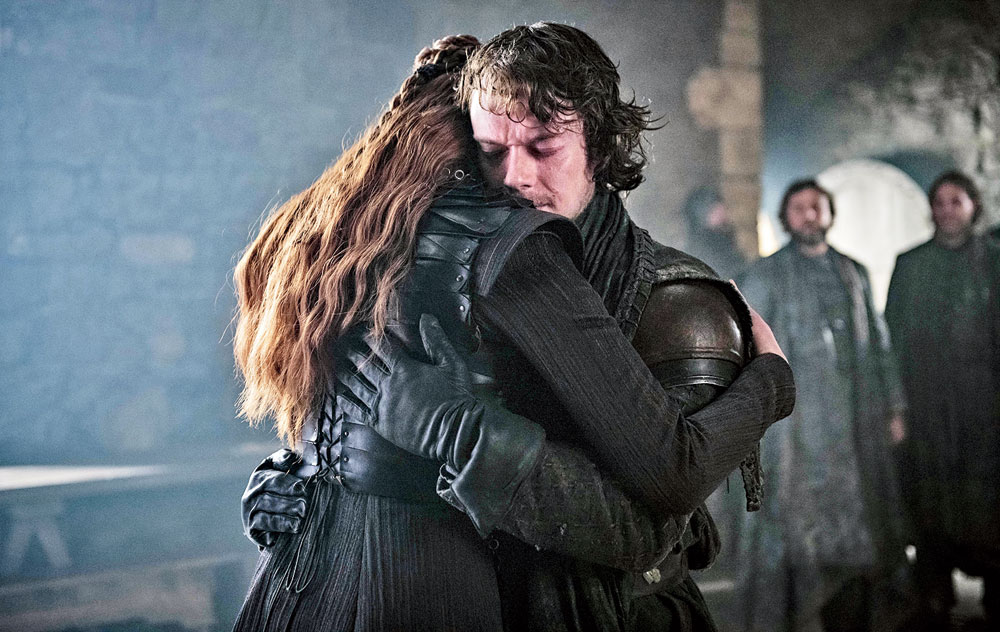 A minute of heavy breathing for the scene between Sansa Stark and Daenerys Targaryen that had the temperature drop from warm and fuzzy to colder than the Night King's heart in a matter of seconds. Sansa has evolved into the one female character who has the audience unanimously nodding their heads in approval. Also, someone give an award already to the power-dressing that has been going on between Sansa and Dany, with the former taking the cake with her leather corset in this episode. Costume supervisor Kate O'Farell and associate costume designers Alexander Fordham, Emma O'Loughlin and team sure got their brief right when they sat down to create these black vs white, Stark vs Targaryen outfits that grabbed our attention in this episode.
Ignored steadfastly by Jon Snow throughout the episode, we see more glimpses of an angry Dany, the bane of whose existence are people refusing to bend the knee. Sansa enquiring about the future of the North after the war, Tyrion and his inability to predict his sister being a traitor, or Jon Snow finally revealing himself as Aegon Targaryen — all evoke wrath from Daenerys. Will giving up her right to the iron throne to her romantic interest and nephew Jon Snow, be one of the 'things she does for love'?
Hours before war, a motley crowd inadvertently gathers around a fire — Jaime, Brienne, Tormund, Tyrion, Ser Davos and Podrick. Everybody in the room has fought against the Starks at some point in their lives and yet are now allies, observes Tyrion. In a moment of camaraderie, Jaime bestows knighthood upon Brienne and Podrick breaks into a song, thereby creating another poignant before-the-war moment as is familiar to fans.
Gwendoline Christie shines in this episode as her smile on being recognised as a warrior brightens up an otherwise morose episode where death is in the air. Kristofer Hivju and his comic timing also deserve a nod of appreciation. As Winterfell prepares for war and we prepare for an epic hour-and-a-half long, promised episode, one can only pray that this season is a continuous upward curve of excitement and devastation — a style us fans are most used to.