Tollywood's finest came together for Josh Bangla Creator Day, a star-studded event with an electrifying buzz of excitement, at Ozora. From the biggest names in the industry to budding stars, the night was filled with glamour, glitz and entertainment. It was a celebration of creativity, innovation, and collaboration.
"Every morning when I stand in front of the mirror, I try to get one more fan, that's my josh," said Prosenjit. "Cinema has its own charm, but today, social media platforms have given us the chance to showcase our talent to a larger audience. Earlier, we used to get letters, but now we have social media to connect with our fans. Earlier, there wasn't a platform like Josh, but now, they have so many platforms where they can create content." (From left) John, Rajdeep and Anindya Koushik Saha
Parambrata Chattopadhyay looked effortlessly stylish and cool in a T-shirt and joggers. The combination of the two created a casual yet fashionable look that was perfect for any occasion.
"Content creation is something we all do, and with so many platforms out there now it's a great way to nurture creativity. Directors, producers and writers are the real creators, and what we're seeing on social media platforms like Josh, is that people are talented in many ways, which I love. I'm into fitness videos and I think it's essential to make the visuals look great and appealing for the audience to watch," said Arjun Chakrabarty. (From left) Anirban, Debchandrima and Neel Koushik Saha
"I love using Instagram," said Neel Bhattacharya, "I enjoy hopping onto trends. I enjoy editing videos more than shooting them, that is how my journey started, and I have a bigger motive — I want to become a director in future," said Neel, electric in his neon green jacket!
John Bhattacharya looked effortlessly stylish in a white jacket and black jeans. He was the perfect balance of casual and dapper and certainly stood out in the crowd. John said: "Social media is a great way to connect with your fans, and creating content is a great way to show your talent on platforms like Instagram, Facebook, and Twitter, which almost everyone is present on these days."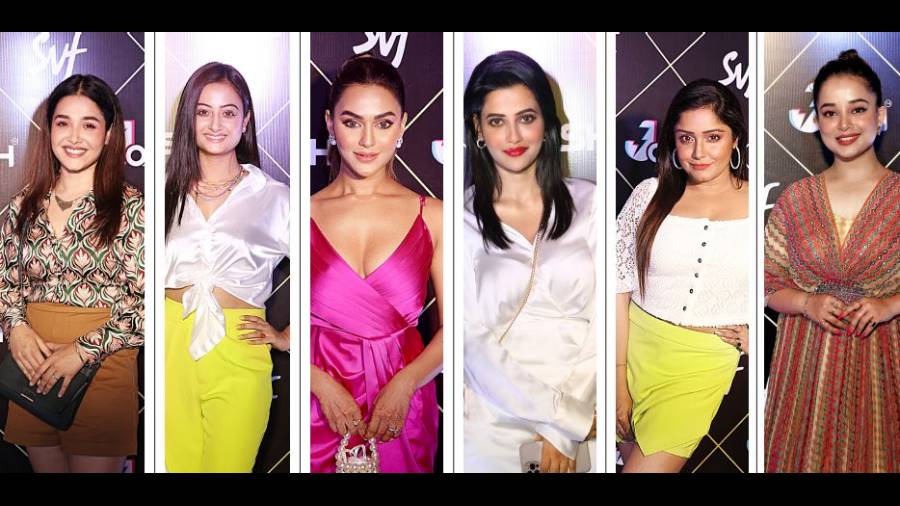 (From left) Roshni, Tonni, Nusraat, Ushasi, Sayantani, Priyanka Koushik Saha
"Expressing creativity in one way or another... that is how we all are interrelated. I am really happy to be a part of Josh's family and it's unbelievable to see the amount of talent showcased on social media now. Thank you so much for making Habibi such a huge hit in West Bengal," said Nusraat Faria who looked absolutely stunning in her pink maxi dress with a high ponytail.
Rajdeep Gupta had a cool, edgy look with a white jacket layered above a black T-shirt. To complete the look, he added a white cap that matched the jacket perfectly, making it the perfect casual yet stylish ensemble.
Debchandrima Singha Roy looked absolutely stunning in her bodycon black dress. Her makeup was kept minimal yet effective, with a nude flush that gave her a radiant and glowing look. Her hair was elegantly styled, which perfectly complemented the outfit. All in all, she was a vision in black, exuding a classic and timeless beauty.
Tonni Laha Roy's electric style and overwhelming love from her fans earned her the Most Liked Creator Award. She looked radiant, dressed in a striking combination of neon green pants and a white satin shirt. Priyanka Bhattacharjee made a stunning appearance in an embellished maxi gown, turning heads and making her the showstopper of the night. "I love the creative freedom that comes with making videos, and is a great way to relax and unwind," she said as she posed for us.