From an acting coach to an actor
Saurabh Sachdeva on being an actor, not teacher, in his OTT outing Taish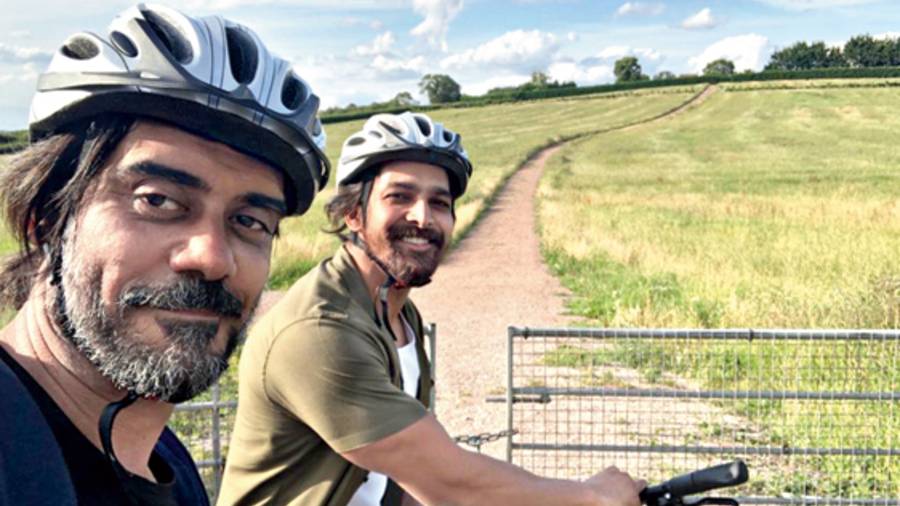 Saurabh Sachdeva (left) with Harshvardhan Rane on a cycling trip in Cheltenham, in the UK, while shooting for Taish, now streaming on Zee5
Sourced by the correspondent
---
Published 24.11.20, 12:08 AM
|
---
What happens when an acting coach turns to acting, and that too with his student in the frame? The Telegraph finds out from Saurabh Sachdeva — best known for playing Suleiman Isa in Sacred Games 1 and 2 — who is being seen in Bejoy Nambiar's thriller Taish, released as both film and web series on Zee5, where he is playing second fiddle to Telugu film industry star Harshvardhan Rane who trained in his acting school. Sachdeva, who has coached Varun Dhawan and Arjun Kapoor among others, has also played pivotal roles in films like Manmarziyaan and Laal Kaptaan.
Taish (starring Pulkit Samrat, Jim Sarbh and Rane) is streaming now. Is the excitement the same as in case of a theatrical release?
The film was made for the big screen. We were all thinking it will release in theatres and we will be looking at ourselves on the big screen. But most will see us on the mobile now. That difference is there. Bejoy Nambiar shot the film the way he did as he wanted it to be seen on the big screen. That's a pity. But now the situation is like that. Thank god, we have a release and everyone can see it.
What is Taish about?
It is a revenge drama. We shot it last year in Birmingham and London. The film is on two families. One family is celebrating a wedding where a member of a UK-based gangster family comes. Things from the past start revealing themselves and the marriage turns into a revenge drama. There is a beautiful love story woven into both sides of the families.
You were not sure about accepting the role initially, right?
I was a bit sceptical. When Bejoy narrated the script, I wondered about my screen time and whether I would be able to express myself in a big cast. Bejoy assured me that none of my part would be cut out. Bejoy is a great director. I heard he gives space to his actors. Then I agreed.
In the story, you are working for Harshvardhan, who has been to your acting school. How was the experience of sharing frame with a student?
Harsh has always respected me as teacher. For the film, I needed to change that chemistry as I needed to listen to him. He is handling the business and my character follows his command. In London, whatever he used to suggest off the sets — "Let's go out" or "Let's go for dinner" — I deliberately agreed to in order to build that chemistry.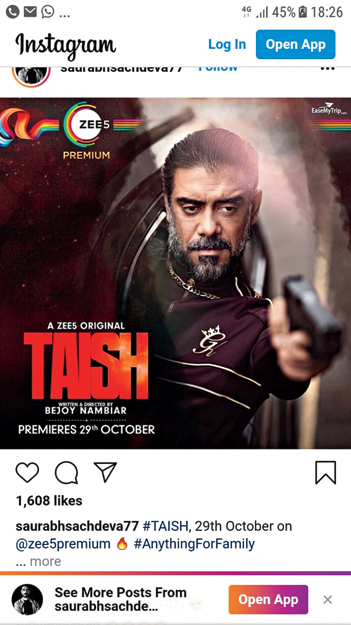 Did you have to train your mind not to react to his shots as his teacher?
That has always been important. Even when I was doing plays with my students under Barry (John) sir's direction, then also I had to switch my mind off as a teacher. When I am acting if I am not reacting as a character, then I will not be connected to the play and will be criticising them instead. That is why Harsh was feeling free with me and both of us were improvising.
You mentioned going out for dinner with Harsh. You also posted a picture of the two of you cycling.
Yes. I am an introvert. I would sit in my room and read books. Harsh is outgoing. He wants to see the city. He calls me senior. When he said, "Senior, let's go", I had to say yes. For two or three days, we rented cycles and explored the city.
You have also done a film for Zee 5 — Raat Baaki Hai.
Yes, that is a thriller. I have done a small but important role. It has not released yet. It was shot in Rajasthan in September.
How did you spend the lockdown?
It was a rollercoaster ride. I was shooting for a series and then suddenly everything stopped. Then my health suffered because of acidity problems. I was worried about the well-being of my parents who were away from me in Delhi. I was wondering what could lift me up and I realised it was teaching. I started sending audio exercises to my ex-students every day. We met over a Zoom call to take their feedback. So I started online classes. That helped me and my team and gave my students something to do.
Was Gwalior the series for which shooting was stopped due to lockdown?
That also has a strong cast with Sanjay Mishra and Neena Gupta.
Yes. But they have not kept the title. I am still waiting when we are going to work on that. It has a beautiful story.
How did you end up being an acting coach in Barry John's institute?
My education was not good. I was failing in all classes as I was dyslexic. I joined Barry John's institute as I wanted to be an actor so I could get famous quickly. My girlfriend was leaving me and I wanted to show her. Barry was not a typical teacher. He sat on the floor with us. He made us speak and took notes. He made me take part in activities that made me express myself through my body. I was an introvert before. After a year, he asked me if I wanted to teach. For the last 19 years, I have been a teacher.
Among your students, who do you have the most regard for?
Everyone has his plus point. Varun (Dhawan) has his energy, Arjun (Kapoor) has his intelligence. Harsh is very raw and committed. Richa Chadha is bright and understood things fast. All of them have a go-getter attitude and this obsession to get where they want to reach gives them the drive to work on their body, their voice, on their self…
At what stage did you decide to focus on acting?
I was acting in theatre all along with Barry, and directing also. In 2017, I started my own school. He was moving to Dharamshala. I wanted to start making film and I needed money. The Actor's Truth earned a name over the last four years. One day, I got a call from Mukesh Chhabra's office, asking if I wanted to audition for Sacred Games. I got selected as Sulaiman Isa. While we were shooting, Anurag asked me if I knew Punjabi. I said yes, I know a bit. So we went to Punjab to shoot for Manmarziyaan. Then I started getting more offers.
Sulaiman Isa must have been the turning point in your career.
Yes. That character was not difficult for me to play as I am somewhat like that. I don't talk much and am an introvert. But Manmarziyaan was difficult for me. I don't talk or walk like that. He is a marriage broker, he has an eye for money, he limps… Taish was also difficult.
What advice would you give budding actors now?
There is a lot to do. If you are sitting at home, work on your tool — your tool is your body, your movement, your voice, your emotional range… riyaz has to happen every day. An actor can become lazy. In dancing class, a student dances most of the time. In acting class, they talk about acting. Also, an actor needs to be cultured. You need to know about world music, world cinema, painting, poetry, travel… that is very important. Art inspires art.
5 picks by an acting coach
⚫ American Beauty
⚫ Dancer in the Dark
⚫ Paan Singh Tomar
⚫ Do Bigha Zameen
⚫ Pather Panchali