Freewheeling chat with Vivek Gomber
From starring in Sir and A Suitable Boy to producing The Disciple, the actor is having a good run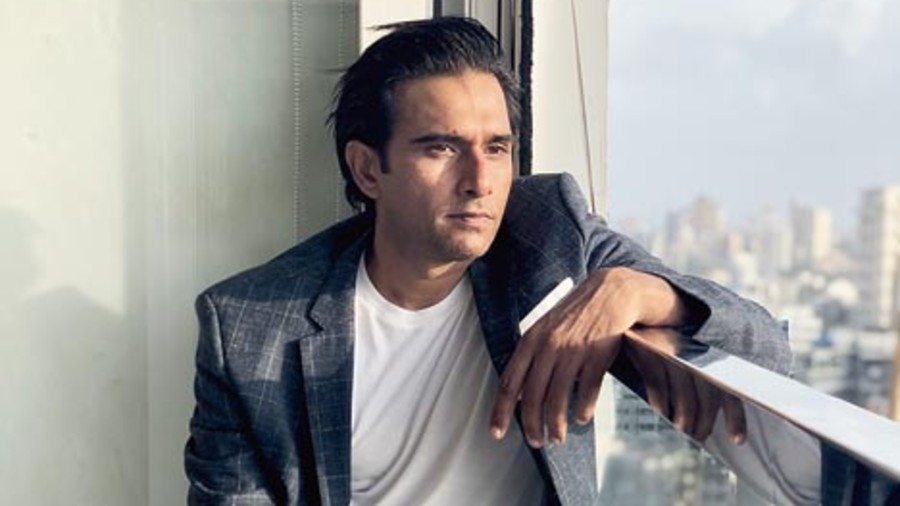 Vivek Gomber
Image courtesy: Jim Sarbh/ Zoo Entertainment
---
Published 25.01.21, 12:47 AM
|
---
Close to two decades ago, Vivek Gomber travelled from Singapore to Mumbai to try his luck as an actor. It's been a struggle for the most part, but apart from his sporadic acting roles, Gomber is the man who has put money and muscle behind prodigious film-maker Chaitanya Tamhane's highly-acclaimed films Court (he also acted in the film) and The Disciple, which won the FIPRESCI International Critics Prize at the Venice International Film Festival last year.
Even as an actor, Gomber, 41, is now having a good run. After playing Arun Mehra in Mira Nair's A Suitable Boy, he stars as the male lead in Rohena Gera's Sir, alongside Tillotama Shome, which is creating waves on Netflix. We caught up for a freewheeling chat.
Sir has been unanimously hailed as one of the best films of 2020 and it's at the top of the charts ever since it dropped on Netflix earlier this month. What's been the best thing anyone's told you about the film?
People have liked the chemistry between me and Tillotama (Shome) and they have also liked the subtlety of the performances. I think because of the times we are in and the year that people have had, everyone likes the idea of love... a Cinderella story... those kind of words have come up. People are finding my character Ashwin really nice, sweet and considerate.... At least, that's what Tillotama and Rohena have told me because I am not on social media, apart from Facebook. They get a lot of messages and they tell me.
Over the last two-and-a-half years that the film has been doing the rounds of festivals, Tilly's (Tillotama) performance as Ratna has been unanimously praised. And I completely agree because she was one of the reasons I wanted to do the film. The chance to play the lead, working with Tilly and to do a romantic film were my reasons to sign on. They are a lot of requests to Rohena to make a sequel because people want to know what would realistically happen to Ashwin and Ratna. As long as people watch your film and end up wanting more, what else do you need?
Was it disappointing that the film first opted for a theatrical release last November before arriving on Netflix?
Well, disappointment depends on what your standards are and what kind of films you do (laughs). Rohena was very clear from Day One that she wanted to release it in Indian theatres. We had a great start at Cannes and it did really well at the French box office. The film ended up releasing in 23 countries. Before the lockdown happened, the film was supposed to release in India in March last year. We were already gearing up for that. When the lockdown happened, I felt really bad for Rohena because she has been fighting for this film for a very long time.
When they decided to release it after the lockdown, I was shocked. But whoever made that call, I am grateful because I know people did go and catch it in the theatres. Out of all of this, we've just come up with a nice joke... Tillotama Shome and Vivek Gomber had a Diwali theatrical release! (Laughs) It took a lockdown for that to happen, but down the road, we can make jokes about it and put it on our CV (laughs). And now, it's made its own space on Netflix. So much content drops on Netflix every week, it's not easy to stand out. But Sir has.
Are you in any way like Ashwin? A lot of women who have watched Sir would want to believe that you are...
(Laughs) Rohena wanted Ashwin to look a certain way and I stepped up and did that. I believe people are liking that (laughs). I don't know whether I am like Ashwin or not. I grew up in south-east Asia and in those homes, people do have a relationship with their maids... they practically raise you. Of course, it's a very different relationship in the film. It's hard for me to answer that question because Ashwin is such a nice guy... it will be weird for me to say, 'Ya, ya I am like him!' (Laughs) It sounds so wrong. You should ask Rohena and Tilly. But I think my cynicism about love and society would not make me so brave as Ashwin kind of is. It's nice to dream and fantasise about love... who doesn't love love?
You had A Suitable Boy just before this. It's been a long wait for meaty parts, but do you feel you are getting your due credit now?
The simple answer would be 'yes' because all the work is coming out at once. I think it's just the benefit of sticking around and giving auditions. Anyone who loves the craft will always say that the key is to stick around and eventually the projects will come.
Thanks to OTT platforms, I am grateful that I am now in this position that all this work is happening. I am grateful that Mira (Nair) trusted me to be part of such a huge ensemble like A Suitable Boy. We will see, a year from now, if there is a shift and if I am getting more roles. I do have Bombay Begums (directed by Alankrita Shrivastava and co-starring Pooja Bhatt and Shahana Goswami) out on Netflix next. I may have a lull again and not have much work for the next five years, but I am hoping that 10 years from now, I will still be auditioning.
A lot of things have to fall into place... you think you've done a great job but the film doesn't see the light of day or the part doesn't turn out the way you thought it would and all that time is gone... it's all part of the learning curve, I guess. I am not on social media, I don't have a PR team, so only work can get me more work. But I am very grateful that so much is happening now.
Have there been days when you have regretted choosing this career?
Yes, lots of days! (Laughs) I fought with my parents to be an actor. Even when I was training, my teachers would say, 'This is great, but understand that the world is not very kind outside'. But in your head, you think you are the best thing to happen since sliced bread (laughs). I came to Bombay thinking like that and it took me a long time to settle into the city and make peace with it. I hadn't grown up here, so I had to understand the city to be able to portray characters living in the city.
Court (2014) was lauded all over the world, it got a National Award, it won at major film festivals, it went to the Oscars... I both produced and acted in it, and I expected something to come out of it. But barring a few auditions, nothing happened, and that really hurt. But I got out of it, I went back to theatre and then work started coming in. But there have been a lot of dark days. I am happy I have some good friends, especially someone like Chaitanya (Tamhane) who is both a creative collaborator and a friend.
The Disciple, which you produced and Chaitanya directed, winning the FIPRESCI International Critics Prize at the Venice International Film Festival last year must have been very special...
We were there for the world premiere of the film, but had to fly back because of Covid rules. For us, the win was to be at the festival and see the film on the big screen. Just to have Cate Blanchett and the whole jury sitting with us was special. But then we came back and our DoP Michal (Sobocinski) is from Poland, so he went over to collect the award. It felt great. It was bittersweet because we weren't there, but the film was there. Cate told Michal to tell the team that they really enjoyed watching the film. It was quite special and surreal. If we were there, we would have probably celebrated with a glass of champagne. But we will take the victories while we can, especially in a year where our friends and people in the community have had so much trouble... work getting stuck, people not getting paid.... Such kind of wins shine more light on independent cinema and it helps all of us.
What's the road ahead as a producer?
As a producer, I am done. It's very tough. You end up putting in your own money and the kind of films I make, there is no institutional funding in the country. Whatever money I had, I put into these two films and now I have to work a lot harder to make it back. When I started producing Court, I had no idea what a producer does... I learnt on the job. The Disciple was also a tough film to make. I am going to take a pause as producer and concentrate on my acting. But I may just get tempted again, especially with Chaitanya's scripts. Even after Court, I had said I am done... but I came back (laughs).