Four much fun
Team Mayurakshi — Prosenjit, Indrani, Gargee and Sudipta — get into the festive mood at Flurys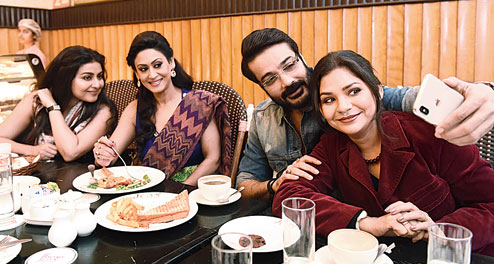 ---
Published 26.12.17, 12:00 AM
|
---
A dip in the temperature means Christmas, New Year parties, movies and a visit to Flurys. Team Mayurakshi — Prosenjit, Gargee Roychowdhury, Indrani Halder and Sudipta Chakraborty — got together for a t2 chat at Flurys on Sunday over Grilled Fish Meuniere, cheese omelette, sandwiches, tea and coffee.
FUN at FLURYS
Prosenjit: My connect with Flurys goes back a long way. My dadamoshai would take out three-four cars on Sundays, and we would all get in…. the cars were full of his naati-naatnis. Every Sunday we would come to Flurys for breakfast. It was a must. And then we would go to New Empire or Globe to catch a film. And then he would treat us to Nizam's rolls. After that we would have something in the evening and go back home.
Sudipta: I love the cheese omelette and coffee here. Also, I get really excited if I get goodies in a Flurys packet. Earlier, I used to look forward to a Music World visit whenever I would drop by Flurys. Now I miss Music World.
It looks like time has come to a standstill in Flurys. It is really nice... everything doesn't have to change always. Flurys means getting together with friends who have come down from abroad.
Gargee: I came to Flurys for the first time with my mother. It was a treat from my mother after I scored well in exams. I used to love having cake, and a Flurys cake came as a gift whenever I did well in exams.
And now I feel Flurys works like a lucky charm for me. A work meeting goes off really well if we have it in Flurys. I love the cheese omelette and these cups with Flurys written on it. Today, I ordered Darjeeling tea without milk and sugar.
Indrani: I came here for the first time with my father. It was a ritual to pick up a cake from Flurys during Christmas. I am having grilled fish, and I am loving it. Their sandwiches are excellent. And Park Street is a hub of nostalgia. As a child, I would catch movies on Saturdays and Sundays at Globe or Metro. I was a Bruce Lee fan and would watch all his films.
Prosenjit: I have watched Enter The Dragon 13 times.
PROSENJIT ON SUDIPTA, INDRANI AND GARGEE
Sudipta would do great character roles
I met Sudipta for the first time on the sets of Kagojer Bou. And after many years, I got to share screen space with her in Mayurakshi.
Sudipta is someone who would do these great character roles. She became a brand and I feel that is very important for an actor. I have a lot of respect for her as an actor.
Indrani and I share a deep friendship
Our first film together was Mandira… and we had an intimate scene in it. She was a bit anxious… anyway I took care of the situation. After that I think I did around 25 films with Mamoni (Indrani). Indrani and I share this deep friendship… the moment I heard the script of Mayurakshi, I felt it would be great to have Mamoni on board. Our relationship on screen comes across as really fresh, and that happened because we share this great understanding. As an actress, I have great respect for her. We did this film called Daye Dayito which had Indrani and Rituparna Sengupta. While working on the film we got to know that both had won National Awards (for Dahan) and we celebrated.
Gargee went through this transformation
Gargee always had this aura about her. Our interaction started with these Artiste Forum meetings. I would call up a handful of senior members like Soumitrakaku (Chatterjee), Ranjitda (Mallick) to attend the meetings… apart from them, I had to also call Madam Gargee (laughs). Gargee has proved that one can be successful in films even after doing so well in television. She went through this transformation. She was really good in Meghnadbodh Rohoshyo.
PROSENJIT'S PICKS
WHAT THE GIRL GANG DISCOVERED ABOUT PROSENJIT
Indrani: I worked with him after many years. Earlier I had seen him be his fun self, laughing between shots. This time I noticed that he was not discussing anything else apart from Mayurakshi. He was completely focused on the film. He has his script on his mobile. He doesn't take any phone calls during the shoot. No phones.
Prosenjit: I have made it a habit… I call back. I check calls and texts at a certain time.
Indrani: Bumbada is so obedient on set. He listens to everything the director says. Bumbada has such a clear understanding with Atanu Ghosh. I have seen actors often questioning directors. Not him. He is so disciplined.
Sudipta: He used to make sure that he was on set before Soumitrajethu.
Indrani: He makes the other actors feel really comfortable.
Gargee: I observe him and try to learn from him. And he surrenders to the vision of the director.
Prosenjit: Mayurakshi is made up of moments.
Sudipta: It's a journey and you become a part of this journey.
Arindam Chatterjee. Pictures: B. Halder