Former model and actor Kelly Dorji on writing a book and living the slow life in Bhutan
'I have always been respectful and conscious of my heritage and culture'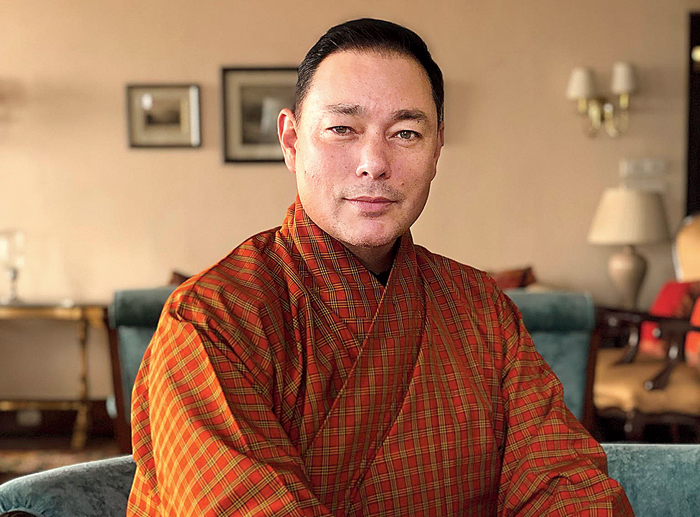 ---
---
Inthe late '90s and the early 2000s, Kelly Dorji was one of the biggest names in modelling and an integral part of the Indian fashion scene. The Bhutanese- born model transitioned into films in 2005 as the antagonist in Tango Charlie, with Ajay Devgn and Bobby Deol in the lead. Having acted in close to 30 films in multiple languages, Kelly moved to Bhutan a few years ago to establish his travel company, start an art gallery and co-direct the Mountain Echoes Literary Festival. The 48-year-old has now written and illustrated his first book called The Hidden Rainbow. The Telegraph chats.
What made you decide to both write and illustrate The Hidden Rainbow?
I was sitting with my literary agent Mita Kapur at a coffee shop in Bhutan and when I was telling her about the book, I made up the term 'spiritual fiction' and she liked it, sparking me to want to tell readers what the artworks meant to me. It then snowballed into a very brief and easy foundation to the canons of Buddhism, ritual practices and spiritual meaning.
Why did you decide to write about Buddhism?
As non-religious as I may have seemed in the past, I have always been respectful and conscious of my heritage and culture. I believe that the Buddhism that I grew up practising has always lent so much mysticism and appeal and yet offered me spiritual comfort. It took me three years to produce The Hidden Rainbow. It has been a beautiful journey.
What made you move from Mumbai back to Thimphu?
Working in south India, transitioning from Mumbai, I decided to just stop skipping about and base myself out of Bhutan, no matter what the effect on my career would be. Surprisingly, I started working more and after a two-year break to establish my businesses, I am looking at returning to some interesting work.
How much has life changed since you moved to Thimphu?
Mumbai is a boiling pot. It's alive and there is never a moment's rest! While I lived there, I made many friends. I have been blessed to have the love of some of the most wonderful people I ever met in my life from Mumbai. But my roots are here in Bhutan and I have blossomed into exactly what I aspired to becoming. I am with family every day and I get to do the little things that give me happiness, all at my slower pace. But since my mind has always been wild, I look for more ways to calm it and centre it. Perhaps I'll write another book or start a family with my wife!
Are you still in touch with former colleagues and friends in Mumbai?
There is a group chat that has all my modelling and fashion industry colleagues. We had a reunion in Delhi in January 2019 and it was great! Designers, models, businessmen and a nun! And I am also in touch with some of the people I got to meet along my career as an actor.
Give us a sense of what you are working on currently.
I have a travel company called Terton Travel Bhutan. We handle travel to Bhutan and with my personal care, I try and add more value by being there for my guests and also customising all itineraries. My art is my life. I am very much a part of the modern turn that the contemporary art scene has taken in Bhutan. I have a gallery in Thimphu where I welcome many guests and have quite a few parties. Her Majesty The Queen Mother inducted me as co-director of the Mountain Echoes literary festival that happens every August. I am honoured to serve in this position along with my co-director in keeping writing and books alive and relevant, in any form. We have also expanded to showcasing human libraries in science and arts as well.
In a recent interview, you've said that you don't want to act...
Actually, what I said was that I don't wish to act in very commercial-style cinema any more. I am reading a script or two and I am interested to find out what the opportunities are in TV dramas that Netflix etc are investing in. I have watched a few and they are good.
I hear you are writing a script. What kind of a film would you want to make?
I was writing a script till my mother came along one day and threw down a file of a story she wrote. It was fantastic! So yes, if I get my act together, I will make it in my language, Dzongkha. It's about a Bhutanese doctor working abroad who comes home to find frustration in work styles and love and eventually realisation.
Do you miss the adrenaline rush of facing the camera or telling a story?
Yes, I always miss adrenaline rushes that I feel in control of. I compensate by indulging in some hard endure-biking in the mountains. After a near fatal biking crash in 2013 when I went head-on with a vehicle whose driver was texting, I slowed down on the roads by bicycling a lot and now I prefer to ride specialised motorcycles in the forests and mountains. More danger and just another way to die perhaps, but I am happy to be alive!