For me, success is corruption and failure is learning: Arjun Kapoor
The actor is basking in praise that's coming in for his stereotype-breaking turn in Dibakar Banerjee's 'Sandeep Aur Pinky Faraar', now streaming on Amazon Prime Video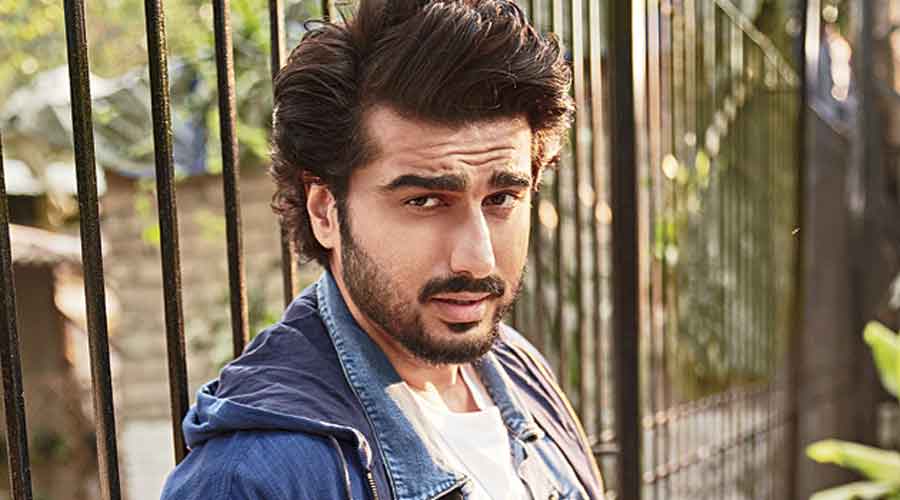 Arjun Kapoor.
The Telegraph
---
Published 26.06.21, 12:24 AM
|
---
It's his birthday today and Arjun Kapoor is basking in the huge praise that's coming in for his stereotype-breaking turn in Dibakar Banerjee's Sandeep Aur Pinky Faraar, now streaming on Amazon Prime Video. The Telegraph chat.
Congratulations for the unanimously positive response to Sandeep Aur Pinky Faraar. It simply reinforces the fact that films now have a life beyond a theatrical release. Do you agree with that, or do you feel the response to a theatrical release still supersedes everything else?
One really can't quantify these things in the middle of a pandemic. It's not a coherent time. I think it's unfair for me to say anything like this when a precedent has been set when one medium (movie theatres) is completely shut. In an extreme situation like this, an opportunity has risen where it looks like OTT is here to stay and it is going to dictate a lot of the content that is going to come in future, content which may not be as exciting theatrically in a pan-India format but would work perfectly on a streaming platform.
Theatres have existed in our country for decades, OTT is something that is new. One can't even compare OTT and TV today in terms of number of subscribers. While the gratification is more intimate with digital, the theatrical numbers make you feel like you are connecting with a broader spectrum of people. But I think both will co-exist rather than be subjected to an either/ or or one versus the other situation. That's my personal belief.
I am saying that just in terms of posterity, content on OTT has a longer shelf life...
Of course! Films last a week or two in theatres and maximum for four to six weeks if it's very good. With OTT, it's there for posterity. The advantage of having these platforms is that your work can speak much longer beyond a theatrical release.
What's the predominant nature of the feedback that's been coming your way, for the film in general and for your portrayal of Pinky, in particular?
When you get messages and calls from the likes of Javed Akhtar and David Dhawan and from Ranveer Singh to Ranbir Kapoor, then you know that you have hit the spot when it comes to people appreciating your film and your performance. The predominant reaction has been, 'Wow, what a film!' It's a film that forces you to think, to look at the layers and the nuances.... The film speaks about the Bharat vs India divide, the power structure, the gender dynamics.... People have been blown away by the fact that it's a very, very credible film.
The love that I have got for the climax has been huge. To be able to dance in character, for being able to hold on to my dialect and the persona.... The way my father (Boney Kapoor) has reacted to that scene... where I am clean-shaven, and where Parineeti (Chopra, who plays Sandeep) and I hold hands for the first time and talk and then I jump down into the crowd... my father said, 'I could see the vulnerability in Pinky's eyes'. He said he didn't see Arjun, he saw Pinky.
The fact that Pinky embraces his gender neutrality so seamlessly, and accepts himself for who he is, has been felt by people. I didn't want that to be caricaturish, and I am very glad that the audience has caught on to Pinky's emotion and his journey rather than his get-up.
Also that scene where I clean Parineeti after she has an incident, there's a certain sensitivity. Even when she's screaming, he holds on to her but he lets her scream. A lot of people have noticed the slightly animalistic way in which I have even eaten food in the film. Small things like that, even getting the dialect right. Also, how I danced in the song Faraar... it's just Pinky, there is no Arjun Kapoor in that.
All kinds of people have appreciated the film. It's not an art or a niche film, it's been appreciated by the biggest commercial minds out there. That just goes to show that as far as new-age cinema is concerned, the lines are increasingly getting blurred.
 
When we had spoken just before the film's theatrical release in March, you had said, 'Sandeep Aur Pinky Faraar is exactly the opposite of what people would want me to do at this stage of my career'. Do you think throwing a curveball at the viewer, deliberately or organically, has worked in terms of the huge praise that's coming your way?
It just happened, honestly. Even if I was throwing a curveball with this film, I wasn't doing it for the audience, I did it for myself. I wanted to test my capability as an actor. Image and star status sometimes come in the way of you breaking yourself down in front of the camera. I did that at a personal and intimate level, knowing that it could backfire. The fact that it hasn't backfired is because the director made a good film and the audience has been receptive to it.
I have always chosen to do roles that break the stereotype. I was launched in a Yash Raj film (Ishaqzaade), but even there, I didn't play the leather jacket-wearing, bike-riding hero... I was a small-town hooligan. I did a song-less thriller like Aurangzeb when my contemporaries were doing song-'n'-dance romantic films. When I did play a romantic role (in 2 States), I was a geeky guy wearing glasses.
Then I played a house husband (in Ki & Ka) when people said I should build an action image. And then I did an English film (Finding Fanny) with an ensemble cast in which I was the least successful and the least known among the lot. So I think I was always throwing curveballs, but maybe those were in a more commercial space. With Sandeep Aur Pinky Faraar, it's been a lot more personal.
Does the feedback to this performance embolden you to take up more roles that you are uncomfortable with?
I have never been uncomfortable. People are uncomfortable casting me. I have never been uncomfortable facing the side of my personality where I don't need to be the hero, per se. I don't like doing films where I am the end-all and be-all of the film. Sandeep Aur Pinky Faraar was interesting for me because it's a story of two equals colliding.
But I am perceived as a hero. People have this idea ki yeh Boney Kapoor ka beta hain, isne Yash Raj ki picture mein debut ki hain, yeh 2 States aur Half Girlfriend ki tarah romantic picture karta hain, isne Mubarakan aur Gunday ki hain... yeh commercial hero hain. My trappings have always been of a hero because of my physicality and my personality, but I have always played characters.
At this stage of your career, a decade in the business later, how do you respond to success and failure?
For me, success is corruption and failure is a learning. Success gives you power and a certain corruption comes in with power. I have seen success with my very first film and I saw failure also at very close quarters. The point is to be the same through success and failure, but it's the toughest thing. You just have to ride out the wave of going up and coming down. You have to be the same person through whatever you go through, personally and professionally. You have to stick to the basics and the core values that made you successful.
We are getting to see a leaner and fitter Arjun these days. What's the secret?
I have had a little more time to myself and to slow down. It's given me time to take a hard look at myself and look after myself because this is a profession I want to be in for many years. I did the same before my debut, but unfortunately, through the years, I worked so much that it took a toll on my health. I jumped from one film to another without pausing. Now I have realised I need to take some time out. I need to walk rather than run. I have paced my life better now.
You posted a lovely picture with your dad and your siblings on Father's Day, and then again one where you and your sister Anshula got similar tattoos. How much has your family contributed to the sensitivity and empathy that you have as a person today?
For many years, I didn't have the foundation of a family that was considered 'normal'. I have tried to make the best of a bad situation and have faced many hardships. And that's where my empathy as well as my understanding of life has come from. When you are dealt a hand which is not the nicest, you still have to play the game, right?
Then you realise that how much family matters because you need to rely on them, you need to lean on them. I am 36 today and I realise that it's more important to have family around you even more as you get older. My father and both my sisters (Janhavi and Khushi) have spent a lot of time with me over the last few years, and that's brought stability into my life.
Which is your favourite Arjun Kapoor role? Tell t2@abp.in