Flashback Friday: Kashmir Ki Kali
Kashmir, pure & pristine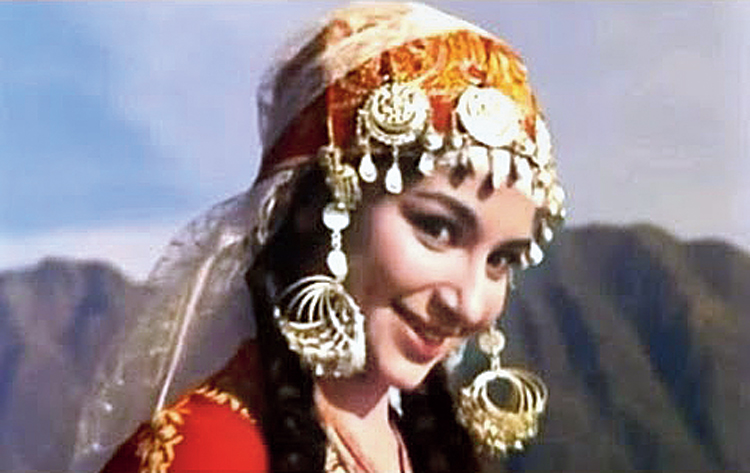 Sharmila Tagore in Kashmir Ki Kali
(YouTube grab)
---
Published 28.11.19, 05:50 PM
|
---
Dil aaj khushi se pagal hai...
One can well understand Rajiv's exuberance. Played with great gusto and ebullience by Shammi Kapoor, Rajiv is a wealthy, impulsive young man from the city who escapes stifling marriage proposals to spend a few carefree days in Kashmir. He chances upon Champa, a poor but beautiful flower girl (Sharmila Tagore blushes, dimples, rows a shikara and looks like a dream) and immediately falls in love. When he learns
that she, like most principled lasses of 1960s Bollywood, has a mysterious distaste
towards rich men, he pretends to be poor, which soon melts the girl's heart. Of course, local strongman Mohan (a snarling Pran) isn't pleased because he wants Champa for himself (can't fault with his taste). Champa's doting father (Nazir Hussain), who is blind and seems like a nice guy, has quite a few secrets of his own.
What could have been just a case of yet another rich-boy-poor-girl love story, or at best, a comedy of errors, becomes in director Shakti Samanta's adroit hands, a story packed with surprises and a whammy at the end.
Kashmir Ki Kali, which released in November 1964, remains 55 years young.
The film remains eminently watchable, thanks to its likeable young lead pair, competent cameos (Pran, Nazir Hussain, Anoop Kumar, Madan Puri…), a crackling story (Ranjan Bose), evergreen songs (almost all eight tracks composed by O.P. Nayyar retain their freshness, especially Yeh chand sa roshan chehra, Deewana hua badal and the dreamlike Isharon isharon mein, where Md Rafi and Asha Bhonsle capture the gossamer delicacy of first love, aided by S.H. Bihari's teasing lyrics) and some delectable cinematography (V.N. Reddy) that brings to life the iconic visual signposts of Kashmir which earn its heaven-on-earth tag.
But the film is more than the plethora of delights.
More than anything, it is India's eternal love story with Kashmir, misty, wistful, beautiful beyond measure. When Rajiv, the tycoon from the plains, is smitten by Champa, the kali (bud) of
the Valley, India falls pell-mell in love too, with the sumptuous feast for the senses named Kashmir.
Fifty-five years later, with the troubled Valley becoming a grim battleground and a metaphor for a muscular political ideology, Kashmir Ki Kali harks back to the more innocent times when beauty came without a price. Fifty years later, in Vishal Bhardwaj's Haider (2014), we see Kashmir again, but with bloodstains on snow.