Sudhir Mishra reflects on an OTT world in Satyajit Ray memorial lecture
Maker of films such as Hazaron Khwaishein Aisi, Dharavi and Chameli, was speaking on 'living in over-the-top times'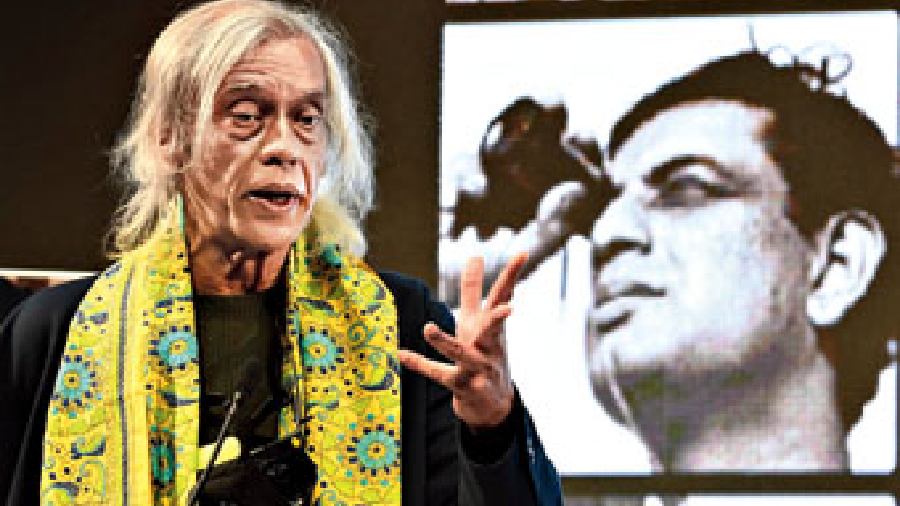 Sudhir Mishra delivers the Satyajit Ray Memorial Lecture during the Kolkata International Film Festival at Sisir Mancha
B. Halder
---
Published 03.01.23, 11:49 AM
|
---
How would Satyajit Ray have reacted in these times? That is a question that Sudhir Mishra put to himself while delivering the Satyajit Ray Memorial Lecture at Sisir Mancha as part of the 28th Kolkata International Film Festival last month.
The maker of films such as Hazaron Khwaishein Aisi, Dharavi and Chameli, was speaking on "living in over-the-top times".
"Today, there are over-the-top responses to everything. One of the problems of making films, especially in this era, is what you say and what is understood are two different things. For instance, Sanjay Leela Bhansali was one film-maker in Mumbai who I thought understood Indian culture, Indian music, Indian dance and was in the tradition of V. Shantaram. But it turned out that he is anti-Hindu so somebody beat him up," Mishra said with a sarcastic laugh, referring to the vandalism on the sets of Bhansali's Padmavat in 2017. "We are film-makers and we are only concerned with our craft. And I don't know how to respond to these times except to go back to my craft."
He imagined a young Satyajit Ray walking into an OTT office. "Would he have been allowed to make Pather Panchali? He was pretty persuasive and a genius. Still, it would have been tough. It is as if we cannot make films that have some dissonance, that pose questions, that provoke. But that is one of the purposes of film-making, right? If you are talking of independent film-making, we are in tough times."
Marvel & movies
Mishra called for a demarcation between films and "entertainment products". "Cinema seems to be going in different directions. There is this world of Marvel and the theatrical audience seems to be going for bigger films. There are many encumbrances for a theatrical release (for other kinds of films)."
He questioned why cinema should not be considered "a social act". "Cinema brings people together. Even the worst film entertains an audience for two hours. But from the government point of view, films are treated as bad habit, and taxed like alcohol!" Rather, he called for taxes from films to be ploughed back to films. "There should be a government fund to help film-makers with their first films."
With the theatrical audience becoming uncertain now and the price of putting a film in theatres rising, the art of the director is under threat. OTT, the other alternative, considers cinema to be content. "But cinema is a way of seeing. If OTT, or our times, do not see that and encourage that, a whole generation of young people will be lost. I hope OTT does not go into the realm of easy films. I hope it also encourages things that challenge. I know (Andrei) Tarkovsky (the Russian filmmaker) would be impossible for OTT and I don't know what they would say about (Jean-Luc) Godard. But if not for Godard, half of popular cinema would not exist. We would not know how to cut. If not for (Sergei Eisenstein's) Battleship Potemkin, where would editing be? I hope OTT encourages experimentation. If all sorts of filmmaking is allowed and all sorts of films are seen, then it will be interesting."
Onus on audience
Most OTT content, he pointed out, tend towards thrillers and suspense now. "There seems to be a carpet of tenseness on which to base everything. They say that if people don't watch the first episode, it's gone. Sometimes they are right. If one blames the studio, the producer or the platform, one is missing the point. In order for OTT to become the medium it can be, the audience must participate. Ray was able to do what he did because he had an audience in Bengal which saw his films. He was not a director who was popular only in Cannes! OTT too demands a loyal audience. And for films to survive in the age of OTT, it is also incumbent on the audience to make the medium self-reliant and not advertisement-dependant."
Mishra recalled wandering all across Bengal with Badal Sircar (the theatre icon). "He is the one who opened so many possibilities in my head."
In the last two years, Mishra has been busiest in recent times. He made a short film which is part of an anthology, also featuring works of Hansal Mehta, Ketan Mehta, Anubhav Sinha and Subhash Kapoor, which has "roughly to do with Covid" and a film called Afwaah with Nawazuddin Siddiqui (who had also starred in his Serious Men) and Bhumi Pednekar.
OTT, in his view, demands a skill set and stars are more of a handicap. "It is easy to make money and anybody with a skill set, he said, now has work but he warned everyone associated with the industry that it was also easy to get lost.
He referred to a letter Martin Scorsese wrote to his daughter, which can be found online. "Scorsese spoke of the rigour that comes from being rejected, from taking time to learn a skill. People are in too much hurry. If you write half a scene well you are a writer! It's a good time to make money but a lot of talent might get lost. One must have the ability to say no," he reminded the audience.