Faadu lead pair Saiyami Kher and Pavail Gulati talk love and relationships
Directed by Ashwini Iyer Tiwari and written by Saumya Joshi, the web series Faadu-A Love Story is streaming on Sony LIV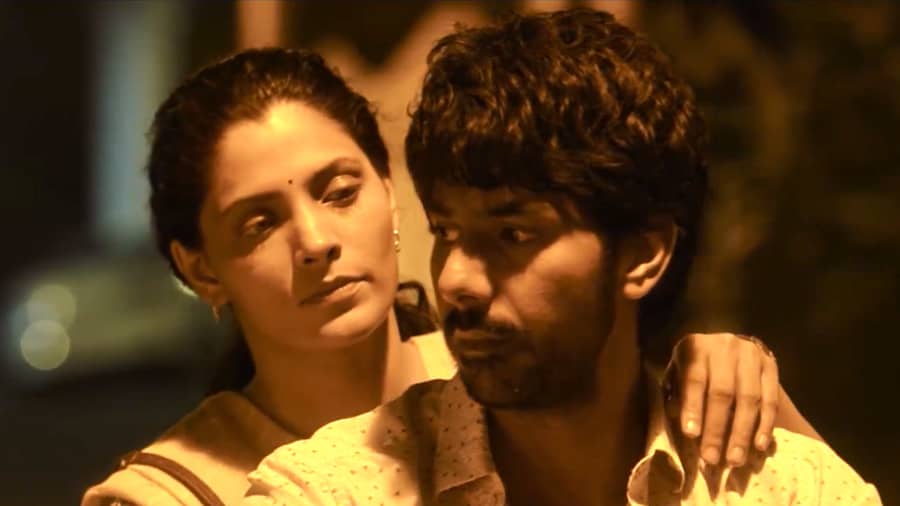 Saiyami Kher and Pavail Gulati in Sony LIV's Faadu
Instagram
---
Calcutta
|
Published 09.12.22, 09:40 AM
|
---
A good love story is really hard to come by these days. Saiyami Kher and Pavail Gulati  — the lead pair in the Sony LIV web series Faadu-A Love Story — nodded in agreement and stressed that love stories should only be 'faadu', meaning extraordinary. Saiyami, who stole our hearts in Choked, and Pavail, who made a mark with Thappad, has been directed by Ashwiny Iyer Tiwari in the web series written by Saumya Joshi. We spoke to Saiyami and Pavail about their ideas of love and Faadu. 
The Telegraph: Faadu means outstanding and extraordinary, which sounds fascinating. What intrigued you about it?
Saiyami Kher: Faadu is a clutter-breaker from what we are watching on the web, such as crime, murder and all the dark stuff. There is no Indian show like Faadu. In the short five to six years of my career, this is the most well-written script that I have read. There is so much layering in the writing, and the philosophy is real and refreshing. And Ashwiny (Iyer Tiwari) ma'am makes her female protagonists strong, so she was somebody I wanted to work with. I auditioned for my part and she liked it.
Pavail Gulati: I am a big fan of Ashwiny Iyer Tiwari's work. She was on my wish list for a long, long time and coincidentally the script is beautifully written. Ashwiny ma'am chooses the right script and I used to tell Anurag Kashyap sir that I want to work with Saiyami, so whatever I had manifested, happened in Faadu.
What was the process of becoming Manjiri and Abhay in Faadu?
Saiyami Kher: Ashwiny ma'am was more confident than I was. The first time she narrated it to me, I was with my parents at our farmhouse in Nasik. I had no make-up, no good clothes, so I wore a faded kurta. I apologised that I didn't have hair and makeup. So far, I have played characters who are very different from me in real life. I listen to RD Burman and Bhimsen Joshi. Manjiri follows poetry and I am a big Gulzar fan. I have a lot of commonalities with the character. Ashwini ma'am did a lot of readings and told me that less is more.
Pavail Gulati: I thought I couldn't do Abhay's part, but Ashwiny ma'am had seen my work in Thappad and she had faith. I questioned and bugged her a lot. I had no reference. We had to build my character from scratch such as how he talks and walks. We took time to get into it.
Well-made love stories aren't common these days…
Saiyami Kher: I always wonder why we are not making love stories because that is what quintessential Hindi films are about. I am a hardcore romantic film lover. Now everything is so fast-paced. We have become so impatient with relationships. Breakups happen on WhatsApp. Our generation has lost romance in life, which is so sad. We don't watch simple Hrishikesh Mukherjee kind of films today.
Pavail Gulati: People are not interested in cliche love stories, so we came up with a Faadu love story. (Smiles) There is no romance like Shah Rukh Khan does. Every film of his shows romance. I am a diehard Shah Rukh Khan fan.
What are your apprehensions about love? What do you look for in a relationship?
Saiyami Kher: All my close friends including Pavail tell me that I am like an 80-year-old woman. I feel like an old soul, and that's probably why I am single because I look at the romance that my grandparents had. Our generation is into ticking boxes and moving on quickly. The definition of relationships has changed. I haven't moved on with the changing times. I miss the old era.
Pavail Gulati: What I look for in a relationship is whether you can sit comfortably, quietly in a room with your partner. Sometimes, I don't want to talk but just sit peacefully.
A web series allows you to be with the character longer. Did that help you to build yours in Faadu?
Saiyami Kher: I immerse myself even if it's a short film. The only positive is I have more time with the character. We shot for 75 days and spent a month in the workshop. With web series, if I get attached to the character and if the show does well, I can revisit it in the next season. That's the biggest positive.
Is there anything that you have done for the first time in Faadu?
Saiyami Kher: We had poetry in Marathi and English. We also learnt from the place (slums) where we shot and the people who live there.
Pavail Gulati: I had to learn to play the clarinet. It was very difficult. We shot in real locations, which made such a big difference. We stayed there and shot for 15-16 hours every day. The location made us get into our characters.
How did you create the chemistry between Manjiri and Abhay?
Saiyami Kher: I didn't know Pavail personally. We both come from the Anurag Kashyap school of acting. We hit it off well. He is a genuinely nice guy. He is an invested actor, and the energy is the same. Our methods and approaches are similar.
Pavail Gulati: Saiyami is an amazing actor and a very giving human being.
Saiyami, you are a big follower of Roger Federer and Sachin Tendulkar. What have you learnt from them?
Saiyami Kher: I have been obsessed with Federer and Sachin ever since I grew up. Their hard work, passion and humility are the things I draw in my career. I am playing a cricketer in R. Balki's Ghoomer, where both passions have come together.
What's next after Faadu?
Saiyami Kher: I have Agni, directed by Rahul Dholakia, and Ghoomer. I have another film, produced by Anurag Kashyap, which has Gulshan Devaiah in it. I will start something in February.
Pavail Gulati: I have three other films.