Everything Everywhere All At Once is a riveting multiverse of madness unfolding in our homes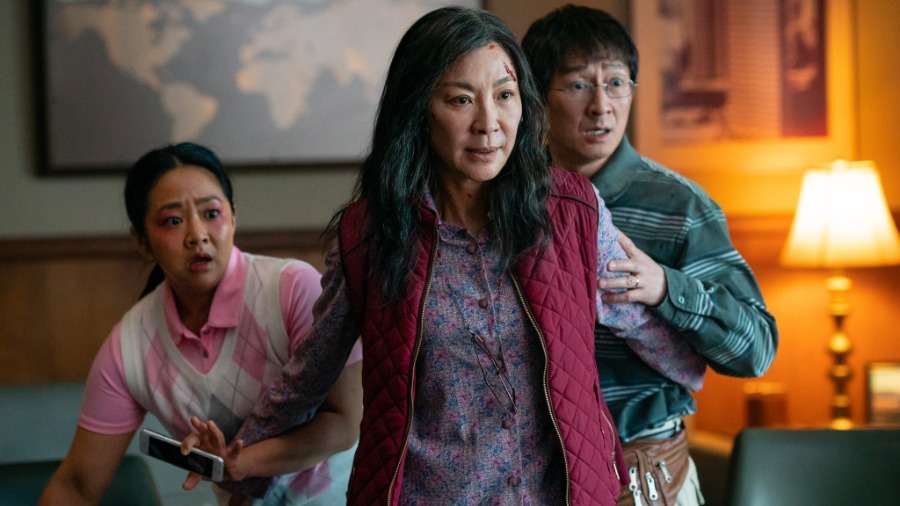 A still from Everything Everywhere All At Once.
Twitter
---
Calcutta
|
Published 16.09.22, 01:34 PM
|
---
One of the most genre-ambiguous films in recent memory, written and directed by Daniel Kwan and Daniel Scheinert, Everything Everywhere All At Once deliberately clouds references and yet manages to capture the zeitgeist of our times.
The film revolves around the matriarch of a Chinese-American immigrant family — the Wangs — who must connect different versions of herself in parallel universes to stop someone from ruining the multiverse.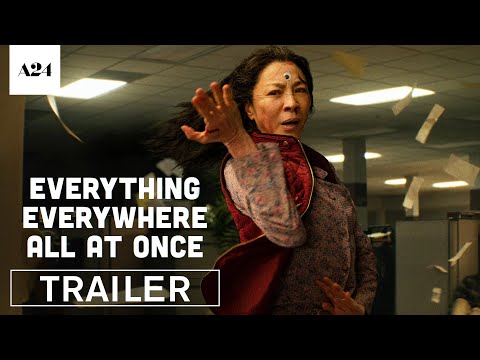 Here's why you should watch Everything Everywhere All At Once, which has released in the theatres today.
Intergalactic dysfunctional family drama The film presents a family struggling to remain as a unit and unfolds as an intergalactic coming-of-age drama. The IRS is auditing Evelyn Wang (played by Michelle Yeoh), an immigrant from China, who runs a tiny laundromat with her husband Waymond (played by Ke Huy Quan). James Hong, her long-estranged father, is scheduled to fly in from Hong Kong.
Years after defying him and eloping to marry the man she loved, Evelyn desperately wants to prove to her father that she has built a happy life. However, things are not going well between the couple as Waymond is ready to serve Evelyn the divorce papers. Joy (played by Stephanie Hsu), the queer daughter of this couple, wants Evelyn to embrace her white girlfriend. The stage is set for a loud family drama in which chaos serves as the basis for harmony.
A strong ensemble cast led by Michelle Yeoh The outstanding Michelle Yeoh carries Everything Everywhere All At Once on her shoulders. As her daughter, Hsu supports Yeoh in portraying a range of emotions. Hollywood heavyweight Jamie Lee Curtis is both scary and endearing in her multiple roles as an audit inspector. But Ke Huy Quan manages to keep our attention on him as Evelyn's meek and goofy husband, Waymond Wang, and all his multiple versions, including the all-important Alphaverse jumper in search of the right Evelyn.
A multiverse of madness Let's talk about the multiverse, something which has hitherto been reserved for caped superheroes or high-budget sci-fi films. Everything Everywhere All At Once brings the multiverse to common households — it could be anywhere, anything. The bizarre multiverse of this eccentric film includes a bagel-shaped black hole, humans with hot dogs for fingers, a Hong Kong martial arts movie star, a mega-villain with a painful past, a Ratatouille-inspired chef, a Wong Kar-wai-style couple reflecting on lost chances in the neon-lit streets of Hong Kong, two rocks having an existential conversation and kung-fu action sequences.
Multiverse as a metaphor for life on the internet Apart from the technical marvels and superlative storytelling, Everything Everywhere All At Once essentially portrays the battle between existentialism and nihilism through its multiverse, which acts as a metaphor for our own world and only too real experience of the internet. With the internet, we can whiz through the maze of endless ideas and so don't need a real multiverse to pierce the clay pot of our minds. The internet has always been a double-edged sword, and this film puts forward this simple message in the most entertaining way possible.
An ode to cinema by the Daniels The directors pay tribute to cinema as their ambitious multiverse project is a nod to several movies. Different lenses and aspect ratios have been used to define the various alternate universes in Everything Everywhere All At Once to create the worlds where you could find a Punch Drunk Love-inspired teppanyaki chef secretly puppeteered by a raccoon, a Carol-inspired universe of hot dog fingers or an In The Mood For Love-inspired world of a Hong Kong superstar.