Every actor in Sonchiriya is at the top of their game
This searing take on patriarchy and caste conflict hits you in the gut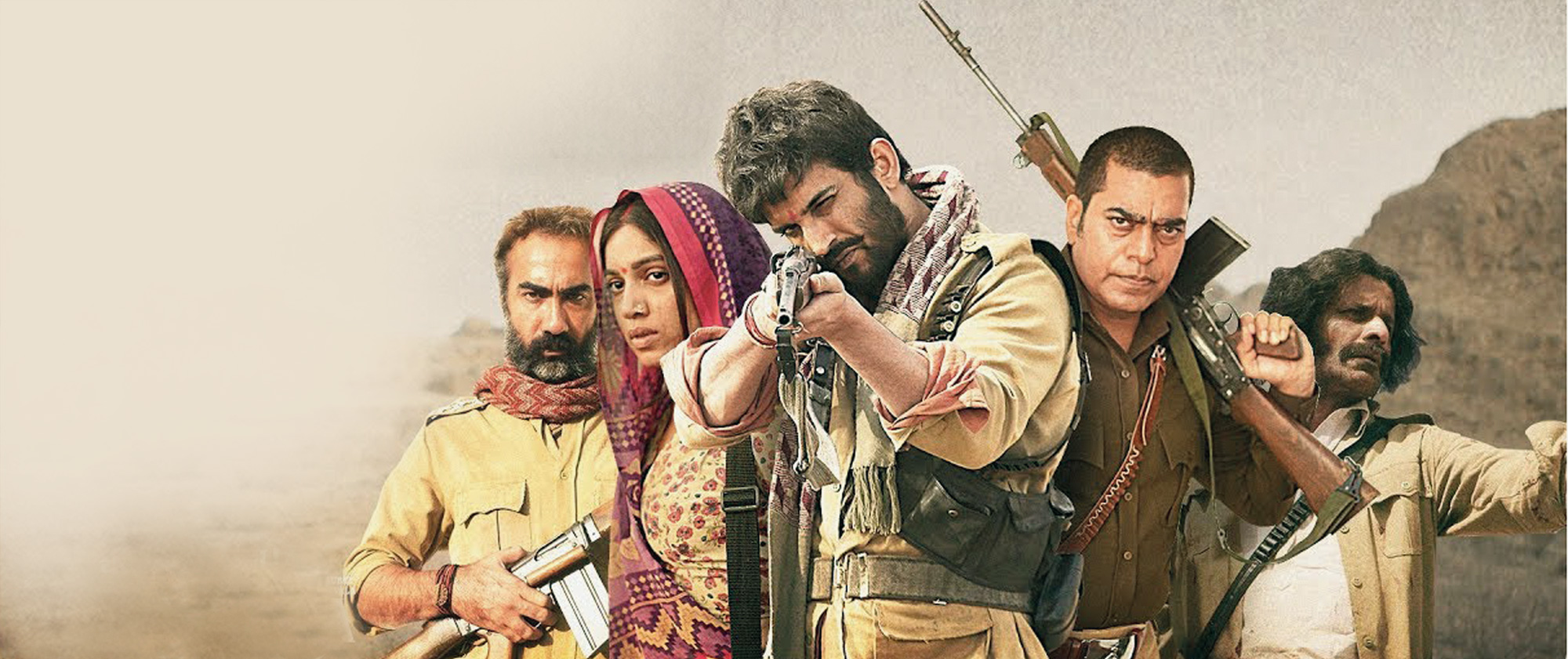 Sushant Singh Rajput in Sonchiriya
A still from the film
---
Published 01.03.19, 04:04 PM
|
---
Playing out in the arid landscape of Chambal, 'sonchiriya' — translating to 'golden bird' and signifying freedom and salvation — is what a ragtag team of dacoits are desperately seeking. Well past their days of glory, the band of brothers have a strong moral pivot, refer to themselves as "baaghi" and are governed by unwritten rules of "baaghi ka dharma". They sometimes venture into the nearby village to loot a new bride, but don't forget to give her "shagun" when they make a getaway. They don't ride horses, but trudge through the terrain with hunched shoulders. They are bruised and broken, but unafraid and unapologetic.

They are rebels with a cause, and sometimes without one. Like Lakhna (Sushant Singh Rajput) who seems to be fighting a fight he no longer believes in. "Pehle baaghi hona akar tha, ab sharam hai," he says at one point.
Lakhna is frequently haunted by visions of a five-year-old dead girl, her eyes vacant and her dress bloodied, the origin of which is explained later in the film in an excellently shot scene that will bring a lump to your throat. He finds a way to seek redemption when he's given a chance to save a child who's been brutally raped, taking up the opportunity even at the cost of rebelling against his own. He gets an ally in Indumati Tomar (Bhumi Pednekar), a woman adept at handling a gun and ghoonghat with the same ease and expertise.
Sonchiriya is an emotional drama punctuated by bouts of violence. Death lurks in every corner, right from that first frame of a fly-infested animal carcass, but the brutality is more emotional than physical. The violence is hardly shown, but it's deeply felt.
The drama stems from Lakhna and his gang often finding themselves facing off against Gujjar (Ashutosh Rana), a cop whose mission to take them out has now turned personal. Infighting reigns among the baaghis and even as they collectively mourn the loss of a father figure, their diverse principles divide them.
Chaubey, aided by some visceral camerawork from Anuj Rakesh Dhawan and Meghna Sen's crisp editing, makes Sonchiriya a compelling watch. With co-writer Sudip Sharma — who also penned Udta Punjab with him — Chaubey makes Sonchiriya most effective as a political and social critique. It's a self-aware film commenting not only on the time it's been set in — Emergency has just been declared, a radio announcement overridden with static plays out early — but also on the political state of the country today. Like a baaghi wryly remarks towards the beginning of the film, "Sarkaari goli se koi marta hai? Log toh inke vaado se marte hai".
There's also a strain of humour running through the film, culminating in that gem of a scene where real cops get ambushed by dacoits posing as cops.
What also works is the film's look and feel, its inspirations and tributes. Sonchiriya is a Western at heart, drawing moods and moments from many a familiar classic. But the film it frequently doffs its hat to is Shekhar Kapur's Bandit Queen, from the landscape to the violence, from Manoj Bajpayee's character being named Man Singh (Bajpayee, on debut, played Man Singh in Bandit Queen) and finally, the appearance of Phooliya aka Phoolan Devi in the last hour.
Sonchiriya is the film it is because every actor is at the top of his game. Sushant brings in both grit and vulnerability while Bhumi, fast becoming the go-to girl for roles that demand depth and versatility, steals the show in some parts. Manoj Bajpayee shines in a relatively smaller role, while Ranvir Shorey, eyes blazing yet teary, is the showstopper.
"Yahan pe aurat sabse neechi jaat hai," a female character matter-of-factly tells another in the film. But in the world of Sonchiriya, women are not the only ones suffering the wrath of patriarchy. The violence that's unleashed by it affects the men too. It makes them question their pride, their prejudice and ultimately their identity. It's in these scenes — a son facing the bitter truth about his paternity is a standout — that Sonchiriya hits you in the gut. Very, very hard.  
Sonchiriya is a testosterone fest with a strong feminist core. This Abhishek Chaubey-directed film, set in the dreaded ravines of Chambal in the 1970s, may tell the story of a band of world-weary dacoits, but at its heart the film is a strong social commentary on everything that affects women then and now — patriarchy, misplaced notions of masculinity, skewed gender mindsets and caste. The men may call the shots and drive the action here, but it's the female protagonist in Sonchiriya who acts as both catalyst and conscience keeper.