Eight moments from the MTV Video Music Awards
You know an award ceremony is going to be great when Tay Tay opens the night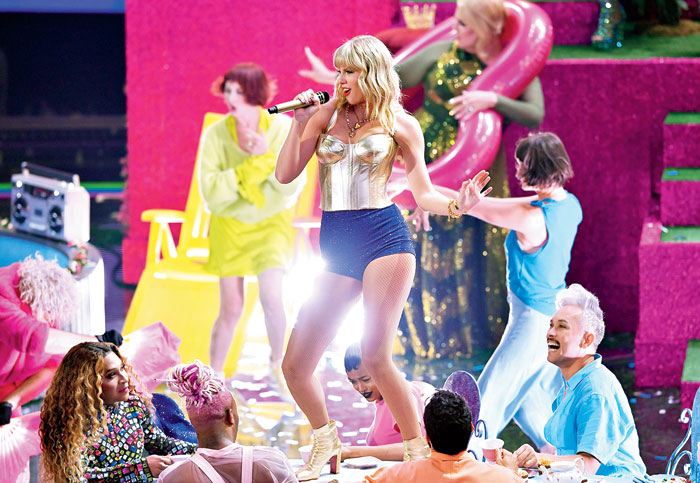 "There is still a petition for the Equality Act which basically just says that we deserve equal rights under the law", said Taylor Swift
Agencies
---
Published 27.08.19, 01:14 PM
|
---
An equal music
You know an award ceremony is going to be great when Tay Tay opens the night. Besides making her perform You Need To Calm Down and Lover (for the first time ever), the VMAs had more in store for Taylor Swift. From her trove of 12 nominations the singer took home three awards, namely Video of the Year, Video for Good (for You Need To Calm Down) and Visual Effects (for ME!)
"I just wanted to say that this is a fan-voted award (Video for Good). In this video several points were made and you voting for this video means that you want a world where we are all treated equally under the law, regardless of who we love and how we identify. There is still a petition for the Equality Act which basically just says that we deserve equal rights under the law. The petition now has half a million signatures which is five times the amount it would need to require a response from the White House," Taylor said at Prudential Center, New Jersey, on Tuesday. She then smartly looked at her watch and tapped on it a few times. Positive vibes
If there is someone who can make one feel good about one's self and is comfortable with her body, it sure is Lizzo. Though she missed out on the award for New Artist, she rocked the stage with her glam. In the beginning she wore a robe and performed Truth Hurts but then she stripped it off and danced in a yellow costume. If you think that wasn't ratchet enough, then downing tequila from a bottle sure was. While performing Good As Hell, she stopped singing to say "Let me talk to ya'll for a second. I'm tired of the bulls**t and I don't have to know your story to know that you're tired of the bulls**t too. It's so hard to love yourself in a world that doesn't love you back, am I right? So I want to take this opportunity right now to just feel good as hell because you deserve to feel good as hell and we deserve to feel good as hell!" A fangirl moment
Cardi B is always full of positivity. When she was given the award for Best Hip-Hop, the rapper approached the mike and screamed "Yeah!" and then laughed. As people started chanting her name, she said: "I can't hear myself. Let me do my speech now. So for this award I want to thank my video team, my music team, my director..." and she went on to wish a few more people with every "thank you" sounding weirder. The Bodak Yellow singer also had the privilege to award Missy Elliott the Video Vanguard Award. "Her album is the first one I had ever bought," said Cardi before giving the award. A milestone
"Yaas girl!" was a phrase that definitely went through people's minds as Missy Elliott was awarded the Michael Jackson Video Vanguard Award. What an entrance she made! The 48-year-old rapper presented a medley of The Rain, Hot Boyz, Get Ur Freak On, Work It, Pass That Dutch and Lose Control. Her performance? Well, all hell broke loose as she recreated some of her music videos, on stage. She said: "I have worked diligently over the last two decades and I never thought I'd stand here to get this award." Sealed with a hug
One of the newest couples in the music industry took centre stage at the VMAs and turned the heat up. Shawn Mendes and girlfriend Camila Cabello got together to sing Senorita for the first time on stage. And while their performance was intimate and the two almost kissed on stage, the lovebirds ended the song with a tight hug instead. #SealedWithAHug.
Later the duo took home the Best Collaboration award for the song. "Thank you so much and we are so happy that everyone loves the song," said Shawn. "I want to thank the fans who are watching, I love you guys so much" and before exiting the stage Camila screamed: "Get wasted!"
Talent spotting
Although she wasn't present for the VMAs because she is currently on tour, the Bad Guy singer Billie Eilish won her first VMA for New Artiste, Editing, and Push Artiste. But she sure managed to give her speech via video. "I really wanted to be there for the VMAs but I'm on tour. It feels good to be recognised and I want to say thank you to my fans because it feels like you guys really love me," said Billie. Bros going strong
2019 seems to be a good year for the Jonas Brothers. Following the marriage of Priyanka Chopra and Nick Jonas last year, Joe Jonas tied the knot with Sophie Turner, the three brothers regrouped and released Sucker, which became a big hit and it has been followed by a tour (that has been cut short). Now they have been awarded the Best Pop video by The Sopranos co-stars Jamie-Lynn Sigler, Vincent Pastore and Drea de Matteo. "This award is dedicated to all the fans who believed in us. You guys stuck with us through thick and thin and getting an award from The Sopranos is a Jersey dream," said Joe Jonas. Earlier in the night they performed Sucker and Only Human at Asbury Park. Wrap up and roll
What's the best way to end a successful award ceremony? Of course, get some of the best hip-hop artistes on one stage and create a medley with their greatest hits. Queen Latifah, Redman, Fetty Wap, Naughty By Nature and Wyclef Jean sang hits like Da Rockwilder, Trap Queen, Gone Till November and U.N.I.T.Y.