Dostojee actors Arif Shaikh and Asik Shaikh are friends off the screen too
Directed by debutant Prasun Chatterjee, Dostojee premiered at the 65th BFI London Film Festival in 2021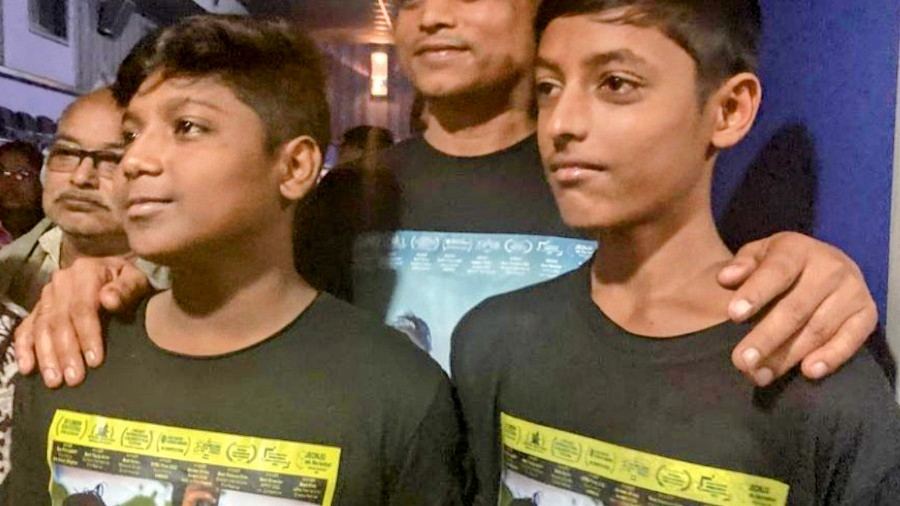 (L-R) Arif and Asik at the screening of Dostojee in Cinepolis, Acropolis.
---
Calcutta
|
Published 15.11.22, 04:38 PM
|
---
"Amra toh shotti bondhu (we are really friends)". This statement from Arif Shaikh at the screening of Dostojee in Cinepolis, Acropolis, on Monday encapsulates the chemistry between the two young leads in Prasun Chatterjee's debut film. 
Dostojee is a story of friendship between two eight-year-old boys in a village in Murshidabad. Arif Shaikh, who plays Safiqul, the more outgoing and daredevil of the two boys in the film, and Asik Shaikh, who plays Palash — shy, introverted and studious — are exactly the characters they play on screen. Arif did all the talking while Asik stood with a shy smile next to him as audiences of the 6pm show of Dostojee at Cinepolis peppered them with praises and questions. The actors, along with one of the producers, Prosenjit Ranjan Nath, were there to urge the audience to spread the word about the film.
Arif and Asik are classmates at Bhagirathpur High School in Domkal, Murshidabad, and had never been in front of a camera or done any acting before Dostojee. The cute kids on screen have, however, grown into strapping young lads of Class VIII over the five years it took for the film to make the journey from the floor to the movie hall. 
Dostojee, which premiered at the 65th BFI London Film Festival in 2021, took eight years to make, from the scripting stage in 2014 to its release. The initial hurdle was to get the right actors who could speak in the required dialect. Chatterjee went to Murshidabad and held auditions and gave basic training to the actors. Then he had to convince Arif and Asik's fathers, a farmer and a daily wage labourer, to allow their sons to act in front of the camera. Once that hurdle was cleared, it was time to raise funds, which Chatterjee faced great difficulty with. Chatterjee and his company Kathak Talkies tried crowdfunding but were unable to raise a lot of money.
This is when Nath, who owns a software company, came into the picture. "One of the actors in Dostojee, Jagannath Chakroborty, is a common friend. He showed me a trailer of the film that had been made to raise funds and requested me to give Rs 1,000 towards the film if I liked it," said Nath. Even though he knew nothing about films and production, Nath asked to meet Chatterjee and see the script. "I was really impressed with his honesty and passion and decided to be a partner on the project," said Nath, at the Cinepolis screening. 
Shooting for the film began in 2017 but had to be stopped midway due to lack of funds; shooting resumed in 2018. Dostojee was among the five films chosen by NFDC for the 'Goes to Cannes' section in 2020. "I really had no idea what to expect from the film because I had never been involved with films before, but it is great to see such positive reactions across the world," said Nath. Dostojee  has won numerous awards at various film festivals, including the Golden Shika Award at the Nara International Film Festival 2022 and the Flame Award at the UK Asian Film Festival 2022.
"We had never been in front of a camera; it all happened because of Prasunda," said Arif. He went on to urge people to come and watch Dostojee. "This will remind everyone of their childhood, something that most of us don't experience anymore. So I want everyone to come see our film," said Arif. Asik, standing next to him, nodded but shied away from saying anything. Just like Palash would have in the film.