Director Jeo Baby on 'The Great Indian Kitchen'
'I don't know why Amazon Prime Video rejected it... they didn't give me a reason. But then, after its success, they approached us themselves'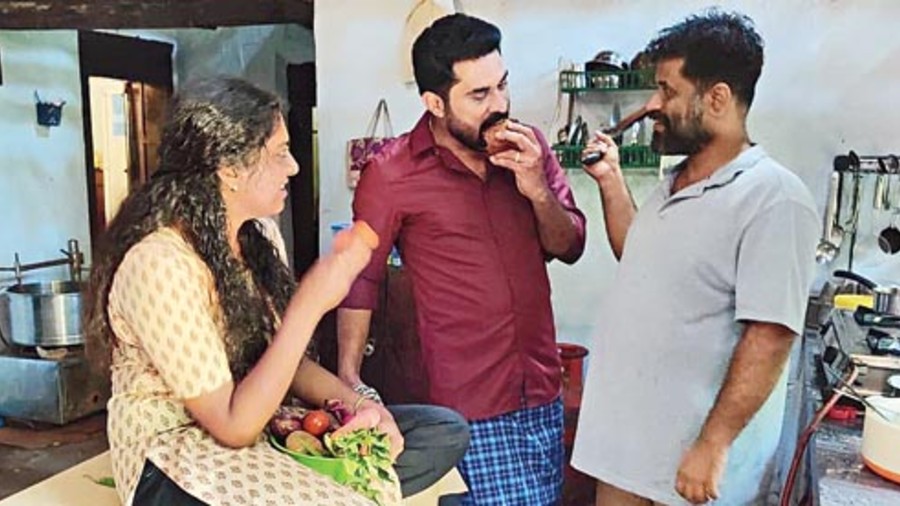 Jeo Baby (right) with actors Nimisha Sajayan and Suraj Venjaramoodu on the sets of The Great Indian Kitchen, streaming on Amazon Prime Video
Sourced by the correspondent
---
Published 20.04.21, 01:10 AM
|
---
It's a film that very few people gave a chance to, but which has now become a phenomenon. The Great Indian Kitchen — a Malayalam film which casts a keen eye on casual sexism and patriarchy through an everyday lens — became a talking point in January when it released on the relatively lesser known platform Neestream. This, after both Netflix and Amazon Prime Video had passed on the chance of streaming the film on their platforms for reasons unknown.
The global success of The Great Indian Kitchen — that stars a newly-wed unnamed woman (played by Nimisha Sajayan) who struggles to be the submissive wife that her husband (played by Suraj Venjaramoodu) and his family expect her to be — brought about a huge spike in Neestream's subscriber base, prompting Amazon Prime Video to start streaming the film earlier this month.
The Telegraph caught up with Jeo Baby, the film's director, who has come in for a lot of praise, on the genesis of his film and its remarkable journey.
The Great Indian Kitchen is a phenomenon that continues to go from strength to strength, even three months after release. What's been the most memorable feedback that's come your way?
Every reaction has been very, very emotional. Almost all the reactions say the same... that the film doesn't say anything special, or anything that none of us haven't known about, but that the film was made in such a way that it's touched hearts. 'We can't talk... we are so emotional' is what most have told me (smiles).
Of course, the majority of the reactions are from women, but even men have been moved by the film. Some men on social media have put up videos that they are washing plates in the kitchen and helping their wives around the house... but I don't believe that they do that on a daily basis! (Laughs) But I do believe the fact that they regret taking the women of the house for granted for so long.
Both Amazon Prime Video and Netflix had rejected the film before you approached Neestream. Now that its huge success has prompted Amazon Prime Video to release the film, what are the emotions like?
I don't know why Amazon Prime Video rejected it... they didn't give me a reason. But then, after its success, they approached us themselves and I am happy that the film has a bigger audience now.
The Great Indian Kitchen is going to the Shanghai International Film Festival, Rani Mukerji can't stop singing its praises.... While making it, did you ever think it would become so big?
No, we never expected this kind of a reaction. From the beginning, we had planned it as a (film) festival movie. Honestly, I just focused on making a good movie that would be relevant and would resonate with people... I didn't think much about what numbers a theatrical release would bring in, or how it would be embraced on social platforms.
What has been totally unexpected is that how everyone in the audience — especially women — have started promoting the film themselves. Every woman thinks it's their own film. We had no money to promote the film, but the word-of-mouth has been the best promotion for us. Even today, Justice Chandrachud (who was on the bench that gave the Sabarimala verdict that the film touches upon) praised The Great Indian Kitchen. Every day I get to hear something positive about The Great Indian Kitchen.
Why did you name it The Great Indian Kitchen?
It came from a place of sarcasm. We called it The Great Indian Kitchen but showed how a woman is enslaved in the kitchen. The kitchen is a very important part in a house, but it can also become a prison for the women in our lives.
What we see in the film happens on an everyday basis. Was there a specific trigger that prompted the idea of this film?
After my marriage, I took the decision that I would help my wife as much as I could in the kitchen and in household jobs. Taking that decision was very easy, but when it came to implementing it practically, it felt very horrible! (Laughs) The character that Nimisha plays is actually modelled on me. When I started struggling with work in the kitchen, I thought of every woman, including my wife, my mother, my sister and my female friends.
In fact, the film is a lighter version of what a woman goes through. I heard a lot of stories from my friends about what women go through on a daily basis, in terms of patriarchy and double standards, that are very scary and very horrible.
Was it your quest to tell the story of Everyman and Everywoman that prompted you not to name your protagonists?
Yes, I wanted to generalise the theme. We see this kind of casual patriarchy everywhere, in every part of the country and we see women suffering like this everywhere.
What kind of research went into writing the film or is the experience of inherent patriarchy in our system enough to be able to tell a story like this?
I spoke to a lot of people, mainly women. I would scour social media every day for instances like this. Basically, my story is about each and every household... whether it's my relatives or my friends. All the characters are modelled on people I know.
The film has some great shots of food (captured brilliantly by Salu K. Thomas) and yet it's the making of this food that enslaves the woman. How did you balance the two in the narrative?
I know the food shots are very appetising, but the focus was never on the food. We never wanted to glamourise the food... we just wanted to capture the process of its making. The focus was always on the woman.
You have said that it's a 'personal movie', though the theme is universal. But in bringing in the Sabarimala Temple issue, where women in Kerala have been barred from visiting the temple, your film also has political overtones. Was that an afterthought or an inherent part of your script?
I started thinking of this film in 2017. And in the interim, in Kerala, we had the Supreme Court order about Sabarimala. Plus, the whole idea that a woman having her periods is still considered impure in some conservative households. My film is about women's rights and I wanted to include all these issues that bothered me.
The violence in your film is more psychological than physical. Was that deliberate?
The violence and subjugation in the film is very subtle. And my protagonist (played by Suraj) also believes strongly in women's rights and we discussed that we would follow this path right from the beginning.
There have been rumours that the film will be remade in a few languages. Any confirmation on that front?
We have already sold the rights for Tamil and Telugu remakes. For Hindi and Kannada, we are still in discussions.