Director Aritra Sen writes about Friday film Ghore Pherar Gaan
'Music was always a part of Tora. Imran's music transcends her inner being and gives her a purpose to live. She is attracted to the free-flowing life of Imran and his musician friends'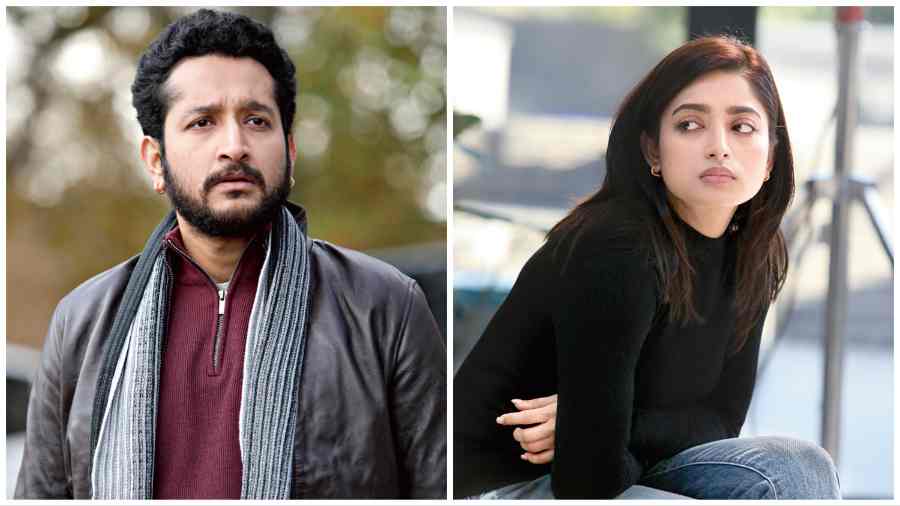 (L-R) Parambrata in Ghore Pherar Gaan, which releases in theatres on March 17; Ishaa
---
Published 16.03.23, 12:22 PM
|
---
P arambrata Chattopadhyay and I were on the top deck of a London red bus crossing the Thames from the Waterloo side, heading towards Oxford Street. We have travelled quite often like this in London ever since we came on a writing trip in 2017 for our web series Sharate Aaj. We created and produced the web series together in the winter of 2018. However this time it was different. I was travelling with Imran, the male lead for my debut feature film Ghore Pherar Gaan. We were discussing the scratch tracks for our upcoming shoot. Then we hopped off at Oxford Street and started our shopping schedule to complete his makeover.
Imran had come to London on a scholarship grant to pursue a degree in music and later settled down as a musician and researcher in the cosmopolitan music capital of the world. His goal was to internationally produce the best Bengali songs emanating from our roots and culture. The songs of Tagore, Lalon, Shah Abdul Karim and a vast plethora of Bengali folk music attract Imran. The path was never easy. To supplement his scholarship he performs at clubs, cafés and invitational gigs mainly by patrons from the subcontinent.
Ghore Pherar Gaan also follows the journey of Tora very closely, our female protagonist. The character of Tora has been portrayed by Ishaa Saha. Tora comes from Kalyani and is trying to settle down in an arranged marriage with Ribhu Chatterjee (played by Gourab Chatterjee) and his mother (played by Reshmi Sen). Ribhu is a doctor and had migrated to England when he was very young. Shanta, Tora's mother-in-law is a councilwoman and one of the main members of the Bengali fraternity in the region of Harrow in London. Tora finds it extremely difficult to adjust to the ways of the Chatterjee household coming from her suburban roots of Kalyani. Everything seems to be too perfect almost to the extent of being cold and inorganic. Tora has had her fair share of troubles in the past and she is trying to put those behind her and adjust to the London lifestyle. However, the harmony is somewhat missing.
At this juncture, she meets Imran. Imran's music transcends her inner being and gives her a purpose to live. Music was always a part of Tora. It lay buried deep inside her heart as she wanted to forget her past and deep dive into her familial duties. As soon she hears Imran's music the resonance became palpable. Not only was she attracted to his music but also to the free-flowing life of Imran and his musician friends. She discovers the real London and the charms of it. Slowly they melt into each other very easily just as their music seems to find the perfect chord. Effortlessly they fall in love and get used to each other only to realise the differences that existed all around them, trying to make it impossible for a peaceful coexistence.
We started our shoot in the biting cold of London when the days were shorter. This made for a rushed start to finish the daylight scenes on time. Ishaa adjusted to the character of Tora in no time and blend into the narrative effortlessly. My first choice for Imran was always Parambrata as the character was that of a musician and had a lot of performance scenes. He was playing the guitar with his usual flair making me believe that Imran was written for him.
MUSIC MADE THEM BOND
Outdoor shoots are always hectic but a lot of fun. The unit lives like one family and spends time together. The actors are completely focused on their characters as they are only doing that one film at a time and there is minimum distraction. Through the course of the shoot, I saw my lead actors almost cross that barrier and become the characters they were portraying. The film came alive through their chemistry and the music which made them bond.
Music is the most essential part of Ghore Pherar Gaan. Prabuddha Banerjee is the music director of the film. He helped me immensely in creating the musical graph of the film. A romantic musical is always a difficult proposition as one never wants the song sequences to be clunky. They have to take the narrative forward. The first person I read the story to was Param. He was part of the music briefing sessions and contributed to selecting the songs with Prabuddha and me. As there were a lot of performances to be shot in the film, the songs had to be composed and finalised before the shooting of the film.
While we were immersed in the preparation for the film in London the songs started coming from Prabuddha. They were playing on everyone's earphones, loudspeakers, car stereos and contributed to the atmosphere of making a musical. Param was always humming one of his favourite numbers from the film. The title track became an instant hit with the full crew. The songs were all sung by Timir Biswas and Samadipta Mukherjee who were Imran and Tora's voice respectively. One special song was sung by Bonnie Chakraborty and rapped by Nabarun Bose. Shooting music scenes always lifts the spirit of the crew and from their body language one understands how the general viewers will react to the numbers. OUR CHOICES DEFINE US
We shot extensively all across London, in Central London through all the touristy spectacles, Brick Lane, special haunts along the river Thames, Windsor and other quant parts of London with beautiful parks and cobbled streets.
The food was usually catered from Posto, a favourite Bengali restaurant of ours in London. The afternoon meals had regular Bengali fare to keep the crew happy. However, we did experiment a lot in terms of London cuisine when we were shooting in Central London. The Chinese buffet box at Leicester Square is a favourite of my close associates and they always went for it while filming in the city centre. Param once in a while wandered into a local restaurant or pub and treated us to Fish and Chips or other attractive local delights.
It was quite cold all throughout but as December approached the temperature dropped further. One of the music performances was being held in an outdoor garden. Ishaa was wearing a sari as the scene started inside the house. By the time we finished the scene, it was late into the night and the mercury dipped below zero. It was freezing and every time Ishaa and Param had to give their shots they were not as adequately dressed. Their nose became red and they started shivering. We persisted and managed to can the scene well only by the sheer talent of both these actors and the crew trying their best to keep them warm whenever the shots ended. However, we shared a hearty meal and a laugh post pack-up.
It is impossible to film in London for such a story involving the diaspora without the help of the Bengalis that live in London. Param and I had a lot of friends in the fraternity owing to our college days in the UK when we both did our post-graduation. Some of our friends went out of their way, juggling work and trying to accommodate our filming schedule, helping us find locations, cast and sometimes even special props and cars. All hands on deck when filming in the UK. Ghore Pherar Gaan premiered at the London Indian Film Festival in 2022. Quite ironically the audience was full of my cast and crew from the UK who have inadvertently become my wider family. They were the first audience of the film and it filled my heart with joy.
People would be intrigued to follow Tora and Imran's love, music, compassion and above all their choices. It is our choices that define us. And it is the protagonist's choices that make the film. Ashok Dhanuka and Himanshu Dhanuka have been pillars of strength helping me to make my first feature film for a theatrical release after having made quite a few web series in the past few years.
The story was conceived by me during the lockdown but I cowrote the script with Soumyasree Ghosh. She lend a powerful female perspective to the narrative which helped balance my views. My entire crew, the cinematographer Tuban, my associates Riddhie Basak and Aranyak Chatterjee, my editor Sumit Chowdhury, costume designer Sabarni Das and my music director Prabuddha Banerjee have worked tirelessly to make the film. Above all my relationship with Param comes a full circle. I have been his associate director, co-writer and fellow warrior in so many films and web series that we have produced together but here he is Imran, the protagonist who lends Tora a new lease of life in London. Tora and Imran will sing the homecoming song from March 17 at cinemas all across West Bengal.