Director Abhishek Sharma turns 10 at the movies
'Before Parmanu, I was always seen as the 'funny guy'. When I went to John (Abraham) with Parmanu, he never doubted my ability to make an intense, patriotic film'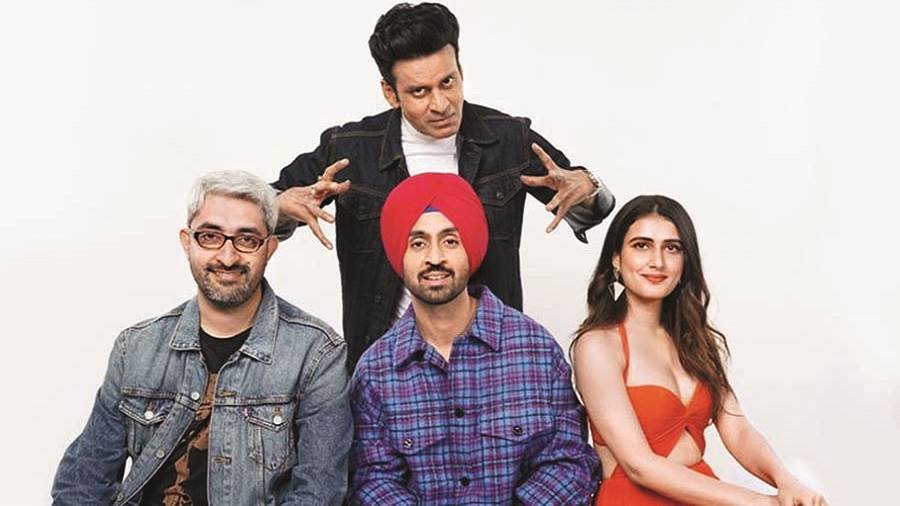 ---
Published 29.07.20, 09:38 PM
|
---
Abhishek Sharma, the man who scored with his breakout hit Tere Bin Laden and has directed films like Parmanu and The Shaukeens, has now spent a decade in Bollywood, even as he readies his next project called Suraj Pe Mangal Bhari. A chat with The Telegraph. 

Congratulations for a decade in films. Even as we speak, you are doing the post-production work for your new film Suraj Pe Mangal Bhari. How has it been working in these different times?
I have just started going out to lock my edit. But most of the work has been happening online. It's been a new learning, about how work can still be done without being physically present. I am a patient man, but I am not a very tech-savvy guy. But, of course, you miss the good old days because it's easier to communicate with your editor when you are sitting in the same room and have the machine and the cut in front of you. Now, it's mostly through words, and so my expertise as a writer, I think, is coming handy (laughs).

Is this the way forward, at least for the next few months, if not more?
For this film (that stars Manoj Bajpayee, Diljit Dosanjh and Fatima Sana Shaikh) it definitely is. People will be scared to go out and work till a vaccine comes out. But I feel that ultimately we will move on... the world has seen worse than this. People are calling it 'the new normal', but I feel it will not be a permanent fixture. Beyond a point, even the virus will get tired (laughs).

When it released, no one really gave Tere Bin Laden a chance, but today it's a cult comedy of sorts. What made you attempt it as your first film?
It was my first film and I had a lot of belief in it. I had the confidence that it would be appreciated, but that it would go on to become a cult hit, is not something I expected. It had a non-Bollywood kind of humour... the film, as a whole, was a non-Bollywood entity. At that time, the geopolitical atmosphere was such that a lot of things combined to make it the film it became.
Many years later, I was working with John (Abraham) on Parmanu. He called me one day to say that his dad wanted to speak to me. I was completely taken aback when his dad told me that he's a big fan of Tere Bin Laden and  of the character Noora (played by Pradhuman Singh). We spoke for about 10 minutes about the film. You don't expect such things to happen eight years after release. The film connected across generations. It's a political satire, but even kids loved the film. There was something for everyone in that film.
I have grown up on a combination of Bollywood and Hollywood. I wanted to make something out-of-the-box, which had the tightness of a Hollywood screenplay and the audacity of Bollywood humour. But by the time I go to the 10th draft, the film had become very 'non-Bollywood'. My producers Pooja and Aarti Shetty always supported me... they never asked me to make it typically Bollywood. That enabled me to kind of rewrite the formula of film-making.
But you don't always get producers like that. Have you been compelled to toe the Bollywood tropes line in your subsequent films?
I've worked with a wide range of producers and I've been lucky to get people who have always supported me. Even Parmanu is a very non-Bollywood film in which John doesn't flex his muscles, he's more of a 'brain' guy. In the last 10 years, cinema has had a change and I feel that if a film-maker comes in with a certain conviction, people just let him be. The Shaukeens had the tadka of Bollywood where Akshay Kumar was playing himself, but even in that, I tried doing something different. Suraj Pe Mangal Bhari will transport you to the world of innocence, like the world of Hrishikesh Mukherjee. It has songs and humour, but it's not typically Bollywood. I next want to attempt a science-fiction film or a historical.
We had a tough time finding distributors for Tere Bin Laden because it was such a different film. But now, things have changed.
Before Parmanu, I was always seen as the 'funny guy'. When I went to John with Parmanu, he never doubted my ability to make an intense, patriotic film. He told me to simply go ahead. I don't want to label myself, and I hope the industry knows better now than to label me.