Dhokha: Round D Corner is a hostage drama that holds the audience hostage
Directed by Kookie Gulati, Dhokha: Round D Corner stars R. Madhavan, Khushalii Kumar, Aparshakti Khurana and Darshan Kumaar, and is running at the theatres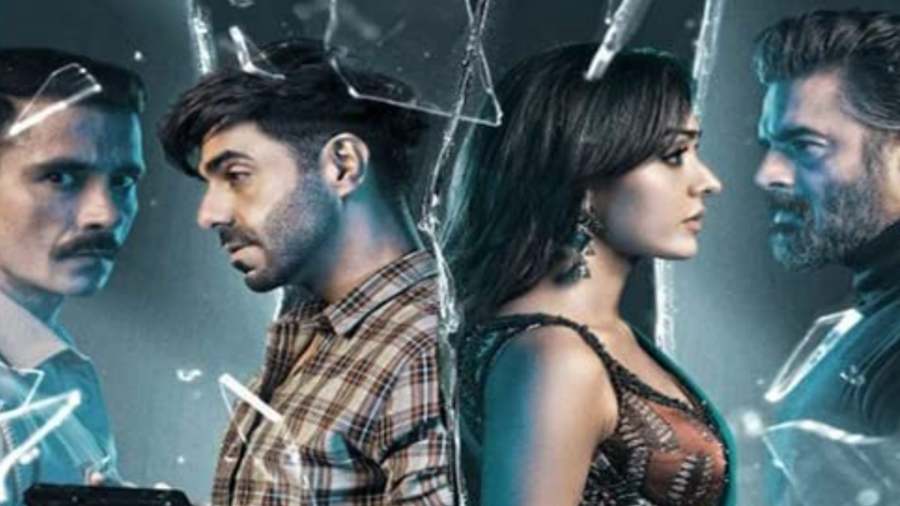 The poster of Dhokha: Round D Corner.
IMDb
---
Calcutta
|
Published 24.09.22, 10:04 AM
|
---
If the opening drone shot of the Kookie Gulati-directed Dhokha: Round D Corner is any suggestion, you know how the film's narrative is going to unfold. That is, looking at things from the top, with no intention of going up close and personal with the characters or digging deep into the plot. So, what is at stake here? I mean the plot. 
Haq Gul (Aparshakti Khurana) is an alleged terrorist from Kashmir who escapes from the police van with officer-in-charge Malik's (Darshan Kumaar) gun while he is being moved from one jail to another. Gul manages to find refuge in a flat on the third floor of a highrise named Spring Shine in Mazgaon, Mumbai. 
He has held Sanchi (Khushalii Kumar), a housewife alone at home, as hostage. Sanchi's husband Yatharth (R. Madhavan) is at work. Gul makes demands, Malik tries to buy time, Yatharth reaches the scene and tells the cop that Sanchi is mentally unstable.
The question is who is telling the truth? Is Yatharth telling the truth to Malik? Or is Sanchi telling the truth to Gul? The build-up suggests that Yatharth is telling the truth. But you know that it might not be true. Because, hey, it's a mystery thriller. At least it is supposed to be. 
Madhavan is cleverly cast in the poker face role of the husband. Aparshakti takes on the challenge to portray Gul with much sincerity but doesn't quite deliver the goods. Darshan Kumaar gets to play a hammy cop. This is Khushalii Kumar's Hindi feature launchpad. Her inexperience shows.
The real dhokha in this film is in the scripting corner. The script lacks coherence. You are expected to invest in characters or at least go with the flow of the proceedings. But broad strokes don't help either the characters or the actors playing them. The world-building is done mostly with the help of VFX and not good enough to marvel at. There are some good one-liners though. I was surprised and happy with the leniency of the CBFC with certain cuss words which, to be frank, are not cuss words anymore.
None of the twists and turns are surprising. You have seen it before in some movie or the other. After twisting and turning for most of the screen time, the film eventually takes on the uphill task of the big reveal(s). One of them surprises you, sure. But by that time, it's too late to bother. The audience is held hostage in the hostage drama between an alleged terrorist and the police. Dhokha Round D Corner. Beware!