Dhairya Karwa on his latest flick Gehraiyaan
'I went up to Deepika Padukone and told her, I won't take a picture with you, I will do a film with you!'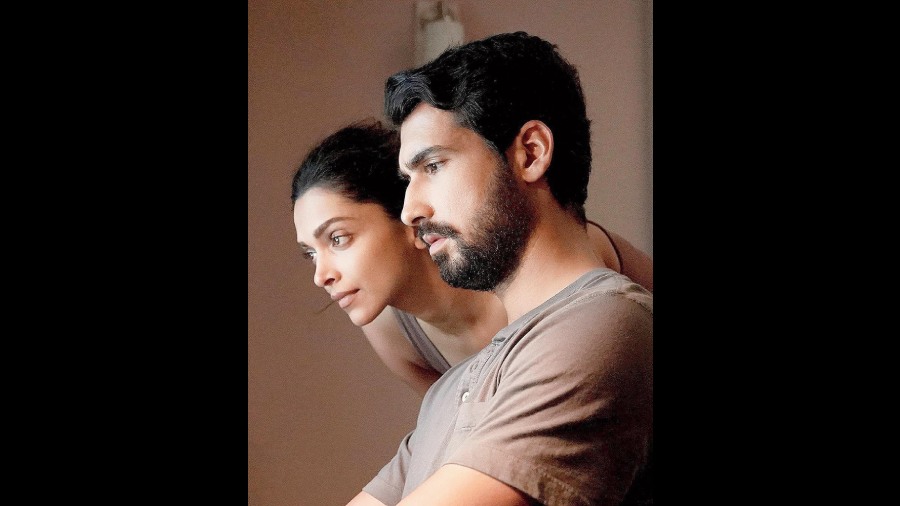 Dhairya Karwa with Deepika Padukone in Gehraiyaan, now streaming on Amazon Prime Video
---
Published 11.02.22, 04:21 AM
|
---
Whether it was '83 or Uri, till now I have been part of films which have been received unanimously. I just hope this trend continues with Gehraiyaan," Dhairya Karwa told The Telegraph when we logged in recently to chat with him over a video call. The tall, strapping actor who was seen as all-rounder Ravi Shastri in '83 less than two months ago, now plays a pivotal part — alongside Deepika Padukone, Siddhant Chaturvedi and Ananya Panday — in the Shakun Batra film that's just dropped on Amazon Prime Video.
How did Gehraiyaan happen for you?
Through auditions. Everything that I have done till now has been through auditions. I got a call and I started auditioning for Gehraiyaan. I had about three-four audition rounds and they went on for a month. I must say that I went in very well prepared for my auditions because when I knew that I was auditioning for Shakun's (Batra) film, I went through both of his films (Ek Main Aur Ekk Tu and Kapoor & Sons) and all his interviews and made a note of what he likes and what he doesn't.
The garbage scene (with Deepika Padukone) that you also see in the trailer is the one I had to audition. That was a seven-pager scene and in the film it barely lasts a few seconds. Shakun's style is very real and engaging. He doesn't want you to deliver dialogues... in a scene, he wants you to do your thing and just talk, like it happens in life organically. So I just got a bag of chips to the audition, and I was just naturally talking and eating and walking around. So I was prepared... I knew exactly what Shakun likes (smiles).
Do you enjoy the process of auditioning?
What is the choice otherwise?
(Smiles) You have got to! I am someone who didn't even have a connection to Bombay before I came in, leave alone Bollywood. The first time I came to Bombay was for work. So I have no connections at all. Auditioning is the only way for someone like me, and I need to make peace with it.
Also, the auditioning process is in your favour... everyone's doing their best so that you get the part. The whole process puts you in a place where you need to perform and show everyone what you have got, to get the part. It may feel like an environment which is against you because you need to deliver in that one moment, but this is the best way... there is no other alternative. It does democratise the whole process of casting because then everyone is on a level playing field...
Exactly, exactly! Everyone gets a fair shot, and I am very glad about how it's turned out for me so far.
Coming back to Gehraiyaan, what's your understanding of your character Karan and is he like you in any way?
Some of it yes, some of it no. I am trying to learn things from Karan... like don't overthink, don't stress too much.... That's what the pandemic has also taught us... that don't plan too far head because life has other plans for you. I am quite happy with that because had my plans gone according to what I had thought they would... I would have done my MBA and would probably be sitting in a multinational company in front of a laptop today. I am glad things didn't turn out that way (laughs).
And while there is a bit of Karan I want to imbibe, there are some aspects of him which make me want to pull him up and say, 'Hey, you have to appreciate your partner much more and not take all the goodness for granted'. So his casual and laid-back vibe can be fun, but it can also be annoying at times. So while I have learnt some things from Karan, I have lent some aspects of myself to him as well.
The films you have been part of so far, including Gehraiyaan, have had an ensemble cast. What's the key to standing out in an ensemble?
What's most important is to be part of a good story. You also need to see who the film-maker is. If that works for me, then it doesn't really bother me if there are three actors or 10 actors in a film. In an ensemble, you need to be a team player, it's very important to have an understanding and a camaraderie between all the actors.... There can't be competition for space. You have to let the script do the leading and the talking for you. The script tells you what to do and if you follow it, you do well. If you do your job honestly and the audience is evolved enough to realise that, then you will get noticed.
In an ensemble, there is so much learning. If it's only you in a project, then everything is in your head. When you work with other actors who are masters of their craft, then your game automatically gets elevated. Maybe you don't realise it then, but in retrospect you go, 'I was good because my co-actor was good.' That's a big pro in an ensemble film. Was working in a Shakun Batra film opposite Deepika Padukone and co-produced by Karan Johar everything that you had dreamt it would be?
This is a film that checks all boxes (smiles). I am someone who has taken a step at a time in my career, I have progressed gradually. I feel Gehraiyaan has come at the right time for me in my career because the kind of confidence and experience I had gathered in Uri and '83... I feel I was ready for a film like this. I am the biggest critic of my work and I probably wouldn't have been able to pull Gehraiyaan off as my first film.
I had a great time working in this film. Ananya (Panday) is a very smart actor. She doesn't get as much credit as she should, but I know she will one day soon. And I actually manifested Deepika being opposite me in this film (smiles). We didn't interact much during the making of '83 and at the film's wrap party, everybody was taking pictures with her. I am a shy guy and I don't know what came over me, but I went up to her and told her, 'I won't take a picture with you, I will do a film with you!' (Laughs) And look what happened a few months later.
And coming to Shakun, one of the earliest films I watched when I landed in Bombay in early 2016 was Kapoor & Sons. The film just moved me so much. I just kept thinking of the film long after it got over.
That's quite serendipitous...
It is. Have you watched the film Serendipity? I am quite a sucker for rom coms....
Any favourites?
Notting Hill, A Lot Like Love... so many of those films....
So there was no acting school or plays in school or college for you?
I remember in third grade, my teacher forced me to play Pinocchio! (Laughs) In the final act on the annual day, my co-actor and I forgot whose line was whose and we kept arguing about it on stage! (Laughs) And after that, I thought never again on stage! So from there to here... it's been quite a journey, and I have just started.