Dhaakad is a colossal flop, bringing down Kangana's box-office cred even further
Released in 2,100 screens across the world the film fell woefully short in almost every department of film-making and was yanked off most screens the day after it released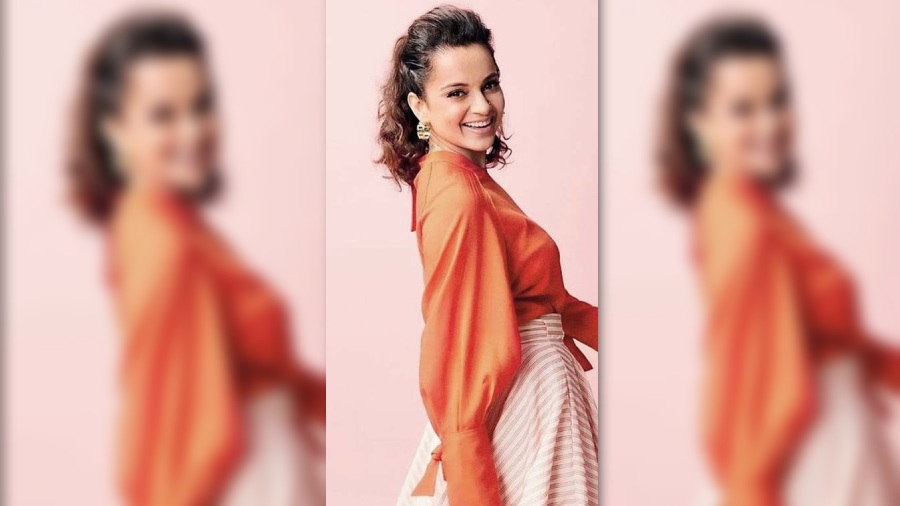 ---
Published 30.05.22, 02:58 AM
|
---
Padmashri awardee, four times national award winner, highest grosser female lead films ever in Indian film Industry and a hot blooded Kshatriya.
That's Kangana Ranaut's bio on Instagram. The glaring grammatical errors and by now expected pomposity aside, the bio is bereft of one important detail: Kangana has just delivered her eighth box-office flop in seven years.
Dhaakad, the actor's latest film — a high-octane actioner that references everything from Lara Croft to Red Sparrow and has been shot in India and eastern Europe — is a disaster. A colossal disaster, to be specific. Released in 2,100 screens across the world — no mean feat for a 'female-led film' — Dhaakad, which fell woefully short in almost every department of film-making, was yanked off most screens the day after it released. Reason? Despite Kangana's aggressive promotional drive for the film — including her now familiar click-bait, rabble-rousing statements — Dhaakad earned a dismal Rs 50 lakh on the day of release. Compare that to Bhool Bhulaiyaa 2, that released on the same day, raking in a whopping Rs 14.11-crore on Day One. On Saturday, most shows of Dhaakad in India, and even overseas, were replaced by that of Bhool Bhulaiyaa 2.
While the Kartik Aaryan-Kiara Advani-Tabu starrer is now a Rs 100-crore blockbuster and is still going strong despite new releases, including the big-ticket Tom Cruise outing Top Gun: Maverick, Dhaakad has fallen off the bandwagon in Week Two. On Day 8, the film that is now playing in a few theatres, sold just 20 tickets across the country, earning Rs 4,420. Let that sink in.
"Dhaakad is an outright disaster. Bollywood is already reeling under huge losses brought on by the pandemic and propounded by the failure of some recent big-budget films. To have a film perform so badly not only adds to the industry's woes but is a collective embarrassment. Thank God, Bhool Bhulaiyaa 2 saved the day for Bollywood to a great extent. Kangana Ranaut really needs to stop making controversial statements and focus more on pulling viewers to the theatres to watch her films," a trade expert, who wished not to be named, told The Telegraph.
On the ticket booking app Book My Show, Dhaakad appears with the 'no watch' option, which means that the film, in Week Two, is no longer playing anywhere. It has earned approximately Rs 3-crore (and not counting) against an estimated budget of Rs 100-crore. The film's dismally low collections have kept streaming platforms away from acquiring it so far, which has been the final nail in its coffin. Abject failure doesn't even begin to describe it. SERIES OF NO-SHOWS
Dhaakad is just the latest in a long list of films starring Kangana — and most of them frontlined by her — that have been a no-show at the box office. Lean patches are a part of every actor's life — Shah Rukh Khan has been having one for a few years now — but it gets amplified in the case of Kangana Ranaut because the actress has consistently referred to herself as "the saviour of Bollywood" (her words, not ours) even as she has ranted against the majority of her colleagues, collectively labelling them as "movie mafia".
Before Dhaakad, Kangana's Thalaivii — a multilingual biopic on the life and times of actor-turned-politician J. Jayalalithaa — earned decent praise for its storytelling and performances, but that didn't translate into box-office gains. Thalaivii was a flop in every language it was released in, bringing in a total of Rs 10-crore on a reported budget of Rs 100- crore. On release day, Thalaivii in Hindi earned a mere Rs 20 lakh, even lower than that of Dhaakad.
Panga, in which Kangana played a homemaker and mother who scripts a remarkable comeback to the game of kabaddi, had the actor put in a stellar act (it earned her a National Award, jointly for her other film Manikarnika), but found very few takers in cinemas. Judgementall Hai Kya was a dismal flop, so was Vishal Bhardwaj's Rangoon and, before that, Simran. Katti Batti (that ended her co-star Imran Khan's career), I Love NY, the list goes on. Only Manikarnika: The Queen of Jhansi — in which she played Rani Lakshmibai — raked in a decent Rs 90 crore, but, guven its budget, that wasn't enough for it to be declared a hit. "Technically speaking, Kangana's last hit was Tanu Weds Manu Returns, that released in 2015. Since then it's been a string of flops and too many controversies," said an industry insider who had once directed Ranaut in a film.
SHOOTING FROM THE LIP
Publicity, of any kind, has always been a sureshot way to, in industry parlance, put bums on seats. But that hasn't worked for Kangana so far. Her political affiliation is spelt out clearly, but even those who egg her on when she brings down her seniors and peers, don't seem to be watching her films. In other words, in her case, social media support hasn't translated into theatrical footfalls.
Dhaakad's failure has actually been much more than a box-office failure for Kangana. It's sure to have pin-pricked an ego which has prompted her, without any provocation, to go after her colleagues. Just before the release of Gangubai Kathiawadi in February, Kangana had written on Instagram: "This Friday, 200 cr will be burnt to ashes at the box office… For a papa (movie mafia daddy) ki pari (who likes to keep a British passport) because papa wants to prove that romcom bimbo can act… Biggest drawback of the film is wrong casting… Yeh nahi sudhrenge no wonder screens are going to South and Hollywood films… Bollywood is destined to doom jab tak movie mafia has power". This was, of course, in reference to Alia Bhatt, whose jaw-dropping act in the title role of the Sanjay Leela Bhansali-directed film not only earned her rave reviews but also helped Gangubai Kathiawadi earn a massive Rs 209- crore at the box office. Dhaakad's failure has prompted many, on social media and otherwise, to label it as "karma", while actor Richa Chadha — Kangana's co-star in Panga — has said that the audience not landing up to watch Kangana's latest film is a form of "people expressing dissent".
Kangana's predilection to shoot from the lip has kept most film-makers away, as has her habit of interfering in the creative departments of her films. Her demand to be credited as co-writer on Simran erupted into a full-blown war of words, while she threw out Krish more than halfway through Manikarnika and took over the directorial reins, prompting co-actor Sonu Sood to walk out of the film.
Right after the success of Queen and the Tanu Weds Manu films, Kangana's box-office cred was at an all-time high, with her salary pegged to be approximately Rs 11 crore per film, making her one of Bollywood's highest-paid female actors. She even admitted at that time that she had "become bigger than her own movies".
But as it stands today, the actor — whose talent before the camera can never been questioned — hardly has any 'outsider-backed' films in hand. Her next film Tejas isn't really a big-ticket release, while she is slated to star as Sita in The Incarnation: Sita. The actor has just announced Manikarnika Returns: The Legend Of Didda, and has stated that she will take over the directorial reins of her film Emergency because, "I finally figured no one can direct it better than me".
It's this overwhelming sense of superiority (which, truth be told, comes off as delusional) that has also prompted Kangana to make statements that have only made her a laughing stock. Like when she shared posters from Thalaivii and Dhaakad and wrote on Twitter: "Massive transformation alert, The kind of range I display as a performer no other actress on this globe has that right now, I have raw talent like Meryl Streep for layered character depictions but I can also do skilled action and glamour like Gal Gadot".
What Kangana really needs to do is put her money where he mouth is. Instead of just shooting it off.