Dev and Parambrata on Password
They talk about their screen journey and the importance of redefining the mainstream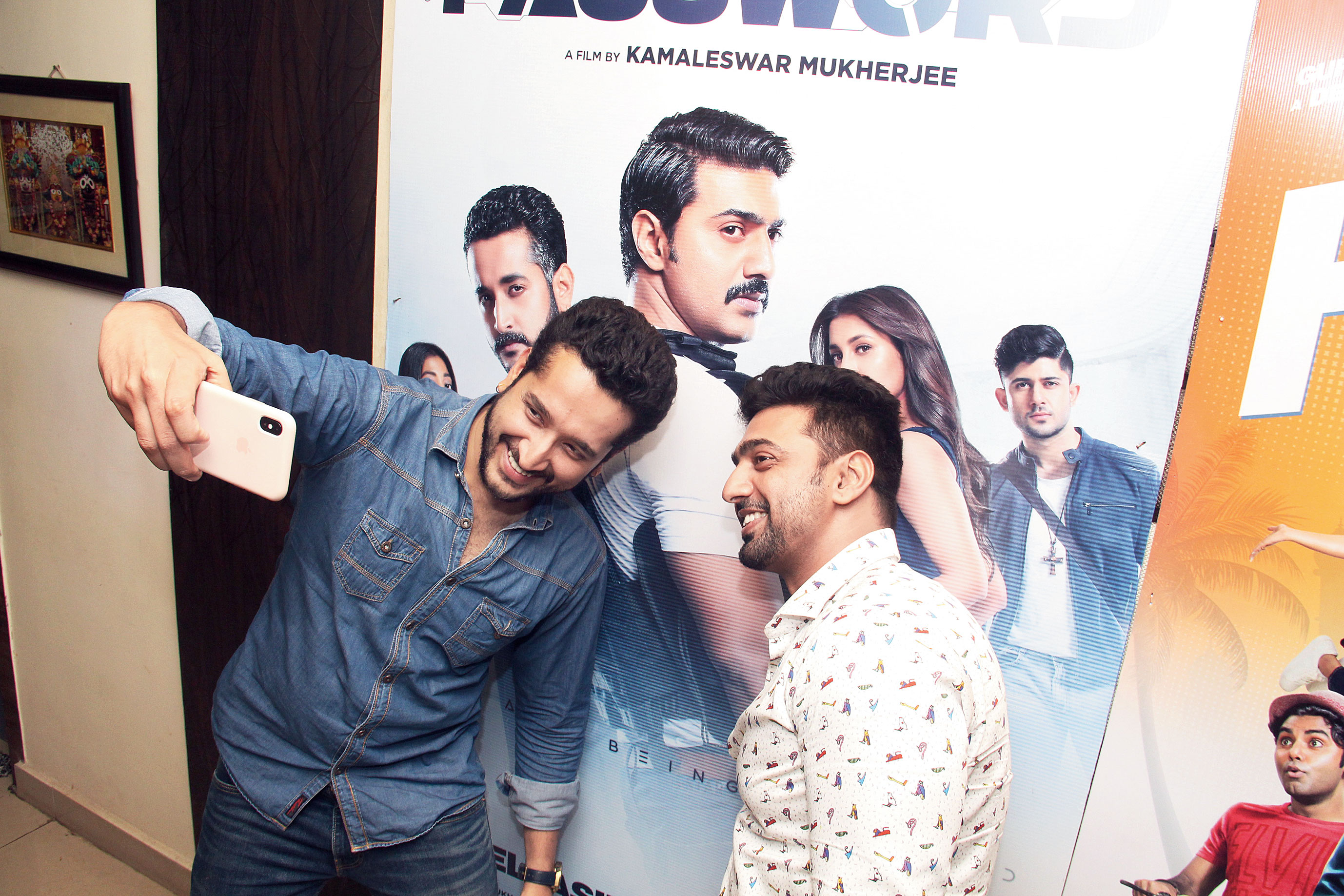 Dev and Parambrata Chattopadhyay
Picture: Koushik Saha
---
Calcutta
|
Published 01.10.19, 03:39 PM
|
---
Dev and Parambrata Chattopadhyay got together for a t2 chat on the film Password that provides a glimpse into the world of cyber crime and Dark Net. Password stars Dev, Parambrata, Paoli Dam, Rukmini Maitra and Adrit Roy. Excerpts...
When did you meet each other for the first time?
Parambrata: I saw the poster of his first film (Agni Shapoth), and when his film I Love You happened, we all came to know about this guy called Dev. Then Premer Kahini came out, and he had become a superstar. We, who came from television to films, started to understand his stardom with the film Chirodini Tumi Je Amar where he had a guest appearance. He was dancing on a song and we saw how people were reacting in a theatre. It was amazing. I met him much later, around 2012.
Dev, you must have seen Param in Kahaani…
Dev: Yes, of course… incidentally, I was offered the role in Kahaani. But then I was told that they would not be able to shoot with me on the streets. Param is really a talented, well-read person. We got along really well on the sets of Zulfiqar.
Param, you were a part of the mainstream film Shubhodrishti…
Parambrata: I was doing a lot of television at that point of time. I did it because Prabhatda (Roy) asked me to. In retrospect, when I think about it, I never belonged to that kind of cinema. You need a different kind of conviction to be a part of that kind of film… which I never had. My conviction was always for a different kind of cinema. The film was a superhit, but I felt like I was the odd man out there.
Both of you come from two different worlds in cinema. But then things started changing and both of you started working together…
Dev: It is not just us only. It is also about the audience… tastes changed. What he used to think 10 years ago, has changed... he might be thinking something else. Same goes for me as well. We are all changing . The film-viewing experience has drastically changed. It is a journey, an experience, it can be good or bad, and you learn from it. My script sense and vision developed with time. One has to change with the times. Which is why I am doing Password, a subject that is really relevant. It is a risky subject but if we don't take up the risk, then who will?
Parambrata: When Dev started venturing out into and producing original content, I heard a lot of comments, like 'Why is he going into this?' I watched and tried to understand why he was doing it. I felt a lot of respect for him. I felt that here is one man, a mainstream superstar who is trying to do new things, films with different subjects like a Chaamp or a Cockpit. I like restless people. I don't like people who are very happy and satisfied with what they have achieved. Dev realised the importance of redefining mainstream and I respect that. It is very important to keep on searching. The films that he has produced are mainstream films and he is dabbling with original content. I have seen a bit of Chaamp and I quite enjoyed the film. This probe, this journey, is really important.
Dev: See, I also understand one thing. Those who watched my Paglu have grown up now. They might be parents now. Their tastes have changed. The audience are exposed to Netflix, they are watching world cinema. It is my responsibility to come up with something new every time which will redefine me… where the audience will connect with my films and see me in a new way.
Parambrata: I got to play something new in Password. People have seen me as a Bangali buddhiman or in experimental roles. The mainstream quotient in Password is pushed much more than in the usual films that I do.
Dev: People are really happy that Param is doing Password.
Parambrata: Actually I had a meeting with Dev for Habu Chandra Raja, Gabu Chandra Mantri.
Dev: We wanted him for that film but he was busy with other shoots.
Parambrata: I really wanted to do Habu Chandra... but it just did not work out. So I was a little sad.
Dev: Finally the dates matched for Password.
Did you ever feel like doing each other's roles?
Dev: I would have loved to do his role but I feel he fits the character.
Parambrata: My character — of an antagonist — has so many shades and layers that makes it one of the most charismatic characters I have ever played. He is very dynamic. The story is very exciting. The shoot was of a big scale and the film has kick-ass action sequences.
Param, how was your experience of working with Dev, the producer?
Parambrata: He spends a lot of time on the script, the look and feel. As a producer he is pretty lavish. Why this was a very enjoyable experience for me? See, Dev is a big mainstream star. Dev has a big presence on screen. I am a leaner guy as compared to him. He is playing this big, tough cop. And my character also makes an equal impact. These days acting feels therapeutic for me. Araam lagey. At that point in time I am focusing only on that and not on 700 other things, which I normally do.
Param and Rukmini share the same birthday...
Dev: Both are hard working and super professionals. Both are disciplined.
Param, what are your plans for producing films?
Parambrata: Of course we will produce more films. Web is a stronghold for us since we forayed into the web market for the first time from east India. Since I have a knack for web, I had been following the OTT platforms, it helped us to start with web and continue with it eventually. Any producer would want to make films. The adrenaline-rush is immense. The risk factor is the exciting factor.
Dev, have you ever felt like producing content for the web?
Dev: I am already busy with so many projects… and one has to put in a lot of time and effort into the web space.
Parambrata: Yeah, one has to negotiate a lot. It is like making an ad film.
Dev: It will be very difficult for me to start from scratch. If you have the right people at the right time, then it is very good.