Debutant director Hardik Mehta on SRK backing Kaamyaab and Janhvi Kapoor as the 'surprise package' of Roohi Afzana
His debut feature film Kaamyaab, about a character artiste played by Sanjay Mishra, is a tribute to Hardik's love for films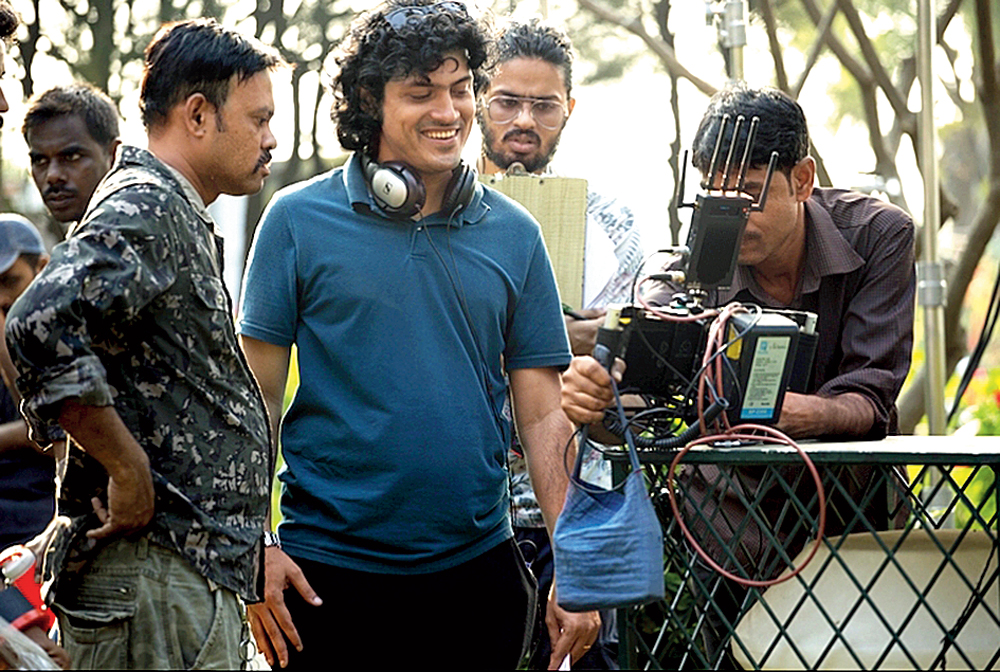 ---
---
Hardik Mehta was all set for a career in dairy and food technology in Gujarat when he decided to risk it all for his passion for cinema. He assisted on films like Lootera and Queen and went on to win the National Award for his documentary short film Amdavad Ma Famous and co-wrote Trapped with director Vikramaditya Motwane. His debut feature film Kaamyaab, about a character artiste played by Sanjay Mishra, is a tribute to Hardik's love for films. The Telegraph chats.
Kaamyaab was made a while ago, right?
We shot in 2018 and last year we were travelling to festivals. The idea was to release in theatres at the end of 2019 but then Red Chillies (Entertainment) and SRK (Shah Rukh Khan) Sir came on board. We were quite happy to be delayed by two-three months. The film industry is a very small community in that way, so everybody's work is passed around and everyone has an idea of what she or he is doing. But never did we ever imagine that it would land up in the lap of Shah Rukh Khan.
How did it happen?
I have to thank Drishyam Films and Manish Mundra for it, because they've been supporting content like nobody else. Producers from Red Chillies saw my film during the Mumbai Film Festival where we got a really great response. At the end of the day, the film is about people who live and work around Andheri but the emotion is universal. Then Shah Rukh Sir saw the film. His first tweet about the film said, 'Extremely poignant story of a character artiste… his struggles with himself, films and life perfectly captured in the film'.
Have you had a chance to interact with Shah Rukh yet?
No, not yet but I'm really dying to. I think every filmmaker who comes from a small town to Mumbai, has a Mannat (SRK's home in Mumbai) picture taken during their first year here. And everyone has the hope that one day they'll get to go inside.
What made you want to tell this story?
In the '90s, when we were growing up, we had nothing to do during our summer vacations. So we'd end up watching all these films on television and they all had very typical storylines. There would be brothers losing each other and then meeting years later, a side track of hero-heroine, some comedy and a villain. There would be these regular faces like Bob Christo as a smuggler or Jagdish Raj as an inspector. When I came to Mumbai, I started spotting these faces around Juhu and Andheri. Like I'd be on the ferry to Madh Island and I'd spot someone who played Aishwarya Rai's father in some film. I saw Anirudh Agarwal who played Saamri and the monster in all Shyam Ramsay films walking around Oshiwara one day.
You always read about empathy for your subject being the most important thing that any filmmaker or storyteller should have. That's when I thought if I had to make a film of my own, it had to be about something I believed in or felt for. I decided to meet older character actors like Viju Khote Sir, Birbalji, Manmaujiji and all. Birbalji was someone who worked in Do Badan in 1966, a black-and-white film, and he's still working. There was so much nostalgia and romance in those conversations, and I started jotting down all of it.
Viju Khote Sir gave me some of the best anecdotes and plot points that are there in Kaamyaab. Eventually, once I had written the script, I knew I didn't want to cast a star. Anyway, I knew I'm a nobody, so nobody's going to entertain me. Thankfully, Drishyam ensured that Sanjay Mishra and Deepak Dobriyal came on board. Once Sanjay Sir heard the script, he said it would be a lot of fun to do.
Did Sanjay Mishra have any inputs?
Oh, lots! There's a scene where a very senior make-up dada comes to do his make-up and Sanjay asked me what his name was. I hadn't yet thought of a name for him and he told me that I should call him Tipnis dada. And I thought that was a very cool name, because you straightaway think of this old Maharashtrian guy who's been working on films for years. He then came up with this dialogue where Tipnis dada is talking about working with Mithun in Ooty in a film called 'Sadhu Ki Vardi', and I couldn't stop laughing because it's such a cool line. He had a lot of these kinds of inputs.
After this, you have Roohi Afzana...
Yeah, I finished Kaamyaab in 2018-end and in 2019, I was looking to start work on something else. I was in touch with Rajkummar (Rao) since I was an assistant on Queen. He was the only guy I had access to in terms of Bollywood male stars. He told me there was already a script where (producer) Dinesh Vijan was looking for a director. He made that meeting happen with Dinesh and Mrighdeep (Singh). The film has some documentary elements and they had seen Amdavad Ma Famous. For me to direct Janhvi (Kapoor) also was like stepping into a different world. She had no idea who I was and Rajkummar described me as, 'The guy who knows all about world cinema but has the heart of Govinda!' (Laughs) That's a pretty good description. I then met her and we discussed the script, life and stuff and things went quite smoothly. I think Janhvi is going to surprise people the most in this film.