Debanjan Chakrabarti on Arindam Sil's crime thrillers after watching Byomkesh Hotyamancha
'The compelling slow-burn of a script uses the double framing device of a play-within-a-film extremely well'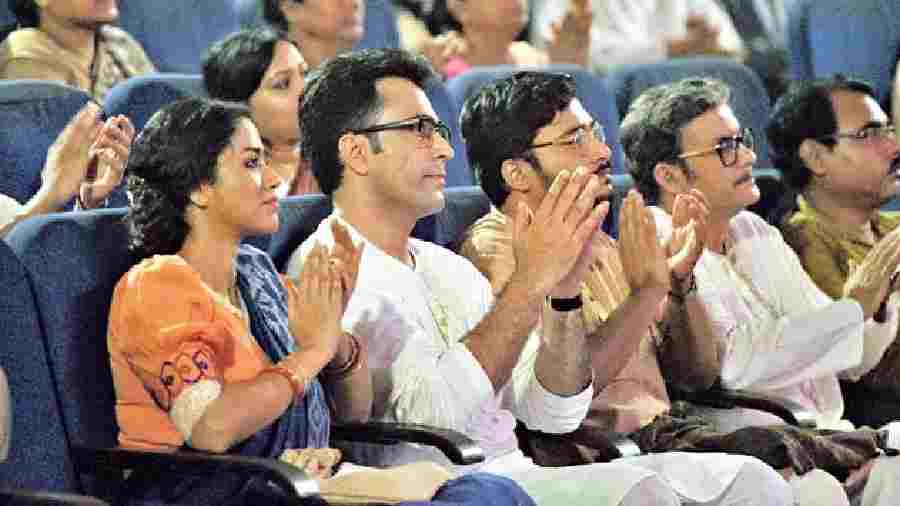 ---
Published 23.08.22, 01:09 AM
|
---
Is Arindam Sil Bengal's, and possibly India's, premier director of the dark arts of detection and crime thrillers? A cursory look at his filmography as a director certainly seems to suggest so. Of his 15 films released so far, 10 are detective fictions or police procedurals. Four are Shabor films, based on Shirshendu Mukhopadhyay's dark and brooding cop, ACP Shabor Dasgupta. The police procedural was a relatively rare subgenre within crime fiction in mainstream Indian cinema till OTTs came along (think Sacred Games, Paatal Lok, Delhi Crime). With Ebar Shabor in 2015, Arindam had Bangla film audiences hooked to the police procedural before the tide of compelling police and crime dramas arrived on our OTT platforms.
Then there are his four Byomkesh films, including the recently released Byomkesh Hotyamancha, based on Sharadindu Bandyopadhyay's sleuth — a lot less aseptic other to Feluda, a lot more willing to delve in messy crimes of passion than Satyajit Ray's child-friendly private investigator.
The other two crime genre films that make up Sil's 10 are Mitin Mashi and Dhananjoy, the latter based on a real-life rape and murder of a schoolgirl that shook Kolkata in 1990. Another film, Durga Sohay, also features crime but Arindam thinks it's a family drama that has an element of crime in it.
Arindam's latest offering, Byomkesh Hotyamancha, almost certainly playing in a multiplex near you, is a wonderful watch. It features richly textured cinematography, great performances by an ensemble cast with star turns by Paoli Dam, Abir Chatterjee, Suhatro Mukhopadhyay, and a haunting and memorable composite soundtrack. The compelling slow-burn of a script, based on Sharadindu Bandyopadhyay's unfinished Byomkesh Bakshi story Bishupal Bodh, uses the double framing device of a play-within-a-film extremely well and situates the action in an interesting cusp of Kolkata's political and cultural history. The film, unlike the story, is set in 1971 in Kolkata. The Naxal movement is at its crest, the Bangladesh Liberation War is on and the winter air is thick with anxiety and fear.
In some ways, this context of tumultuous history unfurling in the background reminded me of Foyle's War. This classic British detective series wrapped into a period drama from Anthony Horowitz is set in bucolic Hastings on the southeast coast of England with World War II playing out — quite visibly and very aurally — in the background (and in some episodes the war, foregrounded, is the thing) for six of its eight seasons.
DCS Christopher Foyle is the unbending, somewhat anachronistic police detective, hell-bent on upholding the rule of law where the world order is crumbling at his doorstep. He hounds out individuals responsible for a murder or two as thousands are being butchered across the Channel. Foyle's War is also feted for the painstaking accuracy of its historical details in sets, costumes and especially, for petrolheads and aviation geeks: it's a visual feast of cars, buses, trucks, motorcycles and aircrafts from the 1940s.
Attention to historical detail is a hallmark of Sil's films. Throughout the Byomkesh films, the director has showcased his love for classic cars and historical paraphernalia. In Byomkesh Gotro, in a scene set at the Mussouri Club, a tennis game is being played in the background. I couldn't help but notice with some fondness that the racquets used by the players were the classic long-handled, small-headed, wooden Slazengers that were all the rage right up until the 1980s. These racquets feature prominently in John McEnroe's iconic you-can't-be-serious photographs, when he is playing out the brat!
In Byomkesh Hotyamancha, Arindam uses the canvas of his historical backdrop with great precision, and delves into such nuanced intricacies as the difference in Kolkata's architecture of the north and the south. Byomkesh's trade as "investigator of truth" is evidently prospering.
At the beginning of the film, Satyabati (Sohini Sarkar) and he are seen settling down in their new flat in Keyatala in south Kolkata, replete with art deco flourishes and gable glass verandah. They discuss the possibility of purchasing a second-hand car. A trip to the theatre para up north is bit of a trek in one's mind, then as now. Much of the beginning is very faithful to the story.
Arindam and Padmanabha Dasgupta's take on the original starts deviating boldly from the story at the level of characterisation. The eponymous Bishu Pal — presented as an overall likeable and extremely generous person with no likely enemy in the original story — is a repulsive, lascivious drunkard in the screenplay.
As a result of this inversion, when he is found murdered at the end of the play, there are several players in his company who have ample motive to kill him, not unlike Ratchett in Agatha Christie's Murder on the Orient Express.
The screenplay makes enthralling use of all dimensions of the proscenium stage to explore myriad aspects of a murder committed during a theatrical performance. And the wilful and playful blurring of theatre and film reminded me of Carlos Saura's classic, Tango, which also features a "murder" on stage.
Paoli, as Sulochana, turns in a stellar performance which is on a par with her assay in Natoker Moto. Suhatro excels as Ajit, which, again, is a clever departure from the original story, but is in keeping with all of Arindam's Byomkesh on-screen series. The menage-a-trois that is the Bakshi household continues to wink at all sorts of naughty possibilities, in the screenplay and the dialogues. Abir, who's well on his way to becoming to Byomkesh what Xerox is to photocopying, is ageing well into the role.
It is Anirban Chatterjee's cinematography, however, that is the pulsating dark and grimy heart of Byomkesh Hotyamancha. His camerawork rises above some of the clichés of capturing Kolkata, especially the more layered north.
Unlike the previous three Byomkesh films in Arindam's ouvre, much of Byomkesh Hotyamancha is shot indoors and on sets. Chatterjee's cinematography shines when the lights dim and the camera roves the crannies and nooks of an old north Kolkata theatre. The denouement is particularly striking, with the camera panning out hurriedly from the stage (where Byomkesh has just got the players to re-enact the murder) to perch atop the fly tower, almost merging with a follow spot light; at this point Bickram Ghosh's chilling soundtrack takes over and the generic distinction between the screen and the stage is once again blurred.
So when do you think Feluda fans can expect Arindam Sil to turn to Satyajit Ray's sleuth? Arindam gives me a meaningful laugh, dark with mystery. Debanjan Chakrabarti is a crime fiction buff, whether it's on page or on screen