Creating a buzz to making Kuler Achaar: All in a day's work for a film publicist and PR manager
Ahana Kanjilal, head of PR and Marketing at SVF and now creative producer with Kuler Achaar, has come a long way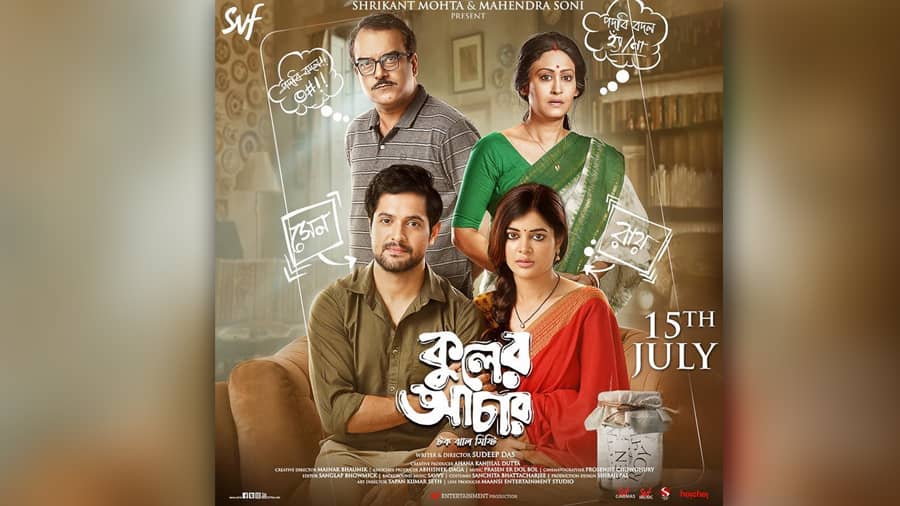 Kuler Achaar is about a newly-wed couple who get in trouble on their honeymoon.
Ahana Kanjilal
---
Calcutta
|
Published 15.07.22, 04:55 PM
|
---
Ahana Kanjilal Dutta. For the average cine-goer, the name will not ring a bell. For that matter, even a die-hard film buff will have little recall. After all, how many of us look at the pre- or end-credits of a film, except for the names of stars, the director and in some instances the composer? But ask any film-maker in Bengal, and they will all aver that Ahana – head of PR and Marketing at SVF, and now creative producer too – and her ilk constitute an indispensable cog in the making of a film. Quite literally the 'making' because what she does can spell the difference between a film getting noticed and delivering at the box office or going under.
In an era where the first three days of a film are increasingly crucial, the work of a publicist cannot be overemphasised. Which is why it comes as a surprise when Ahana says that as recently as 2010, when she worked on her first film Autograph, the publicist did not even feature in a film's credits. It was only the intervention of Rituparno Ghosh that brought about a paradigm shift in recognising the work of a publicist.
In broad terms, what the work entails is creating a 'buzz' for the film. This could include inviting journalists to the shoot in order to generate interest, ensuring media coverage, arranging interviews with cast and crew, creating press packs (information about the film) and scheduling press screenings, among many others. And in this era of social media, getting the conversation going is imperative – through well-calibrated activities like a poster release, a teaser release, a trailer release, a 'singles' release, reels, and various out-of-the box ideas to generate interest and engage prospective audiences.
I need my PR and marketing person to be credited: Rituparno Ghosh
After her course in mass communication and diploma in PR, Ahana's first brush with PR involved working in the fashion industry. "I used to handle fashion clients before I came to SVF. It was a completely traditional PR role which involved dealing with the media, conducting events like Kolkata Fashion Week, etc. I then moved to Sangeet Bangla, which is still the number one Bengali music channel. I got to know about the industry, about Bengali music which I had no exposure to before. SVF was the biggest content contributor to Sangeet Bangla, and that's how my shift to SVF happened."
Her work as a film publicist began with Srijit Mukherji's Autograph in 2010. "In the early days, there was no credit for my job, not even in the end titles. Being mentioned in a film was a dream because of the effort we put in. I will always be thankful to Rituparno Ghosh, who first included my name in the opening credit of his film Satyanweshi, which unfortunately was his last film."
What was it like to work with a legend like Rituparno Ghosh? "I was fortunate enough to work with him in Memories in March and Chitrangada. I remember clearly, one day Ritu-da came to the office and said, 'I need my PR and marketing person to be credited… Aami PR er kotha chhara norbo na. Ahana, tui amake bol ami kothaye darabo, kothaye boshe interview debo.' (I will not do a single thing until my PR tells me to. Ahana, you tell me where to stand or where to sit to give the interview.) I was overwhelmed." People are more interested in unheard of and unique stories
How has the work on the film's publicity changed over the last decade? "Previously, I was given credit only for PR. But both PR and marketing make a 360-degree platform for creating awareness about a film. Another vertical which has been added to PR and marketing is social media. In Kolkata, we used to have a narrow view of PR. The general impression was that it's only about dealing with media people. But it is not just that. Whenever a project comes to us, I sit through the script-reading, understand the nuances of the story and the characters and then build a promotional strategy around it. Digital media has evolved, people are more interested in unheard of and unique stories. I should know which story can be amplified on digital media and which one in marketing. I can also choose to do offline communication through hoardings. Integrations and brand partnerships too are part of the PR process." 
One of the biggest changes in film publicity has been in the budgets that production houses set aside for promotions. And though Ahana is reluctant to share figures – she says given the regional market that she works in, the numbers might sound "trivial" – she is categorical that budgets have skyrocketed in the last decade, particularly with the rise of social and digital media. Almost 20-25 per cent of a film's budget is earmarked for publicity. And a huge chunk of this is spent on social and digital media – initiatives like geo-targeting, age-group campaigns, which call for a lot of market research.
The trailer has to create an impact; the songs have to excite
What are the typical inputs that a PR person gives in the making of a film? "I am involved in the filmmaking process throughout, starting from the script to the pre-production, to the look, the set and the costumes. The main inputs I give are at the script level," says Ahana. "From the beginning, I start thinking about what I call my 'hero' content – the trailer. It doesn't matter how much promotion I do, the trailer has to create an impact, the songs have to excite. These are the basic ingredients I have to take care of. At the script level, the poster and the trailer are in my head. So, when I am hearing the story, I am thinking about the visualisation of the trailer and the poster."
But not all plans may be possible to execute. "For example, in X=Prem (Srijit Mukherji), we thought of having a heart popping out of the hoardings. But execution-wise and logistics-wise, it was a problem. At times, we feel that to create an impact we might need to show parts of the climax in the trailer. Shrikant-da (Shrikant Mohta, co-founder of SVF) has to approve that." Giant poster for Amazon; Netaji statues for Gumnaami
Ahana takes a horses-for-courses approach to the creative process and planning for a PR campaign. "In Amazon Obhijaan, we made the biggest poster possible because we wanted to create the impression that the film is really huge, a magnum opus." The poster, involving 100 man-hours and over 80 people, was installed on a football ground, and measured 97 metres (320 feet) in length and 58 metres (190 feet) in width. As was reported at the time, the poster, "if placed vertically, would be taller than the famed Big Ben (96 metres), the Statue of Liberty (93 metres) or closer home the Qutub Minar (73 metres). Occupying an area of 60,800 sqft, SVF broke the record for the film poster of Baahubali."
For Gumnaami, Ahana designed a campaign that focused on remembering a 'forgotten hero'. "We got in touch with different municipalities and party offices and made statues of Netaji Subhash Chandra Bose. We took Bumba-da (Prosenjit Chatterjee) and unveiled the statue at each location and spoke about the message of the film." The statues stay on both as a tribute to a freedom fighter and a memory of what a publicity campaign can be like.
Talking about recent films which had an exciting campaign, Ahana says, "Off the top of my head I can think of Belashuru. It was quite interesting that in press conferences and media events, they kept a couple of chairs empty in the memory of Soumitra Chatterjee and Swatilekha-di (Sengupta). Moreover, there was the Amul campaign – I can't think of any Bengali film being featured on Amul hoardings. And the flash mob at airports. Strategy-wise it was innovative."
With the nature of the social media beast, Ahana is also pioneering what she calls 'ancillary content' – wherein the characters are from the film but how they would behave outside the film is what the content is all about. "For example, if the film is a family drama, I can create situations involving the characters of the mother-in-law, son and his wife. Say, the situation is 'How Bengalis behave before Durga Puja'. There is no relation with the film but the characters are from the film. So people tend to relate to the characters by watching the content. We plan a social media strategy around this."
Kuler Achaar: debut as creative producer
What makes Ahana stand out from other PR professionals in the city is the manner in which she has stepped into the shoes of a creative producer. Her maiden film, Kuler Achaar, releases on July 15. How did the shift to a creative producer happen? "I do not come from a film background. The exposure to the filmmaking process over the last 12 years has given me confidence. Since I have gone through the journey and had the experience, I thought why not utilise it. It's part of my evolution."
Kuler Achaar is the story of Mithi, a young girl who gets married to her love, Pritam. For their honeymoon, Pritam books a hotel only to realise that it is not a very 'decent' one. The police raid it and they are arrested. Because Mithi has checked in under her maiden name, the police refuse to believe they are married. Once they return home, it becomes a huge issue among their friends and family.
What is it that made Ahana zero in on this as her maiden project as creative producer? "I went through a lot of concepts. I genuinely feel that after what we have been through in the last couple of years, people are not in the mood for grim stories. I was looking for simple and uncomplicated stories. At the same time, I found the concept of Kuler Achaar extremely relevant. I am married and carry both my surnames, my maiden name and my husband's. And I realise that for all the progress we talk of on gender issues, even a minor thing like a married woman not adopting her husband's name is still the topic of much debate in our society. So, the relatable idea told in a fun manner is what appealed to me."
What about the marketing and promotions for Kuler Achaar – is it too close to her as its creative producer to think of its publicity? "Oh no, I am very much involved with promoting the film. I can't stay away from it (laughs).
What next? Is direction on the cards? "I think, associate producer. I have no plans for direction. I will always stay with the production side of filmmaking. I want to do justice to what I have learnt. And of course continue to devise well-thought-out PR and promotional strategies for films we produce. That is a continuous process of learning and unlearning and relearning. There are no fixed rules, no one size fits all. I find that challenging and exciting."
In an era with limited attention span, where the audience will flip screen in a moment, what is the most important quality for a PR person to possess? "It's tough to say… the PR person is an image builder for the organisation, the film, the product. The foremost thing is communication. What you say, how you say it is important, so that the audience is excited about the product. Then there's the strategy around the communication. It has to be articulated clearly, simply."
(With inputs from Soujannya Das)