'Choked': an intriguing premise that doesn't always translate into a compelling film
Movie falters in parts but is authentic and relatable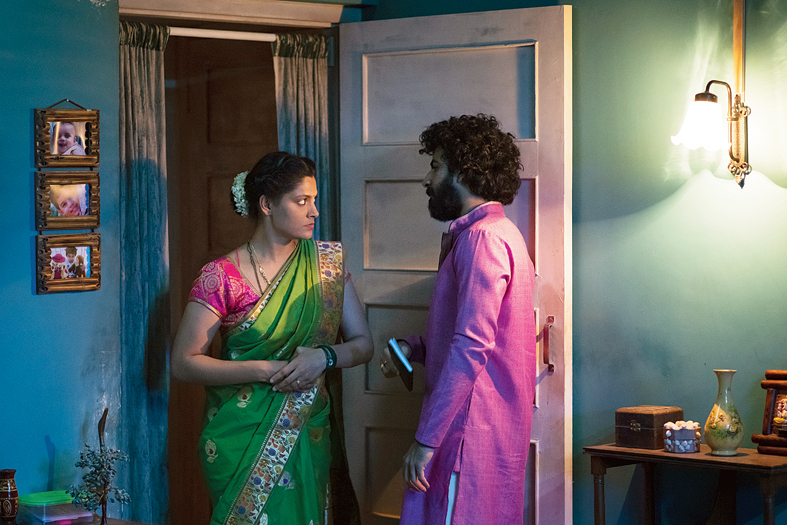 ---
|
Calcutta
|
Published 05.06.20, 05:06 AM
---
There is a moment somewhere in the middle of Choked where Sarita and Sushant, engaged in a shouting match, move from one room to another arguing at the top of their voices, the camera voyeuristically following them around. Their simmering angst — towards each other and the world — has reached tipping point, their marriage now teetering on the brink of collapse.
On the surface, it seems like a tiff that comes as part and parcel of every marriage, but the scene encapsulates, in just a few minutes, what Choked is all about — the crushing of dreams, the struggles of a life where nothing seems to be going according to plan and the claustrophobia (or 'the choke', if one would like to see it like that) that accompanies an existence where one is just going through life without actually living it. The scene, directed by Anurag Kashyap, shot by Sylvester Fonseca and performed by Saiyami Kher and Roshan Mathew, is a little gem of its own, instantly reminding one of the 'plumber meltdown' moment in Kapoor & Sons or more recently, the brilliantly shot one-take family face-off in the Pakistani film Cake. It's both powerful and poignant. To dip into my limited millennial vocab, it's relatable AF.
Dropping on Netflix today, Choked is unlike anything one would expect an Anurag Kashyap film to be. For one, it's frontlined by a woman (after his Manmarziyaan, of course) and second, it explores the dynamics of a marriage, gender politics and sky-high aspirations juxtaposed against limited means, in a way that the film-maker has rarely done before. An unmissable socio-political commentary runs through the length of the film, with Kashyap subtly putting in a lot of things (the current government's move for demonetisation a few years ago and its repercussions, especially on the common man, forms the backdrop) that he repeatedly touches upon, often through 240 characters on Twitter.
Choked is, essentially, the story of an Everywoman. In this case, it's Sarita (Saiyami), who is burdened not only by the responsibility of running the house on the back of her income from her job as a cashier at a bank, but also by the weight of a series of 'what ifs'. A reality show talent, Sarita's stage-freeze moment cut short a promising singing career a few years ago. Every night, after the grind of the whole day at home and outside, she sleeplessly stares at the whirring ceiling fan, wishing it to be a shiny disco ball and imagining and reimagining her now-crushed career under the arc lights.
It doesn't help that her musician-husband Sushant (Roshan, who packs a punch) is mostly unemployed. Not only does Sushant not contribute adequately to the household expenses, he resents Sarita for pointing out his inadequacies. Courtesy Sushant, there are debtors at the door, and their son is the only glue that's kept the strained marriage from completely falling apart.
Sarita's humdrum existence is succinctly depicted by Saiyami, who fully embraces the character and makes her both real and relatable. There is a certain tiredness in Sarita's eyes that enables Saiyami to convey much more than her words can. Those eyes, however, light up one night when a disgruntled Sarita walks into her kitchen to unclog a choked basin and ends up discovering that it's coughing up bundles of cash, wrapped up in plastic sheets. Unable to believe her luck at first, her banker's eye quickly tells her that the notes are genuine. It soon becomes a gift that keeps on giving and Sarita, now with a lot of disposable income in hand, feels her life changing for the first time, a quiet confidence seeping into her persona. It's a secret she keeps from everyone but before long, Sushant senses that something is amiss and the neighbours start chattering. Sarita couldn't be bothered, but then one fateful evening, demonetisation strikes.
Choked rests on an intriguing premise that doesn't always translate into a compelling film. Kashyap has a gem of an idea to work with from a script by Nihit Bhave, his casting is spot on, his understanding of the milieu is commendable and his trademark dark humour elevates the film, but Choked could have been a whole lot more. The film loses its way in the middle with a few scenes coming off as repetitive, until Kashyap reels it in for a largely satisfying climax. But then again, it could have been more.
No complaints about the world of Choked, though. Kashyap manages to build a milieu that's authentic and lived-in. Sarita and Sushant's cramped lower-middle-class apartment, their nosy neighbours (Kashyap favourites Amruta Subhash and Rajshri Deshpande, both seen in Sacred Games, are top-notch) and Sarita's time at the bank doing a monotonous job are constructed painstakingly. The film's wry humour also works because Kashyap has fun, picking on everything from demonetisation to the promise of "achhe din", from the leader's "sacrifices" to his "visionary" policies. He also attempts to meld fantasy with reality in a few places, albeit with mixed results.
Choked is about you and me, what is and what could have been. It's about how each of us is choking every day (with or without a Covid-19 mask), but also shows us that there is a silver lining, a light at the end of the tunnel.... For that reason alone, give this film a chance. It's far from perfect, but then what really is? Apart from Aamir Khan's Akash in Dil Chahta Hai.
I liked/ didn't like Choked because...
Tell t2@abp.in