Chinmay Mandlekar plays Nathuram Godse in Rajkumar Santoshi's Gandhi Godse: Ek Yudh
Theatre actor-director Mandlekar will feature in Maddock Films' social thriller Happy Teacher's Day and the Netflix web series Kaala Paani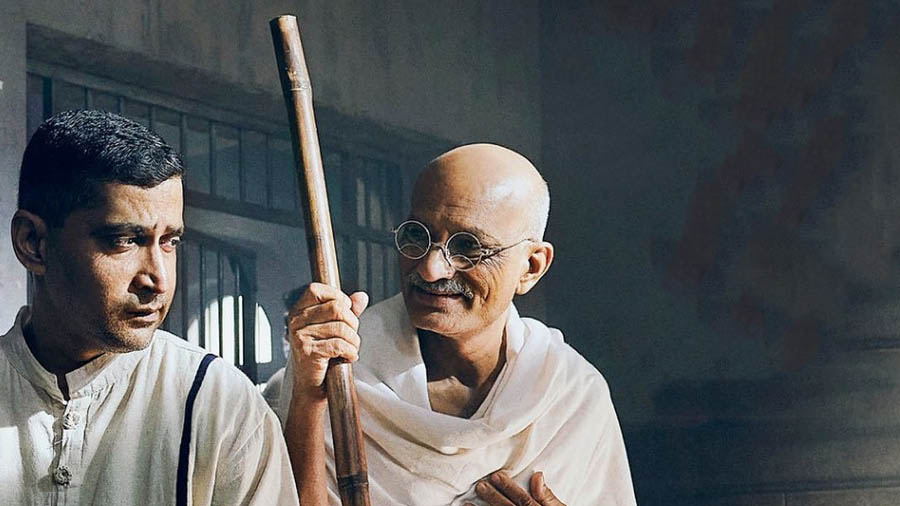 Chinmay Mandlekar and Deepak Antani in Gandhi Godse: Ek Yudh, which released on January 26.
Instagram
---
Calcutta
|
Published 27.01.23, 02:43 PM
|
---
Actor, writer and theatre director Chinmay Mandlekar – who plays Nathuram Godse in Rajkumar Santoshi's Gandhi Godse: Ek Yudh, which released at theatres on Republic Day – believes political awareness means being open to others' points of view. With music composed by A.R. Rahman, Gandhi Godse: Ek Yudh is a fictional take on what could have happened if Mahatma Gandhi had met his assassin, Nathuram Godse, and the kind of conversation that would have transpired.
Known for his work in the Marathi film industry, Chinmay has previously worked in Hindi films such as The Kashmir Files, Tere Bin Laden, Shanghai and Bhavesh Joshi Superhero, apart from web shows like Ek Thi Begum and Dharavi Bank. Chinmay shares with The Telegraph Online his experience of working with Santoshi and the process of playing Godse.  
The Telegraph Online: Filmmaker Rajkumar Santoshi is back to film direction after a while. How was it collaborating with him? 
Chinmay Mandlekar: He is a legendary person. His script was my first reference point to play the character of Nathuram Godse. This is one of the most balanced films that I have done. There is material available online that I studied. It was a dream-come-true moment as I was happy that almost after a decade, Rajkumar Santoshi was back in direction. 
He is a perfectionist. He will not approve till his vision is achieved. He cancelled the whole first day of shoot because he felt the pattern on my kurta didn't go with the period. We shot during the pandemic, so it was difficult to make things available. But he insisted if such things go wrong, they stay forever. Working with him gave me a certain amount of confidence because he made this film without any political or corporate backing. If he can do it at the age of 60, I feel I can do it as well.  
Coming to your look, how long did it take to do the makeup?
Chinmay Mandlekar: Will you believe that there is zero makeup on me? That's Vikram Gaikwad's brilliance! Many people have asked whether there were any prosthetics on me. When we did the look test, he gave me a haircut, asked me not to cut it, and told me to put on some weight. On the sets, I used to wear my costume and be ready in three minutes. That's also a learning — to know what not to do. (Smiles)
Gandhi Godse: Ek Yudh is about an imaginary war of ideologies between two individuals, but political discussion gets triggered. What do you think?
Chinmay Mandlekar: I won't call it a political film because it's not about politics. This is one genre which hasn't been tried in Indian cinema. The film is about an imaginary exchange of dialogue between two figures, thinking from the point of view of what could have happened if they had met in person. Before branding a film, I urge people to watch it first. This film doesn't show any propaganda, or that someone is right and the other is wrong.
What is political awareness in your terms?
Chinmay Mandlekar: Political awareness means being politically open. When I say I am politically aware, it doesn't mean what the other person says is wrong. It's important to put forward one's thoughts and also hear the other person's thoughts. If one bans something, it never works. People are the best judge, so one should leave it to them.
As we speak, Pathaan is on course to breaking all kinds of box-office records. Though the two films are completely different, does it concern you about Gandhi Godse: Ek Yudh's fate?
Chinmay Mandlekar: Our film has been released by PVR. They must have done some research and there's some thought process behind it. For us, it was important to release it on January 26 as the assassination took place on January 30. So, we wanted to do it around this time. As far as Pathaan is concerned, India's biggest superstar (Shah Rukh Khan) is back after four years. As his fan and audience, I will also go to the theatres and cheer for it. I want both films to get their due.