Cheez-y but still mast
Rajiv Rai's slick action thriller Mohra turned 25 on July 1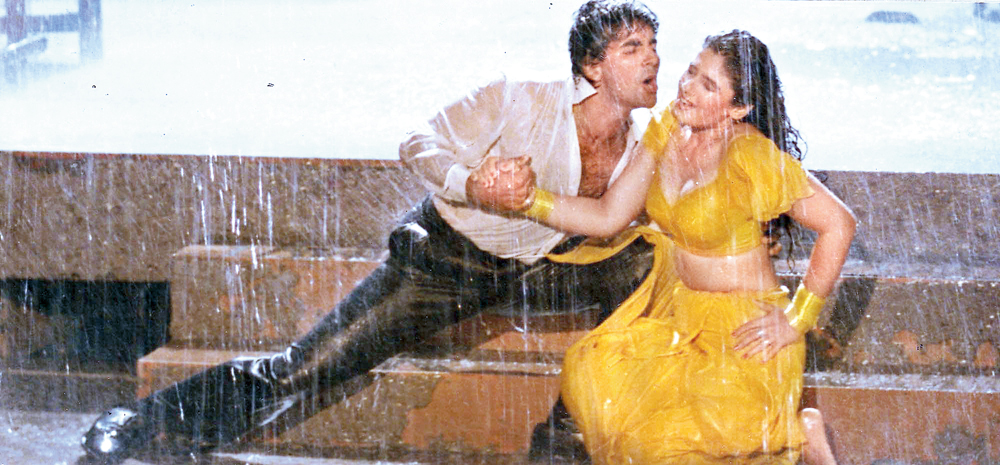 ---
---
Tip tip barsa paani, pani ne aag lagai... All schoolboys circa 1994 can say the aag is very much alive and burning, thank you. Rajiv Rai's slick action thriller Mohra —where Raveena Tandon in her yellow sari gave countless boys in the 1990s their defining coming-of-age moment — turned 25 on July 1.
In these enlightened, post-#MeToo times, we'd be squeamish about calling a woman mast mast cheez, but the Bolly adaptation of Nusrat Fateh Ali Khan's Dum mast kalandar did become cult and give Raveena a moniker that sticks even today.
Mohra was one of the last Bollywood biggies where blood looked like ketchup and there was plenty of it. Rape, bullets, gore, dhishoom-dhishoom, Mohra had 'em all, but it also had a clever plot. A villain uses a sad guy with muscles as a pawn to demolish the small fry. For a long time, no one's the wiser, thanks to Rai's crisp editing.
Also, check out the memorable characters. There's the wronged hero (Sunil Shetty as Vishal, surprisingly likeable even though he hams), the painfully righteous hero (Akshay Kumar's inspector Amar looks dishy but hams), the surprise villain (Naseeruddin Shah played the principal of a blind school in the 1980 classic Sparsh, but don't judge him here, he looks like he's enjoying himself as the fake-blind media mogul Jindal), heroine A Roma, a naïve journalist with a penchant for gyrating in the rain (Raveena's career-best, though the politically correct will trot out names such as Daman and Shool), heroine B Priya, a homemaker with a song and a death scene (Na kajre ki dhaar girl Poonam Jhawer has morphed into an Instagram bombshell), corny policeman in drag (Paresh Rawal queening it at a drug baron's den looked pretty even when a tennis ball, er, slipped and bounced on the floor), sparring drug lords with witty insults (suave Gulshan Grover and Raza Murad with false rabbit teeth), a top cop with an interesting arc (the competent Sadashiv Amrapurkar) and more.
But Mohra's recall value lies in Viju Shah's electrifying score, helped by lyricist Anand Bakshi. Akshay is recreating Tip tip barsa paani with Katrina Kaif for their 2020 film Sooryavanshi. Bet they're under a lot of pressure.