Chandreyee Ghosh on her upcoming film 'Mukhosh'
'My character Kaveri Bose in the investigative thriller is challenging in a lot of ways'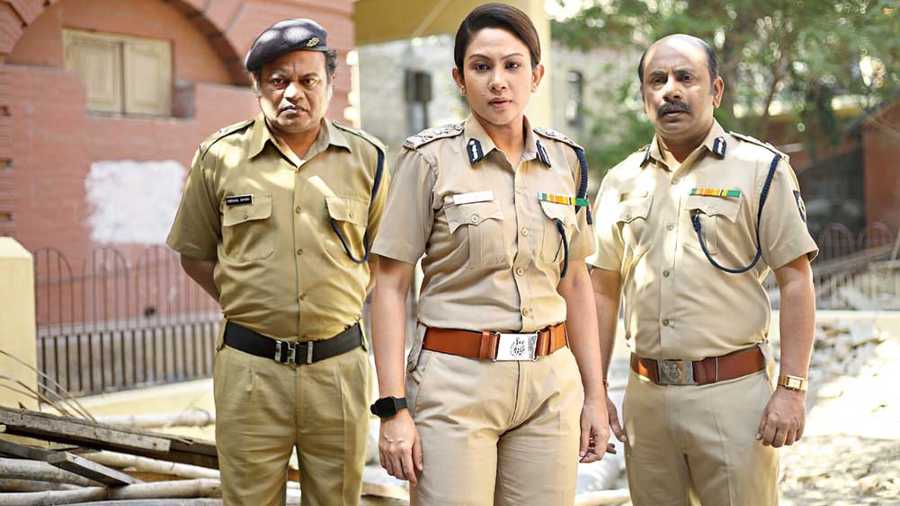 Chandreyee Ghosh plays a no-nonsense cop in the investigative thriller Mukhosh
File Picture
---
Published 19.08.21, 01:54 AM
|
---
In the last 21 years, Chandreyee Ghosh has given life to many memorable characters. On Tuesday, she was shooting in a 130-year-old house for a music video. "It is for a Rabindrasangeet. The location is beautiful. It has a huge courtyard, terrace, tall pillars... at every nook and corner you can see glimpses of whatever the house has been witness to for so many decades," smiles Chandreyee, who plays a no-nonsense cop in the investigative thriller Mukhosh — directed by Birsa Dasgupta — which releases today in theatres. A candid chat....
You are shooting for a music video today and lip-syncing to a song. In Mukhosh you play a cop. What kind of roles do the gaan (song) and gun play in your films and in life?! How important are they?!
Guns N' Roses is one of my fave bands! Roles of the song and the weapon are very important in our lives. They have different roles to play and since I am an actor I would also love to play different roles. They offer me a lot of variety. My character Kaveri Bose in Mukhosh is challenging in a lot of ways. I had a very basic look and I had to carry off the uniform very smartly and confidently. Although the situations were extremely dramatic in terms of expressions and acting, we had to kind of contain a little bit of the drama inside us. Guns, roses, thorns, and any other kind of weapon... when it comes to characters, these are always welcome for me.
Tell us about the character you play in Mukhosh and its various shades?
Apparently, Kaveri Bose is a person who doesn't have any emotion in her. She lives to do her job. But it is not that. There are very subtle situations where she cannot express the emotional turmoil that she is going through even if she wants to. That is what I really liked. She has to deal with a lot of responsibilities that come with her position. How does one balance that? And every moment something or the other is not going according to your expectation or your plan. There are so many people who are looking up to you. There are so many who you are answerable to. So this entire mechanism is extremely stressful and difficult. A person who is responsible for so much has to do it thinking about a thousand things; has to do it thinking about protocol, duties. I loved playing Kaveri Bose.   
Could you relate to the character in any way? In terms of its strength, perseverance?
Yes, I could relate to Kaveri Bose. I agree with her honesty, responsibility... keeping your work and duty as priority. And dealing with stress with dignity. Kaveri comes across as a no-nonsense person. It's like, 'It is better not to bug her, or better not to make too much conversation with her.' Some people, who don't know me, actually say that about me (laughs).
How did you prepare for the role?
When I get into the shoes of a character most of the things are in my head. Discussions happen with my director. Once I wear the costume, do my make-up, carry my accessories and go to the set, that's when I can actually put it together. Rehearsals and workshops help but for me it is that moment when I walk into the set and react according to the character... I have always gone with that.
At the last moment, Birsa, my childhood friend, would whisper a little something into my ear, which was absolutely in tune with whatever I was thinking or something he would add which would enhance my performance. It was nostalgic and exciting working with him.   
How did you work on body language?
Working on the body language was tough. You have a smart, fitted uniform which you are supposed to be comfortable in. During shoot, for a few scenes, I found the floor to be a bit slippery which don't give you the confidence to walk swiftly. The scenes where I'm in a hurry and getting off from the car and walking smartly into my office were challenging. That is the fun of being an actor, facing these challenges and knowing how you cope with them with a nice and straight face!
How did it feel everyday when you would put on the uniform of a cop?!
I would feel how Chandreyee's life is different from Kaveri's life. And how there can be no comparison between being a cop and being anyone else. Your day starts and ends on a completely different note.