Vir Das: Outside In – The Lockdown Special
The stand-up comic tells us how the 'global common ground' called 2020 gave rise to his new Netflix special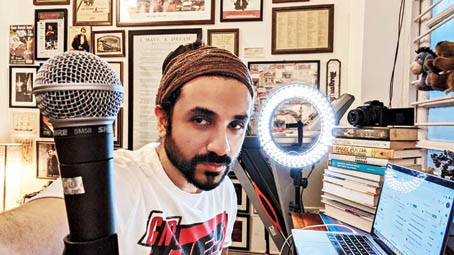 ---
Published 08.01.21, 06:26 AM
|
---
After starting 2020 with a bang with his Netflix special For India, comedian Vir Das ended the year with another special for the streaming platform, but with a difference. Outside In — The Lockdown Special, now streaming on Netflix, is a 55-minute show in which Vir culls out comedy and life experiences from an audience of 200 from his home on a series of Zoom calls. The show is irreverent, honest and authentic and resonates globally. A t2 chat with Vir.
Pandemic or not, nothing's going to keep you from putting up a Netflix special, right?
(Laughs) Let me be honest, I had zero plans for this, it's something that organically happened. God has been very kind and we had a very successful Netflix special in January 2020 called Vir Das: For India. And as a comedian, you should ideally wait a year or a year-and-a-half before putting out any special because you want life to happen to you a little bit. But here I got the opportunity to not be the star of my special, but to make other people the stars and tell their stories.
During the lockdown, you did a number of comedy shows on Zoom for charity. Did the material for Outside In come from there?
My focus during the pandemic was fundraising and that's why we did those shows. We sold about 150-200 tickets a night on a Zoom call and we gave it to a different charity every night. It's strange to do stand-up (comedy) on Zoom, and so to warm the audience up, I would ask the question, 'What do you want to do when the world is normal again?' I think I underestimated how vulnerable people were feeling in March-April. March, of course, feels like it was 10 years ago! (Laughs) I started to get very real answers from people... 'I want to meet my mom... I haven't seen her' or 'I just got engaged, but I haven't seen my fiance in four months' or 'I just want ice cream'.
Those questions started becoming conversations and those conversations started becoming jokes and after about six nights of that happening, I realised that if comedy is about common ground and relatability, then something like this will never happen in my life again... where the entire world is going through the same thing at the exact same time. Global common ground... that's never happened in my life before, it will never happen again. So I felt that I needed to capture this moment. I have had a DSLR camera for five years and one SD card and I used that, put up a stack of books next to the computer and we started filming. That's what turned into this special.
It must have come with its own set of challenges, as well as its own highs. What was that process like?
It was very, very challenging. I was doing 60 minutes of material a night but working in half-an-hour of conversation and at the end of it, we had about 350 minutes of footage. I have had a house in Goa for a while and in June, my wife, dog and I came here and in that month, I sat down with all this footage on my laptop, edited it and it turned into this 55-minute thing. I asked my team if it was even something anyone would want to watch and whether we could put it out there and raise money. In my company, I have a pretty good spread of age groups, genders and types of people and if about 65 per cent of them want to watch something, then I am okay. I got a pretty good run rate within the company and we put it up on the website. So it was on the website for a few days in August and we were able to raise a significant amount of money for four different charities. And then, Netflix wanted it.
The special hinges on what people were predominantly feeling and how they were reacting to the pandemic. Are there any reactions that stuck with you?
Yes, and that's actually the closing bit of the special. There was a kid from Udipi who said he wanted to have ice cream once the pandemic got over. When I asked him why, he said he was sad that day because he had admission to an engineering college in the US with a full scholarship, but he couldn't get a visa. And he showed us his admission letter on the Zoom call. We had 200 people on the call just crying in their hearts because we all knew this kid couldn't make it at that point. For someone like me who feels that going to America changed my life, I thought it was incredibly brave to just say, 'I just want ice cream today... that would cheer me up'. So the day the lockdown ended, we sent five buckets of ice cream to his place. That's actually the end of the show... him having ice cream.
You are used to being the centre of attention on your shows. What was it like putting the audience front and centre and is this a format you would like to work more with in the future?
I am going to be honest... it was damn tough yaar! (Laughs) I like to prepare and before you see a special, it's something that I have toured with for six-eight months. Vir Das: For India, I knew the ins and outs of it, I had done 85 shows. But on this one, there was no script. On the bright side, the pressure to be funny was a little less. When everyone is so vulnerable and everyone is so f***ed, for want of a better word, you have to acknowledge that and put some of your own on the table as well. In that sense, it took the pressure off, but it was pretty tough.
How does one cull humour out of a time and situation so grave where lives have been lost and the world has irrevocably changed?
As comedians, you do tend to say, 'Okay, f*** this horrible year, let's just wrap it up'. That always happens at the end of every year, chronicling the big terrible things or the big great things. For the last few years, we have called every year the worst, without even knowing what 2020 would be like! (Laughs) My show is not about the big things, it's about the small things. We aren't talking about (Donald) Trump and stuff like that. I have a lady in Thane talking about betel leaf and I am like, 'What's betel leaf?' And she says paan ka patta which she wants to go and have with her mom once this ends. Then we have a kid in San Francisco who is trying to explain a Zoom setting to his dad in Gurgaon on a 200-person call. We had a lady from Costa Rica who was walking on the streets while doing the call with us because there is no lockdown in Costa Rica. There was someone from Wuhan explaining to us what Wuhan is like. It's very much about human stories and little things.
It's also stuff that resonates. We had a girl from New York who said she wanted to get her eyebrows done and right at that moment, there were women from India, China and the US saying they wanted to get the same thing done. And then we had a conversation why she couldn't do it herself and me as a man trying to understand how it works.
Has this experience and the year that's been changed the way you look at your craft and your approach to it?
Yes, in two ways. One is that I value authenticity a little bit more at the end of the year that's gone by. Artistes like me who have a niche in the market have realised that a year like this is extremely democratising. Kanye West, Akshay Kumar and I had something in common this year... we all made videos from our houses! (Laughs) They, of course, have much nicer houses and one of them has Kim Kardashian in the house, but still that's pretty democratic, where all the trappings of being uber successful and being a huge star just go away. So the pandemic has been a great time for little guys like me to say, 'Okay, let's level up because now I am standing on the feet of my own content'. The other thing is it's been a good year professionally. This was a release year and literally everything I made in 2020 did well, and it was nice to just celebrate it without the usual things like a success party or any kind of PR.
Have you gone back to doing traditional stage shows?
I do shows in the middle of a forest in Goa for a maximum of 40 people at a venue that can hold 680 people. We do a 3pm in-the-sunlight show with everyone wearing masks. You've really got to love comedy to want to come for that show! (Laughs) But then it feels like 2008 again where I am making no money and none of the venues are right for stand-up, there is no cellphone network where I perform and the people who are there are just the ones who really like this art form.