Shalini Vatsa is on a high after Ludo
She has earned her chops working on stage, debuting in films with Peepli Live and has since acted in a variety of roles, including Kanta Bai in Sacred Games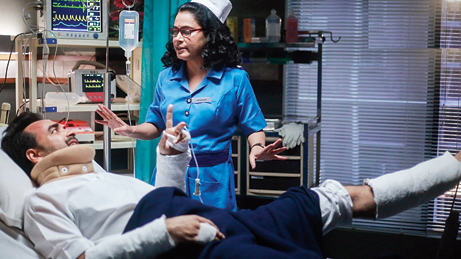 ---
Published 26.11.20, 11:18 PM
|
---
Her quirky turn as the bindaas Lata Kutty, opposite Pankaj Tripathi's Sattu bhaiya, in Anurag Basu's Ludo is earning her a lot of praise. We caught up with Shalini Vatsa, who has earned her chops working on stage, debuting in films with 2010's Peepli Live and has since acted in a variety of roles, including Kanta Bai in Sacred Games.

Congrats for Ludo. What's the standout feedback been like?
People have loved the film! Among everything that's been told to me, there's someone who wrote in from Calcutta on social media saying, 'Don't tell anyone that you are the same person who has done Sacred Games and Ludo... no one is going to believe it!' (Laughs) That was quite flattering.
What were your reasons to sign Ludo and when you signed on, did you know much about the character, given that Anurag Basu is known to not reveal much about his plot and players, even to the actors playing them?
I knew about it broadly, but I wasn't told much (laughs). I did the film just for Anurag Basu... I would have gone and done anything with him, any role he asked me to play. The primary reason was just Dada himself. Dada has created some great moments for my character Lata.
What was it like on set?
It was brilliant! There is so much fun in working with Dada and embracing his process. There is so much dynamism that he brings to the work. He brings so much passion into whatever he does. And then, of course, working with Pankaj (Tripathi) who is so terrific at what he does. He's a lovely person and a terrific co-actor. The whole set-up was extremely reassuring for me.
What were the challenges of playing this character?
Speaking Malayalam was a challenge. But I have faced these challenges right from my first film. In Peepli Live, I spoke Bundeli, in Gurgaon I had to pick up Haryanvi, in Shahid, my character speaks like us... which is partly English and partly Hindi.... I've done a film in Bengali also. It's actually an American film called Girl Rising. That was the easiest for me because I am from Patna, and I have had friends and my parents' friends who are Bengalis. I can understand and speak the language quite a bit. But for the rest of it, including Ludo, I needed to pick up the language and own it.
Theatre, films and the web, you have straddled diverse worlds. How are you looking at this phase of your career?
I have worked with the best, with the masters, both intensively and extensively. The work has been of that standard, and that's been my training too. The avenues are opening up and that's why an actor like me is getting to explore so much. We are seeing so much talent being thrown up in every year of film-making. Different kinds of stories and characters are coming to the fore. It's a great time to be acting at this time. 
Would it be fair to say that theatre has been the most fulfilling experience as an actor for you?
I have felt equally fulfilled in the film projects that I have done. Theatre is, of course, an actor's medium, but films have really contributed to my learning and growing as an actor.
Have you gone back to shooting after the pause?
I haven't yet. But I eventually will have to. Everyone wants to get back to their normal loves, but the wise thing is to maintain patience and hold ourselves back just a little more. The last few months have been unprecedented for mankind and it's been a time for introspection, of supporting each other, of reaching out, of feeling uncertain about things and finding hope and encouragement in each other. It's been tough, and we are still living it. Just the other day, I was reading something on 'caution fatigue'. That's also crept in, but we have to keep being patient.
What we've all done over the last few months is consume a lot of entertainment. Anything that you've watched recently that you've liked?
McMafia (starring Nawazuddin Siddiqui) is brilliant... the characters, the performances, the narration. I quite liked it. I also watched House of Cards recently... I hadn't watched it early. The plot and the intrigue have been built beautifully. And I have just started watching Season 1 of The Crown... I don't watch much content on OTT, I've just started (laughs).