Genelia Deshmukh talks about her films. marriage
'Everything about me defied what we had all initially heard about films and a film heroine'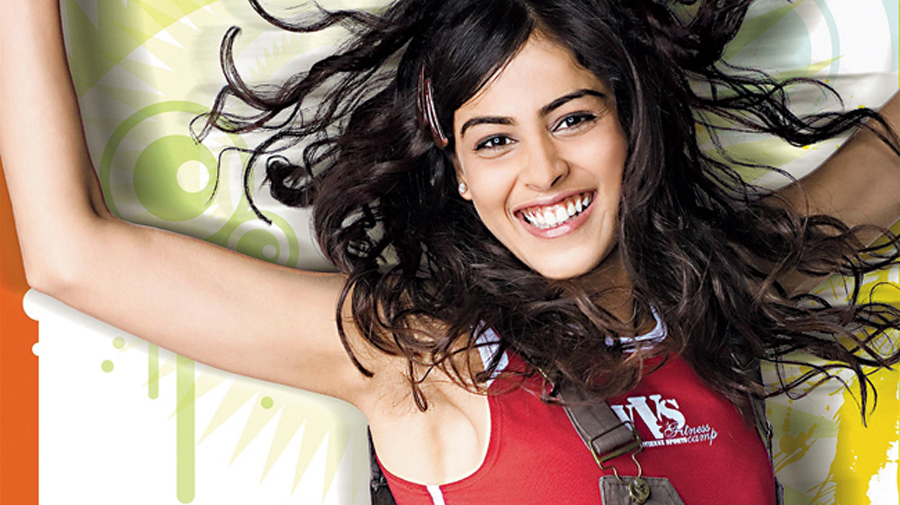 Genelia Deshmukh.
Sourced by The Telegraph
---
Published 02.06.21, 10:35 PM
|
---
The sunny Genelia Deshmukh was the special guest at a Ladies Study Group session on a sunny Sunday noon. The effervescent actress spoke about her foray into films, her marriage with actor Riteish Deshmukh and how to make relationships work. Excerpts from the session, moderated by LSG president Diya Jaiswal.
How was Genelia growing up?
I was one of those average college-going girls, interested in my studies, interested in having friends. One day, someone saw me outside college and asked me, 'Do you want to do something?' I was more interested in having fun with my friends, so that
went off....
You did a beautiful ad for Parker Pens with Amitabh Bachchan. How did movies follow?
Ads and films happened quite simultaneously. Ads were a big opportunity for me, but I was never one of those girls always ready with hair and make-up. Even now, if I go to a party, it's just a little kajal for me. That's me, even today. I was a girl in her shorts, playing sports and was good in my studies. Everything about me defied what we had all initially heard about films and a film heroine.
I was one of the bridesmaids at a wedding and someone asked me if I wanted to do some ads and she asked me to get my portfolio. I didn't have a portfolio, so she told me to get any pictures I could. I literally took pictures of me cutting my birthday cake because I had no idea! (Laughs) She must have thought I was crazy. She asked me to shoot a portfolio. Kelly Dorji (former model and actor) lived in my building and he was messing around with his camera and he did some pictures for me. I gave out the pictures and thought that was it. But I got a call from all the five production houses I had sent my pictures to. I auditioned and I got all those five ads!
My first ad was huge, it was with Mr Bachchan, and it got a lot of eyeballs. Almost immediately, I got calls from the film industries in the south and in Bombay. I was scared because I wanted to do a normal office job, but my mom said that films was an opportunity, but that I also had to finish my college along with it. I found that tough then, but today I am grateful to her because dropping out of studies shouldn't be an option.
I come from a very protective family. When I joined films, my mum gave up her job to be with me because we all thought films to be this big, bad world. But today, I would recommend it as a career option because it's not what people think it to be.
I did films in the south, I was there for many years, and I loved it. I was clear about things I would do and I wouldn't do, in terms of payment and dates allotted. I would credit my mother a lot for all of it because from knowing nothing about the business, she managed my career for 10 years!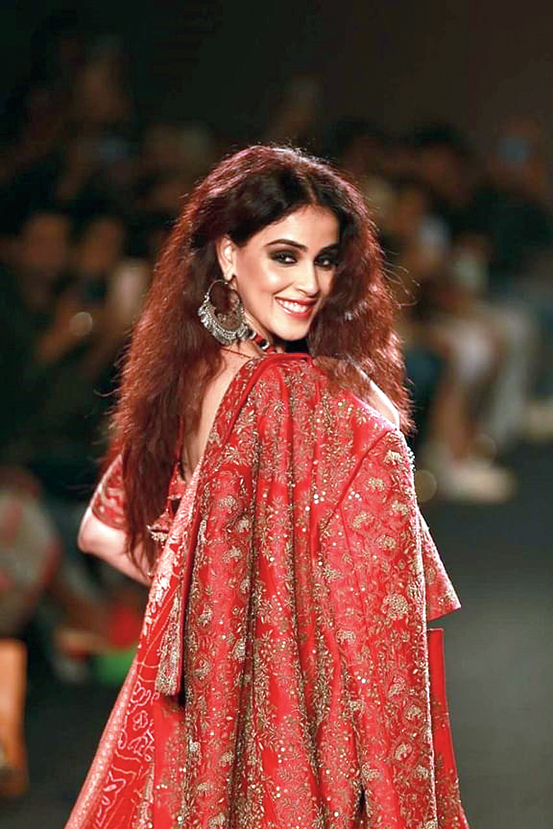 We know that you were heavily into sport. What has sport taught you about life?
One thing that sport has taught me is that there is just one winner, no matter what. In the profession that I am, there are a zillion retakes, but sport just has one take. Sport is something which is very necessary... because you learn to lose, you learn to be competitive. You see yourself as your only competition, which is very, very important. Somewhere down the line, we start comparing ourselves with others, and that's something I never did, probably because of my strong sports background.
I am very clear with my kids (Riaan and Rahyl) that they can do whatever else they want, but they have to play a sport. It's something that I believe will build their personalities. When I was in school and college, the other girls didn't really play, but I played every sport possible. I would credit my parents for making it so easy for me. It was never about me wearing shorts or anything like that.
Even Riteish (Deshmukh, actor and husband) is into sports. As a family, we enjoy running and hiking. Now both of us realise that we need to get our act together because we get tired with our kids (laughs). We try and keep ourselves fit. I am not a gym junkie... I like to walk, cycle and swim. Riteish does his yoga, his gymming, he's a sprinter... so sport is a very important aspect of our lives.
How did you meet Riteish?
When I signed Tujhe Meri Kasam (her debut Hindi film), Riteish wasn't cast then, it was another actor whose dates didn't work out. I was told, 'We have a new actor on board and he's the chief minister's (Vilasrao Deshmukh) son'. I thought he would be bratty and I should maintain my distance (smiles). We went to Hyderabad on the same flight, and when we landed, I refused to even look at him because I didn't want him to think that just because he's the chief minister's son, I was trying to be more chatty. So I just threw attitude! (Laughs) I don't even know why I did that because he was so nice to everyone, and eventually I realised that he wasn't bratty at all.
The first two days, we just shot our stuff and didn't talk. There were always a couple of people with Riteish and I thought one of them was security. One day, we were shooting while sitting on a bench and I asked him about his security guard. And he was like, 'No! I have no security!' (Laughs) I was relieved to hear that because then I knew that we could at least talk.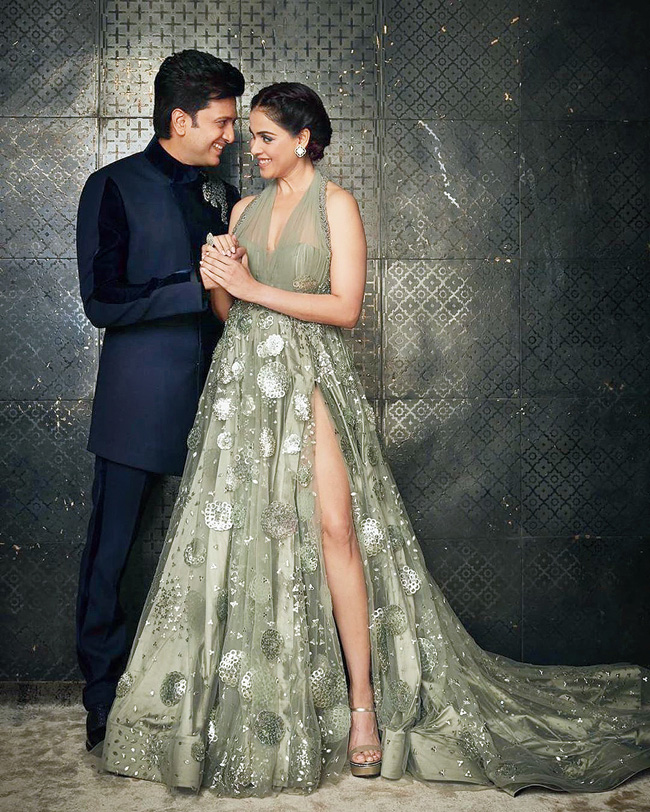 When was your first date?
The strangest thing is that we were seeing each other without anyone proposing. We had a long-distance relationship, because I was in the south and he was in Bombay. We had very hectic lives... we would both shoot 365 days. Our relationship was literally on the phone. People can't believe that we didn't even go for a single holiday! (Laughs)
More than anything, he was the person I could talk to about anything and at any time. And I was also that person in his life. He is extremely friendly but he doesn't open up to many people. For me, he represented everything right at that time. We started our careers together, went through our 20s together, we saw success and failure together... and I don't think I could have asked for a better partner than Riteish.
How did you make a long-distance relationship work?
We met amazing people, we worked with really good-looking people, we weren't even at the same parties. But when we got back home, we were there to call each other and talk about our day. We felt we had to nourish the relationship. Long distance is not a hindrance. Today, in Covid-19 times, we don't get to meet our parents because of fear of spreading infection. That doesn't mean the tie will break. So you need to figure out your happiness in a relationship and not just see the unhappiness. Issues will always be there, it's work-in-progress 24x7 but it's up to you to see it as either work-in-progress or say, 'I can't deal with it any more'.
We have to talk about your character Aditi in Jaane Tu... Ya Jaane Na...
Jaane Tu... happened when I decided to take a break after my hits in the south. I got a call from Aamir Khan's office and I was tired and not looking my best. But they had a video of mine from two-and-a-half years ago when I had tested for the film, but it didn't happen then. We did a screen test and Imran (Khan, the film's leading man) came out saying, 'I don't think I had any chemistry with Genelia. We hardly spoke'. But when they went in to see the test, he was blown away by the chemistry that showed up on screen. Aamir was very supportive.
Aditi (above) was just like me, at various levels. I would fight for my friends and they mean the world to me. It was fun playing me.
How do the kids deal with the fact that both their parents are actors? How have you prepared them for the paparazzi?
We were not in India for a while when they were growing up... I was in the US with them. They knew their dad was an actor, but my elder one would tell Riteish every time he went to work, 'But what do you do?! You only dance!' (Laughs) And they didn't know I even acted till one of their friends came in and said, 'Oh, your mum is in Pappu can't dance saala!'
They are such normal kids, they don't even know the film industry is part of our lives. They do their namastes to all the press because they feel these are their uncles. They've only been once or twice on Riteish's sets.