World of success
Indra Nooyi's well-received book My Life In Full barely talks about her older sister's phenomenal career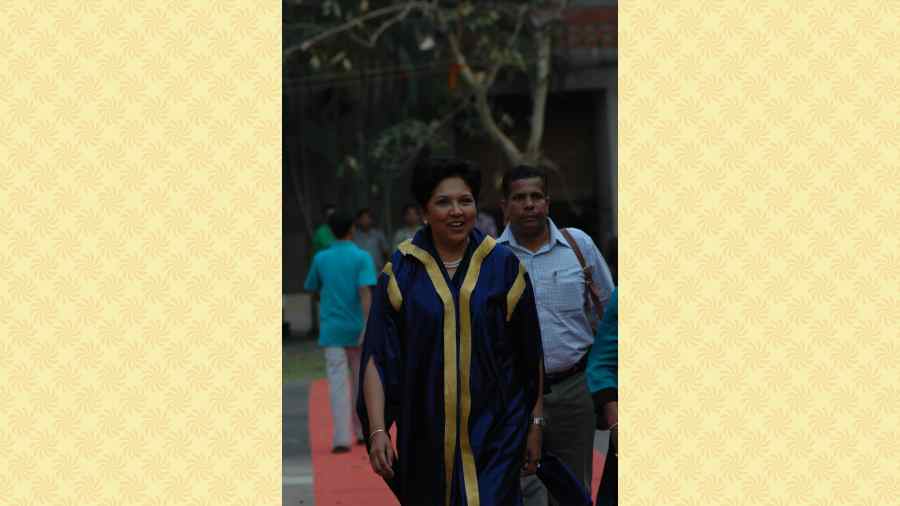 File photo of Indra Nooyi
Bishwarup Dutta
---
Published 30.01.22, 12:10 AM
|
---
The world knows her as Indra Nooyi, former CEO of Pepsico, the coloured immigrant, that too a woman, who headed the second largest food-and-beverage company in the world.
To us, she was Indra Krishnamurthy, one year junior to me at Holy Angels' Convent, Madras (as the city was then called). 
Her sister Chandrika (now Tandon) was a classmate and since we lived more or less in the same neighbourhood, everyone was in and out of each other's houses.
Theirs is the tale of two enterprising sisters, each treading her own path with success as a common goal. Chandrika Tandon was a partner with McKinsey & Company and in 2015, she and husband Ranjan made a $100 million gift to NYU for engineering. That alone should be an indication of how incredible her story too has been.
At any of Sri Sri Ravi Shankar's major events, the lead performer who sings a goosebumps-giving chant in various classical ragas is Chandrika Tandon. She is a Grammy-nominated artiste too.
There's an engaging story about how the Art of Living guide came into her life. One of Chandrika's friends had invited her to a dinner party at his place but panicked when he heard that Sri Sri, his celebrity guest of the evening, was a vegetarian. He made an SOS call to Chandrika, who was happy to host the dinner at her place. The Krishnamurthy sisters have remained vegetarian, so the right menu at short notice didn't pose a problem. Once Sri Sri stepped into her welcoming residence, it became his favourite place in New York. Thereafter, whenever he visited NY, Chandrika's home was where he'd stay.
So, long before Sundar Pichai (Google), Parag Agrawal (Twitter), Arvind Krishna (IBM) or Satya Nadella (Microsoft), each of the two Krishnamurthy sisters owned a chunk of corporate America. But neither rode to success on the other's shoulder. In fact, Indra Nooyi's well-received book My Life In Full barely talks about her older sister's phenomenal career. Nor does Chandrika flaunt her blood connection with a name as famous as Indra Nooyi.
In school, Indra was the tall one who excelled in sports. She used to say that when the newspaper came in, she'd eagerly turn to the sports page, soak in every word and then go on to the other news. The Head Girl and the Sports Captain were the two coveted positions in school. Indra was the undisputed shoo-in as Sports Captain. In the late 60s, when all of us passed out, we'd have thought of Indra flowering as a sports champ. Just shows how schoolgirls without a worldview have no clue about the ordained trajectory of fellow students. For that matter, neither they nor I knew one day I'd be writing a piece on them.
Our girls in NY have been faring well with Priyanka Chopra's baby by surrogacy proving again that what Priyanka wants, Priyanka gets. For her, the chant has always been, "Why can't a woman have a great career and a great family life like most men have?" She can but she has to be bold, beautiful and brazen. It's not easy for a top-selling heroine to go into an alien entertainment industry, re-introduce herself to strangers and begin her career from scratch in a new environment. Give it to Priyanka for doing that and starting a family instead of quibbling like Taslima Nasreen over the ethics of renting the womb of a less privileged woman. Taslima is entitled to air her opinions but it's pure hogwash to later whine that it's not about any particular person but about a subject of concern.
Taslima's timing sucks big time. Sohail Khan, Aamir Khan, Shah Rukh Khan, Shreyas Talpade have had children through surrogacy. So did Tusshar Kapoor, Ekta Kapoor and Karan Johar, who are single parents. When that didn't raise a storm, Taslima's Twitter debate on the ethics of surrogacy, that was started precisely when Priyanka and Nick welcomed their baby, does make it look less of an issue and more about an individual. 
Bharathi S. Pradhan is a senior journalist and author