The year that was
Along with Kabir Khan, Ranveer Singh has done all awards juries a big favour having wrested with names for the Best Actor trophy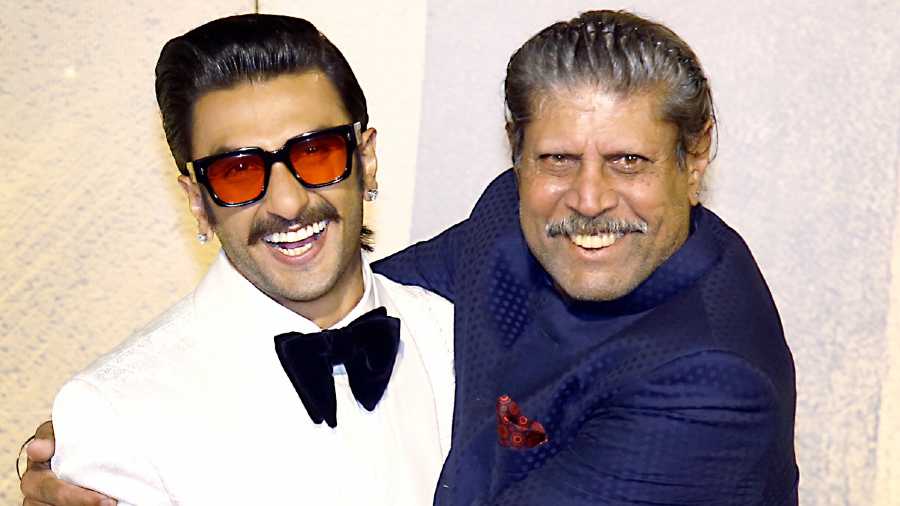 Ranveer Singh (left) and former cricketer Kapil Dev during the premier of '83
PTI
---
Published 26.12.21, 12:05 AM
|
---
In an early scene, when teammates jested that our fast bowler would shorten his name like others and introduce himself as a savvy "Balwinder Singh, Balls to you", there was a visceral groan. But the joke from a pre-Internet museum was no forerunner of how 83, the film, would play out as Kabir Khan proved again that given scintillating content, he can take a film to greater heights than what existed at the paper level.
In 2015, when story and screenplay master Vijayendra Prasad (writer of Baahubali, also father of its director S.S. Rajamouli), handed him a superb foundation for Bajrangi Bhaijaan, Kabir used his skills to build an engaging superstructure. Similarly, armed with a brilliant story and screenplay by Sanjay Puran Singh Chauhan, who made a watchable sports drama, Lahore (2010), Kabir has created another winner in 83.
Along with Kabir, Ranveer Singh has done all awards juries a big favour. Having wrested with names for the Best Actor trophy and not having arrived at a consensus, juries are relieved that an uncontested winner who makes you tearful and cheerful as Kapil Paaji has arrived at year-end. 
It's an exhilarating finish to a year that began with half-believing "This too shall pass" optimism. The audience that fearfully returned to the theatres with Sooryavanshi strode in more confidently to welcome Spider-Man. If Sooryavanshi registered opening weekend collections of Rs 77.08 crore and settled just below Rs 200 crore, Spidey almost doubled it with Rs 138.55 crore as its three-day pickings, making it the biggest hit of the year thus far.
However, the Kabir-Ranveer product is poised to compete with the US import, which should make patriotic chests swell as much as it did in 1983. Coupled with the fact that Ranveer was an energising part of Sooryavanshi too, 2021 is easily the young man's year. Bring out your most outlandish suits and take a bow, Rocky.
After being forced to lie low post-June 2020, seeing Karan Johar all over the place, and not being viciously torn to bits for daring to show his face, was an emphatic reiteration that "This too shall pass" is not mere rhetoric. Hosting Bigg Boss on Voot, a photography programme on National Geographic, judging Hunarbaaz Desh Ki Shaan on Colors, going to the capital to shoot Rocky Aur Rani Ki Prem Kahani (Rocky is Ranveer's pet name, by the way) and announcing the 2022 release dates of a slew of Dharma productions is Karan bouncing back with "Stop me if you can" vitality.
So have the storms of 2020 passed?
Unfortunately, vestiges of political pettiness linger on. Kangana Ranaut continues to be boycotted by awards committees who prioritise her off-screen politics over her on-screen performance in Thalaivii. In the bargain, co-star Arvind Swamy, who was superlative as MGR, has got dumped by the wayside.
This has also been a year for politician Ravi Kishen, who spouts "culture" on behalf of his party, to check if he squirms over his hypocrisy when he hurls every known alphabet of abuse in Hindi. In The Whistleblower, a web series on the Vyapam scandal that hit Madhya Pradesh, Ravi plays a corrupt doctor-businessman who uses gutter-level language in every sentence. In the name of acting, is perpetration of filth allowed in our sanskaar?
While unchecked dirt will continue on OTT, another prophecy is that Lord Shiva will be the hero of 2022. He made a grand entry in Kashi this year, followed by Ayan Mukerji unveiling the first spectacular look of his long-overdue trilogy, Brahmastra.
Years ago, Karan had bought the rights of Amish Tripathi's Shiva trilogy but let it lapse when he couldn't get going. But perhaps it inspired Brahmastra, which introduces Lord Shiva, played by Ranbir Kapoor, as its superhero. The release date of the first instalment: September 11, 2022.
As things stand in today's calmer-than-yesterday atmosphere, consummate actor Ranbir (with his marriage to Alia too) will be the headline maker of the new year.
Bharathi S. Pradhan is a senior journalist and author