Tales of fondness
Rishi Kapoor was straightforward enough and man enough to fight his own wars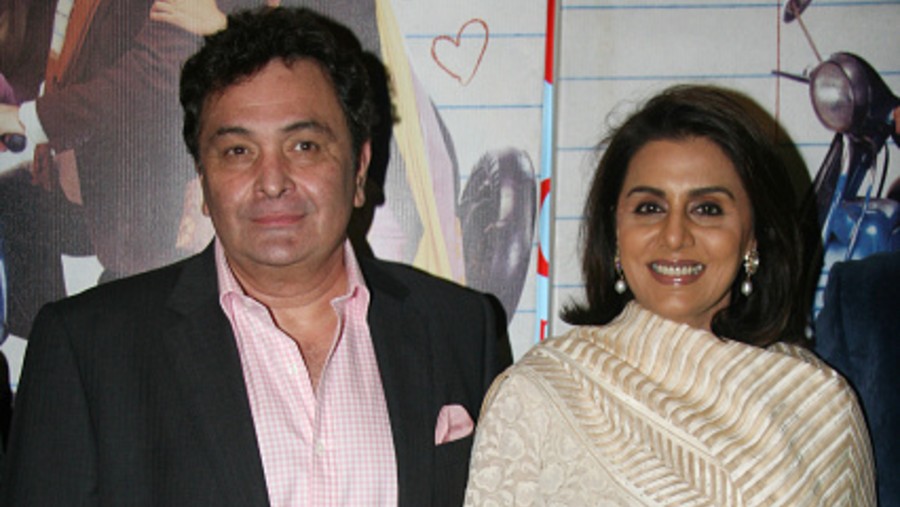 Rishi Kapoor and Neetu Singh during the premiere of film 'Do Dooni Chaar' on October 06, 2010 in Mumbai
Getty Images
---
Published 09.05.21, 12:29 AM
|
---
An unrecorded personal story on the fairy tale Rishi-Neetu marriage came to mind on April 30, one year after we bid Rishi goodbye.
During the star couple's dating days, Neetu, her mother Raji Singh and I were friends, sharing many off-the-record moments.
When the wedding of the year was around the corner, star columnist Devyani Chaubal, close friend of the Kapoors, did a story titled "Khandaan Paandaan". It pictured Raji Singh with a harmonium and Krishna Kapoor in her crisp white sari and pearls. Those were the days when magazines didn't do write-ups that coincided with a film release and only wrote stories that were topical.
This was sizzling. Today, a story that talked poorly of Neetu's antecedents while elevating the Kapoors to royalty, would be considered inappropriate and socially incorrect. It gave little credit to Raji, who had almost single-handedly parented and piloted Neetu through her life and career. Greedy star moms who wouldn't let go of the golden goose used to be aplenty but Raji delighted in seeing Neetu give up her lucrative career and settle down with Chintu. In fact, she took care to make hearty arrangements that matched Neetu's star status and wasn't a stinge on anything. None of this was in the Star & Style cover story which was supposed to be a study of contrasts, lopsided against the bride and her mother.
Rishi Kapoor was chivalrous and he was livid. He adored his mother-in-law, even moved into her apartment for a while until his bungalow was ready, and made sure she stayed with them until her last day.
In January 1980, the bridegroom was so incensed that he decided that no invitation would go to Star & Style for his grand wedding. But he didn't reckon with his father Raj Kapoor, the showman who was very much the ruling patriarch and whose every word was a writ. Caring two hoots for a cover story, Raj invited all his friends, which included J.C. Jain, the publisher of Star & Style, and Gulshan Ewing, its editor, who were the Page 3 influencers of the day.
Meanwhile, Devyani did a feisty tandav as was her wont. She marched into Raj Kapoor's house one morning and demanded an invitation. An amused Raj not only indulged her but, along with wife Krishna, entertained her like the good hosts they were known to be. And then the showman sent for his son. The obedient son had no other go but to personally hand over an invitation to Devyani in his father's presence and ask her to please attend the marriage.
The upshot was that the publisher, editor and writer of the offensive article were all invited while the young, insignificant senior assistant editor who had nothing to do with the story was kept out. Neetu did not have a say in it.
Much later, after Rishi called truce, he realised how unfair the whole circus had been to me. Several meetings and interviews brought down walls and there was an informality and familiarity between Rishi and me that went beyond the professional. He made it a point to invite me to daughter Riddhima's wedding and gave me the warmth he gave old friends. I remember snooty Saif Ali Khan, standing behind me, being taken aback by Rishi's welcome to me.
But familiarity between two straight-talking people also meant the occasional conflict. Rishi could tell it as it was, but not always take it when somebody else told him off in the same manner.
So why do I still remember Rishi Kapoor wistfully and with such fondness?
Because he was straightforward enough and man enough to fight his own wars. Unlike actors ranging from Dilip Kumar and Amitabh Bachchan to Sanjay Dutt and Anupam Kher who would gather all their colleagues to ban the film press when they had their own personal grievances and scores to settle, Chintu neither joined them in their boycotts nor asked them to help him during a skirmish with a scribe.
I don't think he even complained to anyone about any journo or publishing house. Straight in his dealings, he fought and settled his own battles.
We do miss you, Rishi Kapoor.
Bharathi S. Pradhan is a senior journalist and author