New Year, His Way
His voice was muffled forever in April 2020 but his epitaph could well have been, "My name was Irrfan Khan and I was not a terrorist"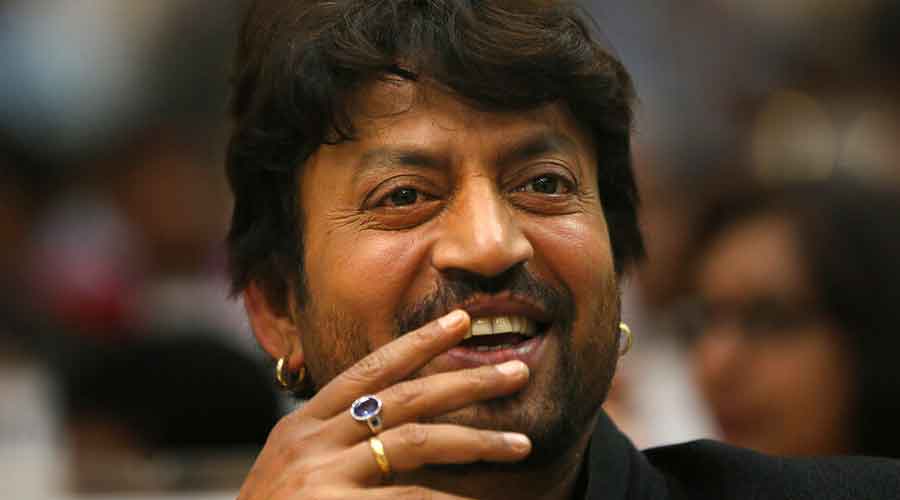 ---
Published 03.01.21, 01:33 AM
|
---
With Bengal going to the polls in a few months' time, and communal cacophony guaranteed from all political corners, perhaps pausing for a moment and replaying a distinct sound of temperance would be a wise thing to do on the first Sunday of the year. His voice was muffled forever in April 2020 but his epitaph could well have been, "My name was Irrfan Khan and I was not a terrorist."
Years before "love jihad" was coined as a term, the Muslim boy from Jaipur who was married to an individualistic Bengali Hindu had cheerfully talked to me about his mixed marriage. Unlike most couples in interfaith marriages who liked to spout that differences never arose in their homes, Irrfan had chuckled with characteristic candour, "Religion does come in the way sometimes. Because of the way you're conditioned, you hold the jhanda (flag) of your group. Understanding each other is a lifelong process."
The process had undergone many a change. "I was once a practising Muslim," he had reported, "but over the years, I only want to practise what comes naturally to me from my guts. I don't want to practise anything as a ritual. If you feel like doing a ritual, it's fine with me. It doesn't matter in what form you practise it. A prayer is a prayer."
Irrfan had an unshakeable faith in the Almighty. "God is always with me, he is a constant in my life."
Since the form didn't matter, he had gone along with Sutapa Sikdar when she had "romantic notions about church bells".
Irrfan said, "I don't completely disagree with her because for me God is everywhere. He doesn't have to be in a mandir, masjid or church. Durga Puja is a big deal for Sutapa, so I go with her to the puja. All this is a part of culture. Every religion is basically pro-life and supports evolution."   
It was when religion got straight jacketed that Irrfan frowned. "If religion closes the door to evolving, then it becomes a burden for humanity. It becomes a disease.
"It is strange that religion came into existence to live in peace and harmony with others," he had observed. "You can't now use religion to create inconvenience for others. Religion came into being through metamorphosis. But today there's too much politics in religion."
It didn't, however, play politics in his marriage to Sutapa, who did not add "Khan" to her surname. He had disclosed with elation, "Her people are very liberal, her father is a fantastic man. He does not carry the baggage of Partition. You know, a Bengali guy wanted to marry Sutapa but it was her father and her brother who advised her to marry me."
It also didn't play up when it came to naming his kids — Babil and Ayaan.
"Sutapa and I didn't want to think of either a Hindu name or a Muslim name. We just left it to my mother," he had explained. "I have always lived my life the way I wanted. I went against all that my mother wanted me to do. She never wanted me to become an actor, I became one. She never wanted me to marry anyone outside my religion but I did just that. So, when it came to naming my kids, I fulfilled her wish. I didn't want to break her heart again."
And he did not want to force any particular theological thought on his sons. "God should be acknowledged with love, not out of fear or greed," he believed. "My kids should grow up and find their own faith, they shouldn't be trapped in any sort of conditioning of the mind. I talk to them about life. Whether it's a quote from the Gita or the Quran, I pass on whatever is good to my kids."
The man who struck his own path on most things in life doted on his kids. "They are the best things to have happened in my life. I would love to have lots of kids. I also want to adopt a girl child," he'd divulged.
Islam does not recognise adoption but Irrfan made and lived by his own rules — rules that didn't "inconvenience" anybody.
May his thoughts take us through 2021.
Bharathi S. Pradhan is a senior journalist and author