All eyes on Chehre
With Sushant Singh Rajput's girlfriend in the news for wrong reasons all over again, the filmmaker wisely decided to keep the focus on Amitabh and Emraan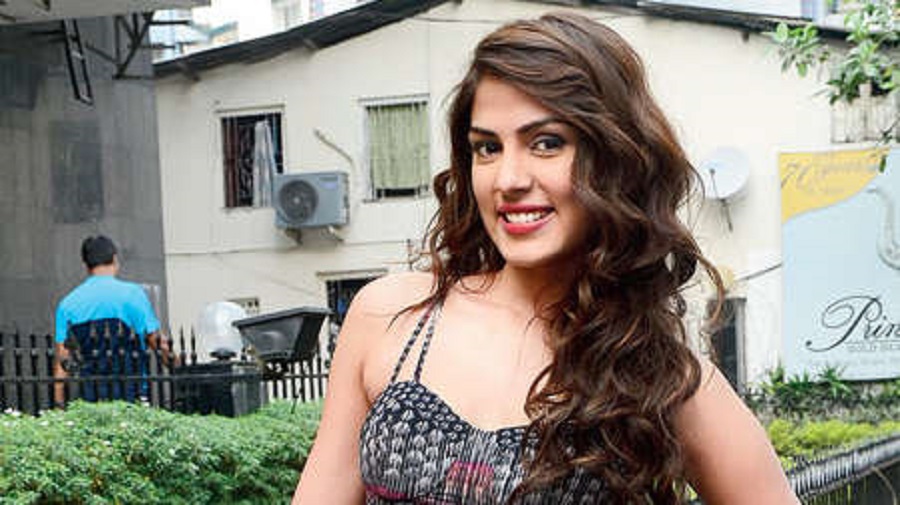 Even the trailer has barely one or two shots of hers although director Rumi Jaffery has always been firmly on Rhea's side
File Picture
---
Published 21.03.21, 12:30 AM
|
---
There was a lot of hectic backstage activity when Janhvi Kapoor's third film was released in the theatres on the 11th of this month. In the hope that Roohi would be as much of an entertainer as its predecessor Stree (2018), many of us had looked forward to the new horror-comedy for more than one reason. A difficult genre to make, producer Dinesh Vijan had pulled it off well the last time around with Rajkummar Rao, Shraddha Kapoor and Pankaj Tripathi top-lining the well-made Stree.
One also wanted Vijan to succeed because it was courageous to opt for a theatrical release in these Covid-19 times, especially when it was the same producer who had burnt his fingers exactly one year ago. On March 13, 2020, he had released Irrfan Khan's last film Angrezi Medium and CM Uddhav Thackeray had ordered the closure of theatres in pandemic-stricken Maharashtra the very same evening.
On its own, Angrezi Medium may not have had a good run because it was nowhere as amusing as its forerunner, Hindi Medium (2017). But it did feel like fate had dealt the producer an unfair hand when his film had to be yanked off theatres the day after its release. One, therefore, acknowledged Vijan's guts for being the first man to risk putting Roohi, his fresh new film into theatres at a time when Covid protocols were still in place and the audience had not heartily returned for the big screen experience.
But today, with the wisdom of hindsight, one would label it misplaced confidence. For, though the producer (Dinesh Vijan) and the hero (Rajkummar Rao) were a repeat from Stree, under a new director called Hardik Mehta, a repeat round of success couldn't be guaranteed. Roohi was such a let-down at all levels that this was certainly not the film one should have marched with such confidence into the theatres.
"Dead on arrival," as one critic put it. But the producer had such faith in his product that he had held a round of preview shows for friends and colleagues, and the backstage machinery had got celebrity colleagues to put out glowing pre-release tweets about the "sure hit". I'm not sure who got hit since the Rs 35 crore project huffed and puffed but could hardly make it to the halfway mark. 
Undeterred, trade analysts who desperately need to comment on theatrical collections to remain relevant kept cheering from the sidelines about how encouraging the collections were.
The Janhvi camp also went into overdrive when the truth is that this is not a film for anybody to crow about. She who was proficient in Gunjan Saxena did not have a role that called for histrionics since the makeup artiste had a bigger job to do than Janhvi.
But the focus is soon going to swing from Janhvi and other young actresses to Rhea Chakraborty again. The producers of Chehre, the new Amitabh Bachchan-Emraan Hashmi thriller, were debating whether or not to play up the fact that they had Rhea too in their cast when the Narcotics Control Bureau reared its head and moved court to have her bail cancelled.
With Sushant Singh Rajput's girlfriend in the news for wrong reasons all over again, the Chehre people wisely decided to keep the focus on Amitabh and Emraan. In fact, even the trailer has barely one or two shots of hers although director Rumi Jaffery has always been firmly on Rhea's side.
Convinced that the actor had committed suicide because he was mentally disturbed and that his girlfriend had no hand to play in his death, Rumi was the filmmaker who had planned to cast Sushant and Rhea in a film that of course could never be made.
So close were Sushant-Rhea-Rumi that there's a photograph of the actor sitting around at the shooting of Chehre, a film in which he had no part to play.
With Chehre scheduled for an April release, Rhea in the film and in the NCB's gaze, the next few weeks will again be high decibel. As Maharashtra's cops-and-politics opera also gets curiouser by the day, it's a fair bet that Sushant won't be resting in peace for quite sometime to come.   
Bharathi S. Pradhan is a senior journalist and author