Brozoned girl
I have never had a boyfriend. I get brozoned — Aami Ashbo Phirey actress Sauraseni Maitra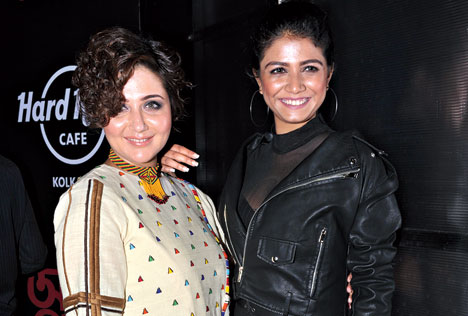 ---
Published 06.04.18, 12:00 AM
|
---
Sauraseni Maitra walks into Hard Rock Cafe on Park Street at 4.15pm on a Saturday, makes herself comfortable and takes a sip of Virgin Mojito. "Any time is a good time for a Virgin Mojito, no?!" she asks. What happens after the sun sets, we ask? "See, the present Sauraseni is a changed person. Two months ago, it would have been different! But I am trying to cleanse all my 'sins'. So it is Virgin Mojito 24x7," the Aami Ashbo Phirey actress smiles. A t2 chat follows.
Give us a picture of Sauraseni two months ago...
Hoppipola (Acropolis) was my regular stop. It is super close to my place. I have a set of school friends and I love chilling with them. I used to be an occasional drinker....
What was your poison?
Beer. A lot of people told me to change my lifestyle, which I also thought was correct. And now that work has been keeping me so busy, I don't have time to hang and chill out with friends. This is like my Zen Sauraseni mode. It's important to balance both things in life… it has to be a proper mix of work and play. Now, though, it's only work. And I'm enjoying it.
You are already in Anjan Dutt's next Finally Bhalobasha and Mainak Bhaumik's next Generation Aami… explain all the offers that are coming your way.
And the offers that I am getting are from critically acclaimed directors. When Meghnadbodh Rohoshyo and Maacher Jhol came out, I was quite nervous. But my struggle actually begins now. Both those films gave me a lot of appreciation from people. So I hope that I just live up to their expectations and do better in the future. For Aami Ashbo Phirey (releases on April 13), I am nervous and also very excited because it is my first film with Anjanda. I had a great time shooting it.
Are you taking the help of acting coaches?
No, I tell my directors to guide me. I don't come from a theatre background, I started modelling from an early age. I never really thought that I had it in me to be a good actor. I never had any acting coaches, and then for Meghnadbodh… I got trained under Sohag ma'am (Sen). I was super blessed. With Maacher Jhol we did a script-reading twice, thrice, so it became easier.
Now that all these offers are coming in, are you thinking of joining acting classes?
I'll definitely do it, but once I have time. I have so many things lined up that I really don't have the time to go to an acting class. Once you start doing something, you have to dedicate that amount of time to it. And I have my directors to guide me through the films. I try to be the director's actor.
Did you feel the pressure to perform for Aami Ashbo Phirey?
See, the pressure is always there, but then my director was Anjan Dutt. The atmosphere was so homely. Swastika (Mukherjee) is super helpful.... I am very new. I don't really know a lot about camera angles. She helped me a lot with the technicalities. I love her. Swastika is such a powerhouse of talent. An amazing woman. Why do I blush when I talk about her?! I have this tremendous girl crush on her. We had a very good bonding, and it looks great on screen. And then there was the Koushik Sen. I got the chills before every shot, but they are such good actors that they make it very easy for you. They helped me so much during the scenes.
Do you feel you could have done certain things better?
Absolutely. I don't like to see the monitor, unless the director wants me to see something. Anyway, I have super anxiety, so it is best for me to not see. I don't really want to be satisfied with my performance ever. I won't be able to grow otherwise. I have just started and I have so much to learn.
In the next film, you are opposite Anjanda…
So talk about pressure now! I play a trumpet player in the film.
Who are you in Aami Ashbo Phirey?
I play Oona. She did not have a healthy childhood. Her mother (played by Swastika) has always been ambitious and Oona feels that probably she has never really paid that much attention to her daughter. Oona had a good bonding with her father but she grew up seeing her parents fight all the time. So it was not a healthy atmosphere for a child. Her father passes away, and she holds a grudge against her mother. She has been hurt for so many years that she also wants to hurt her mother. She wants to find anchorage in someone like her father.
That is a complex character...
Yeah, but I knew I could do it. When Anjanda narrates a story it is beautiful… you can see the story unfold in front of your eyes. I found every character so well-sketched. Oona doesn't have her life sorted.
Did you have questions for Anjanda?
I had questions like why is this girl screwed up? Was she close to her father? Why does she want to hurt her mother? Anjanda gives his actors all the space. And acting is all about emotions and feelings. And the words I say are like anything a teenager would… OMG! I just called myself a teenager. I had forgotten that I am no longer a teenager. I mean the young generation… we speak in a certain way… on occasions I have improvised and Anjanda was okay with it.
Was this experience emotionally draining for you?
Yeah, I am not a method actor. There were some scenes after which I had to be in my own zone. Before and after the scenes. For a short moment, it did affect me. And when Anjanda says, 'Babu khub bhalo korechhish', that's a huge thing for me.
How did you deal with these intense scenes?
Anjanda has taught me a trick which I can't say. I try to channel my emotions. I am an emotional person myself. I am very short-tempered. But then I cool down easily. If I am inconvenienced in some way, I cry.
Are you signing whatever you are being offered?
I am so blessed that good scripts are coming my way. And I believe in the scripts and my characters. Modelling will always be there.
How do you view competition from models who have turned actors?
There is a lovely bond between us. We all are here. It's just that the profession has changed.
Who's your 4am friend?
I have no 4am friends in the industry. My 4am friend is my mother, no one else will listen to my bullshit!
Who are you dating now?
Please don't ask me this. I'll start crying now. I have never had a boyfriend. Can you believe it?! It's so sad. I get brozoned by guys. I obviously had flings but have never been in a proper relationship.
How many people have told you that you look like Parno Mittra?
Yeah, a lot of people, but tai ki? I love her work, and I really like her as a person.