Books
Sudeep Nagarkar swipes 'write' into the bestselling charts with book 7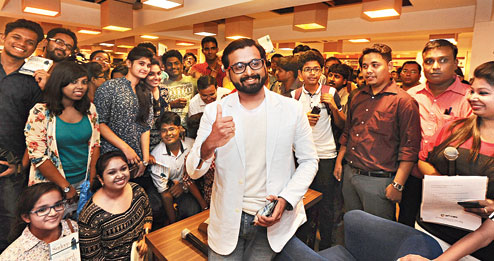 ---
---
The first indication that this was not your average book launch came when the security lady peeked into my bag at Story and raised an eyebrow, "Just one book?" She can't be blamed, for all around me, young boys and girls were trooping in cradling stacks of paperbacks, to be autographed by Sudeep Nagarkar. The Mumbai-based romance writer is seven titles old, most of them bestsellers. His latest, She Swiped Right Into My Heart, came out a fortnight back and has been No. 1 for two straight weeks. Before addressing his adoring fans, the
28-year-old chatted with t2...
You're a business management graduate, dazzle us with your numbers…
(Smiles) It's going good. The books have sold more than a million copies combined. The seventh book is at No. 1 for the second week. The first print run is 65,000. The pre-orders had crossed 10,000 and the first day sales were over 10,000 too. Seems it will go into a second print within a month.
Apart from the writing, you have to look into the figures because if your book is not selling, it's difficult for the stores to stock them. But for me, more than numbers what is important is what message I am trying to convey. Because my books are read by the 15-25 age group. When a reader writes to me on Facebook or Twitter that I like what you have conveyed and I will try to follow it, then I think my work is done. Then the numbers automatically follow.
What's the message in this book?
When I was writing this, I was clear in my mind that I have to talk about LGBTs and their rights. Because we may talk about these issues on Facebook or Twitter now, but if your friend turns out to be gay, suddenly your perspective changes. It's like, okay, you are lesbian... fine, but you shouldn't be in my company.
But if someone is left-handed, it's not a sin. Rather it's not even a choice for them. It's the same with sexual orientation. That is what I have tried to portray through this girl called Shibani. Another thing I wanted to focus on is that we always talk about pretty girls in books but through a character called Geet, I have tried to talk about how every bad-looking girl goes through bullying in college. Then she realises that it's not about your looks but how you carry yourself.
Why do you write?
I never wrote in my schooldays. I had a break-up and ended up dropping a couple of years in college, at that time I started writing a diary and realised that writing was my passion.
Later I worked for an IT company for almost a year but realised that I was not doing justice to the work. So in 2013 I decided to take the risk of writing full-time. In India it is very difficult to pursue a creative field, be it writing or singing or sports. Because it is very difficult to convince an Indian parent. Till date I avoid family gatherings because of all the questions about, 'Beta, kaam kya karte ho?' Luckily my parents supported me, even when the money in writing was not that much.
Your titles are very innovative. How do you come up with them?
(Laughs) It takes a lot of effort. If I take around three months to write a book, it takes me and my editors around two months to decide on a title! Because these days, the lifespan of a new book is very short. In a bookstore, if someone feels a title is fascinating enough only then will he read the blurb behind. And if you are buying online, then it's only upon the title and cover.
I always keep titles that are relatable to youngsters. Like You are the Password to My Life... even I have done that… kept my crush's name as my password (laughs). If the titles are relatable, youngsters can keep them as their FB or WhatsApp status, so they will go viral automatically.
Do you read yourself?
Yes, Nicholas Sparks, Dan Brown, Jeffrey Archer.... Then there are two books that have really, really inspired me. I feel if I can write to that calibre, then I can retire happily — Not Without My Daughter (by Betty Mahmoody) and Many Lives Many Masters (by Brian L. Weiss).
The last book you read?
The Sialkot Saga by Ashwin Sanghi. I was at his launch and he gifted it to me.
What about your contemporaries, like Durjoy Datta or Ravinder Singh?
Durjoy and I are very good friends now. He started around 2008, I was in college then, I used to read him. Even Ravinder Singh's initial books.... Recently I have become very fond of reading Jhumpa Lahiri.
You write about love. What about your own love life?
I am engaged. Probably I'll get married by the year-end. It's a love marriage; she's Punjabi, I am Maharashtrian. She lives in Delhi, I am in Mumbai, so it's been a long-distance relationship of almost two years. Her name is Jasmine Sethi, she is an engineer, working with an IT company. She is the first person to read the first draft of my books.
Innovative dates and proposals are your thing… how did you impress Jasmine?
When we started dating, we were in Goa — I have written about this in this book — I hired a local boat and took Jasmine on it... local fishermen take the boat out and show you dolphins. That's how I had planned that date (smiles).
"I like the simplicity of Sudeep Nagarkar's language, especially because I myself am a writer. And the romantic scenes he creates are just what a girl would desire in real life," said Zoya Khan, a Class XII student of Loreto Day School, Sealdah, who has contributed stories to two anthologies — Half Baked Love and The Scribbled Tales.
"I have read all his books and I love everything about them. My favourite is Few Things Left Unsaid, because of the way he pens his characters and explains friendship and love in that book," said Ayushi Worah, a first-year BCom student of The Bhawanipur Education Society College.
"Sudeep Nagarkar has a firm grip on storytelling. The way he tells teenage love stories is a complete jackpot," said Aritra Biswas, a second-year electrical engineering student of Elitte Institute of Engineering and Management. "I admire his proposal styles. In fact, I tried one of his ideas for this girl I liked, and you know what, it worked! She is my girlfriend now and the next time Sudeep Sir comes to Calcutta, I hope to bring her along too," he said.
Samhita Chakraborty
Pictures: Sayantan Ghosh
Sudeep Nagarkar has swiped right into my heart because...
Tell t2@abp.in