Bond's world
A guided tour of London's West End, linked to Ian Fleming and his most famous creation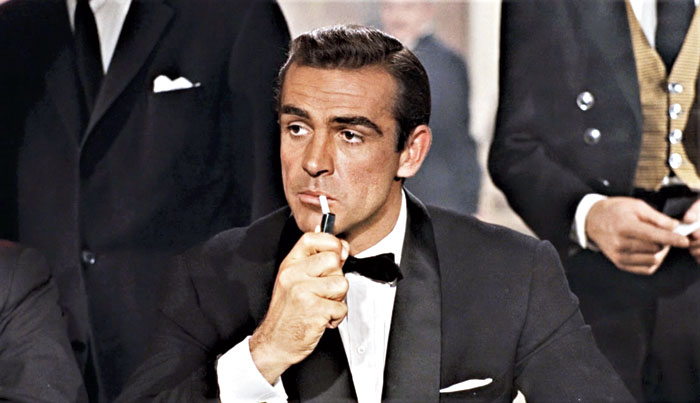 Sean Connery makes his debut as James Bond in Dr No
Sourced by the author
---
Published 09.08.19, 09:46 PM
|
---
The James Bond novels and films have millions of followers all over the world but it is not until Ajay Chowdhury gives you a guided tour of London's West End that you realise how the world of Ian Fleming intersects with that of 007 within a relatively small area of Mayfair.
This exclusive, discreet and very expensive part of London is probably familiar to anyone who plays Monopoly.
If there is such a thing as a James Bond scholar, Ajay, a lawyer in his private life, is that person. Having spent more than 25 years researching 007, he is co-author, with Matthew Field, of the definitive Some Kind of Hero: The Remarkable Story of the James Bond Films which will be updated in April.
He is also editor and spokesman for the James Bond International Fan Club.
The 25th Bond movie, as yet untitled, starring Daniel Craig on his fifth and possibly final outing as James Bond, "is on track", says Ajay.
He adds that various setbacks (such as the abrupt replacement of Danny Boyle by Cary Joji Fukunaga as the film's director and injury to Craig) have been less damaging than newspapers have made them out to be and that Bond 25 will premiere, as scheduled, in April 2020. Ajay begins his two-hour tour on a perfect summer's day by mentioning some of the landmarks we will encounter: "Today we are going to explore the haunts of Ian Fleming and the Bond film producers, Albert R 'Cubby' Broccoli and Harry Saltzman, and how these three lives intertwined serendipitously in the 1950s. We dig deep not only into the fictional world of spies but actually the intersection with the real world of espionage.
"We are going to see Ian Fleming's birthplace; we are going to see the homes of Cubby Broccoli and Harry Saltzman; we are going to see the offices and gaming clubs which they frequented; we are going to see the hotel, with real life secret services links, where press launches were made. We are going to see locations which inspired the films; we are going to go round St James's and the dining and sartorial haunts of Ian Fleming and Cubby and Harry."
Ajay stands in front of 27, Green Street, where Ian Fleming was born on May 28, 1908. The property, now boarded up for repairs, was the town house of his father, Valentine Fleming, who was based in Oxfordshire as the Tory MP for Henley from 1910 until 1917 when he was killed during the First World War.
Across the road, Albert R ("Cubby") Broccoli, a New Yorker and one of the Bond film producers, lived from the mid-1950s till 1978.
The other film producer, Harry Saltzman, a Canadian, had his apartment a few minutes away in Mount Street Mews. Bulldozers and cranes are busy turning what used to be the massive United States embassy in Grosvenor Square until 2017 into a luxury hotel owned by the Qataris. But at 1, Grosvenor Square, where the embassy was built, stood the town house once occupied by Ian Fleming's paternal grandfather, who founded the merchant bank, Robert Fleming and Co., that was named after him. This was bought by Chase Manhattan for $2bn in 1999.
Ajay passes the Dorchester Hotel in Park Lane, where Fleming apparently met Saltzman, then working in "black ops", during the Second World War. Fleming was director of naval intelligence and had set up an assault unit for commandos, "30AU". Although Fleming attended Eton College, as did James Bond, the author made 007 a man of Scottish and Swiss extraction and not a stereotypical Englishman of the "old school tie" variety. In fact, Bond was given some of the masculine roughness Fleming had witnessed in the commandos.
It was also at the Dorchester that Broccoli and Saltzman made many of their press announcements and introduced George Lazenby and Roger Moore, for example, to the outside world from the hotel's rooftop garden.
On their way to Nehru Centre, the cultural wing of the Indian High Commission at 8, South Audley Street, people pass 2, South Audley Street, which once housed the offices of Eon Productions, the film company set up by Broccoli and Saltzman.
Spotting Ajay on CCTV, an anxious looking security guard comes out of the front door for this is now the London residence of the Qatari royal family, while No 1 next door is the Qatari embassy.
This is where in 1960 Sean Connery strides in after parking his Porsche outside to be considered for the role of James Bond. Connery bangs the table and refuses to give a screen test but Broccoli and Saltzman realise they have found their man as they watch Connery move "like a jungle cat" back to his car. Dr No is released as the first Bond movie in 1962. Ajay's book explains how Connery was groomed for the role: "Finding Connery was only the beginning. Not only did he have to act Bond, he would have to become Bond. Terence Young (director of Dr No) took Connery on an extensive crash course in all things refined. Various sartorial establishments in London (all in Mayfair) dressed Bond: tailored suits from Anthony Sinclair of Conduit Street, shirts and ties from Turnbull and Asser of Jermyn Street, his trilby hat from Lock and Co., and handmade shoes from Lobb and Co., both of St James's Street. Young schooled Connery in the background and manners one would expect of Fleming's Eton-and Fettes-educated spy. He advised Connery to sleep in his suit to get comfortable with it, taught the actor to eat with his mouth closed. Young tutored Connery into becoming the refined gentleman spy."
Connery does finally agree to screen test but only so that various Bond girls can be tried out opposite him.
In 1966 at the height of their success, Broccoli and Saltzman fall out and enter into an "agreed estrangement", after which the latter rents new offices diagonally opposite at 1, Tilney Street.
The first time cinemagoers see 007 is at the Les Ambassadeurs Casino, which still exists at 5 Hamilton Place opposite the Four Seasons Hotel. He is sitting across the table from Sylvia Trench (played by Eunice Gayson), during a game of chemin de fer. She turns out to be the first Bond girl.
"I admire your courage, Miss..."
"Trench. Sylvia Trench. I admire your luck, Mr.…"
"Bond. James Bond…."
Accompanied by the Bond musical theme, it is a memorable moment in cinema. In 1992, Eon Productions moved to Eon House at 138, Piccadilly, from where the films are now run by Cubby's daughter, Barbara Broccoli, and step son, Michael G Wilson. Fleming wrote his Bond stories at Goldeneye, his holiday home in Jamaica. Starting with Casino Royale in 1953, there were 12 novels plus nine short stories, including Octopussy, contained in two collections.
Ajay says Octopussy is set in Jamaica but Broccoli, who was "a huge tennis fan", switched the setting to India after meeting Vijay Amritraj at Wimbledon and making him the agent "Vijay", in the film which was shot in Udaipur.
The costume designer was Calcutta-born Emma Porteous, who sourced her fabrics from Punjabi shops in London's Southall. They "provided inspiration for the rather fanciful India of Octopussy," laughs Ajay.
With characteristic generosity, Ajay insists on not being paid for his tours which he says are meant for "scholars and worldwide enthusiasts" of James Bond movies. His only wish is to find an Indian publisher for his book: "There has been a strong connection with India and we think it will be a treat for our Indian readers."
The tour ends with lunch, hosted by art expert Russell Elliot, who had also joined the walkabout, at White's (founded 1693), a gentleman's club in St James's, where Fleming had been a member. Russell would have given the lunch next door at Boodle's (founded 1762) but this was shut briefly during the summer.
Here, too, Ajay identified the 007 connection: "Bond was a member of a fictional club called Blades but this was based on Boodle's."