Through fankind, Anshula Kapoor is striving to make fans feel special, even as she raises funds for charity
The 26-year-old effervescent Anshula is the daughter of film producer Boney Kapoor and sister of actor Arjun Kapoor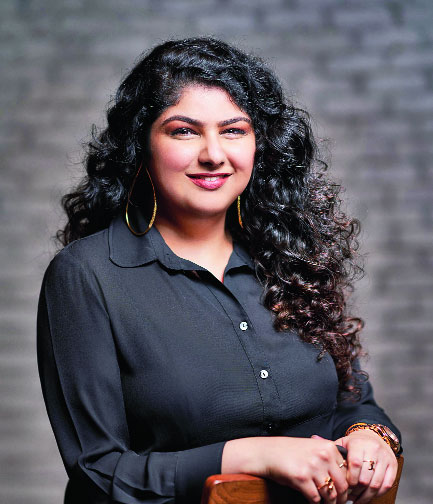 ---
---
Fankind, an online platform that strives to provide fans with a forum to meet their favourite celebrities all the while raising funds for charity, is the brainchild of Anshula Kapoor. The 26-year-old effervescent Anshula — daughter of film producer Boney Kapoor and sister of actor Arjun Kapoor — is pulling out all the stops to make fans "feel as special as they make their idols", she says, through this initiative which launched a few months ago and is going from strength to strength.
A t2 chat with Anshula.
How did the idea of Fankind come about?
I have been fortunate enough to be the conduit through which Arjun bhaiya's (Kapoor) fans would speak to him in the initial years when he had just become an actor. He wasn't on social media and they wanted to connect with him… they found me online and I became the carrier pigeon (laughs), so to speak, giving him all the messages and the love from his fans. We kind of created a relationship with his fans and they have gone out of their way to make me feel special on my birthday… if I was sad on some days, they would invariably cheer me up. I always felt that it was ek tarfa pyaar (laughs) because we were not doing anything to give them back… there was no gratification. I always knew I wanted to do something for them.
The entire idea and intent kind of went into overdrive during Sonam's (Kapoor, Anshula's cousin) wedding… the love that came in from fans was not only for Sonam and Anand (Ahuja, husband) but for the entire family. It was so heartwarming, given that we are living in a world where everyone gets trolled for just breathing! (Laughs) We just got introduced to this whole community of strangers who turned out to be our well wishers and they didn't demand anything in return. That's when I felt that, 'Ab toh kuch karna hi padega' because I felt that this needed to be reciprocated… I wanted to make them feel as special as they had made me and my family feel.
I think the whole kindness aspect, the need to give back feeling comes from my mother (Mona Kapoor) who always taught us that whatever we have, some of it needs to be given back because everyone needs to grow together. You can't be selfish and you can't be prospering when there are people who need help. The germ originated from there and putting the two ideas together is how Fankind came into existence.
The idea of giving fans a chance to get up-close with their favourite celebrity while fundraising for a charity has been seen in some other initiatives in the past. What sets Fankind apart?
Yes, there are foundations like Make-A-Wish but that operates differently… they function in fulfilling the wishes of terminally ill children, which may or may not involve a meet-and-greet with a celebrity. What sets Fankind apart is that, firstly, we are online and that means there is no barrier to where you come from… it's as simple as having a phone and going online and participating. We will fly you down, no matter where you are. Also, this initiative is ongoing… it's not a one-of-a-kind event that will be done sporadically. We are looking at churning out at least two experiences every month… we plan to do at least 30 a year. A majority of our proceeds go to charity. We are trying to open up the platform internationally. This will be a first-of-its-kind initiative because people living outside India haven't been given a platform like this before where they can fly down to Bombay and meet a celebrity they like and idolise.
We've just completed an experience with Varun (Dhawan) where his fan called Amitesh was flown down from Hyderabad with his sister. This was the first time he set foot in an airplane, the first time he came to Bombay… the entire experience that we gave him is obviously what I will be doing with everyone. It's a kind of role reversal, so to speak. When celebrities travel outside Bombay, they are welcomed with open arms, whether it's the hotel, the airport… this is what I am giving to their fans. The Fankind experience is not just limited to the two or three hours in which the fan meets the celebrity, but the overall experience. Like there was a special welcome for them at the airport, there was a buggy to escort them in, the hotel prepared a welcome… I am trying to make it as special as I can. We are going over and above an average fan experience. For me, it has to be all heart… if it isn't, then it doesn't make sense doing it.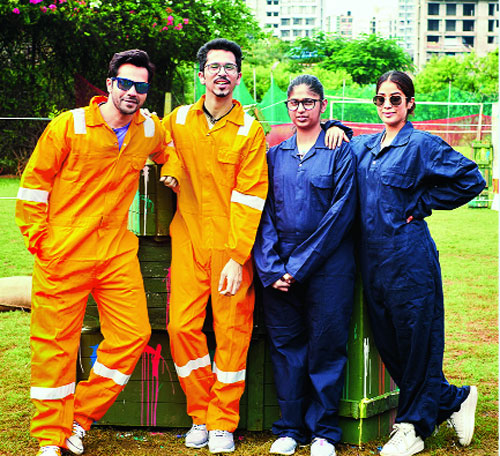 Can you talk about some of the other fan experiences you have rolled out so far?
The fan experience with Sonakshi (Sinha) is live on the website right now. I am very excited about her experience because it involves arcade games and bowling. Anyone who's ever spent a minute with Sona will know she's very competitive (laughs), so it will be a lot of fun. With that experience, we are raising money for the treatment of children in Tamil Nadu who have been born with congenital heart defect. Janhvi (Kapoor, Anshula's sister) came to give me a hug the day we were shooting the experience with Varun because she knew I was very, very nervous (smiles). She was like, 'Dude, you are in control!' (Laughs) And because Janhvi is as amazing as she is, we got her in to chat with Varun's fan and play paintball and it kind of became an enhanced experience for the fan. We plan to have a separate experience with Janhvi later. For Varun's experience, we raised about Rs 8.95 lacs and I am grateful to all his fans for the amount, with Varun also pitching in. With the amount, we hope to help 30 villages in Maharashtra which have been experiencing scarce rainfall.
How do you zero in on these fans?
I have no say in the matter. We have a third-party website that exports all the entries into the website and then picks a winner without any bearing on how much money a particular person has put in. It's the virtual version of having this ginormous fish bowl with 10,000 chits in it which are randomly picked up. I have zero say in who the winner is. The whole process is very democratised.
It's early days yet, but what are the challenges like and what have the learnings been so far?
Every start-up has its own teething problems and its set of challenges.
I am looking at everything as a learning opportunity. There have been the usual challenges like people not taking me seriously, but I have overcome that hurdle to present myself as a serious entrepreneur and not just someone who has come out to play. Also, this is one of a kind with no precedent to fall back upon, whether it's to do with government mandates or legal mandates. It's been a slow and steady process of trying to understand all of that. I am learning about how to interact with celebrities on a professional basis and also gauging how the entire NGO ecosystem works. I've also learnt how big-hearted celebrities can be.
How much has your experience working at Google helped you in running Fankind?
Google is probably the best training ground anyone can have. That was my first job straight out of college and whatever work ethic I have today is because of Google. Their motto is 'Don't be evil' and they don't charge people for most of their services. That kind of magnanimity is ingrained in the Google culture and employees imbibe that. Google teaches you life skills and working there gave me that extra shot of life energy that I needed to believe in myself. Approaching a problem from a 360-degree perspective is something I learnt from working at Google.
You've spoken about Janhvi. What's the support from the rest of the Kapoor family been like?
Every member of my family — Arjun bhaiya, Sonam, Rhea, Janhvi, my dad (Boney), Anil chachu, Anand — has been involved in different stages of Fankind. I don't have a dearth of people, whether it's to bounce off ideas or if I need any kind of support. When we launched, they went all out to support me on social media, and in the real world as well. Since I live with Arjun bhaiya and I work out of home, he sees me in work mode more than anyone else. He's always there, lending an ear whenever needed. Every member of my family is just a phone call away.
What's the way forward for Fankind?
I want to branch out beyond Bollywood and include verticals like musicians, sportstars, people from the south Indian film industry…. The whole definition of being a fan is fluid and I want to explore that in the next year. I want to expand Fankind to fulfil the dreams of more than one fan per experience and creating an ecosystem where fans get as much love as they give celebrities. I want to create an ecosystem where fans will always come first.
If you could use Fankind to meet a celebrity, who would you pick?
If it's someone in India, then Ratan Tata, for sure. I would like to pick his brains for a bit (laughs). I would love to spend a day with Hrithik (Roshan)… I am obsessed with him! Internationally, Michelle Obama, Malala… and Adam Levine! I am obsessed with Maroon 5… huge fan! I will do anything to breathe the same air as Adam Levine.