Thappad is a soul-searching watch that is bound to trigger off conversations
An act that changes lives forever, unravels relationships, evokes a deeply foreboding ticking time bomb-like tension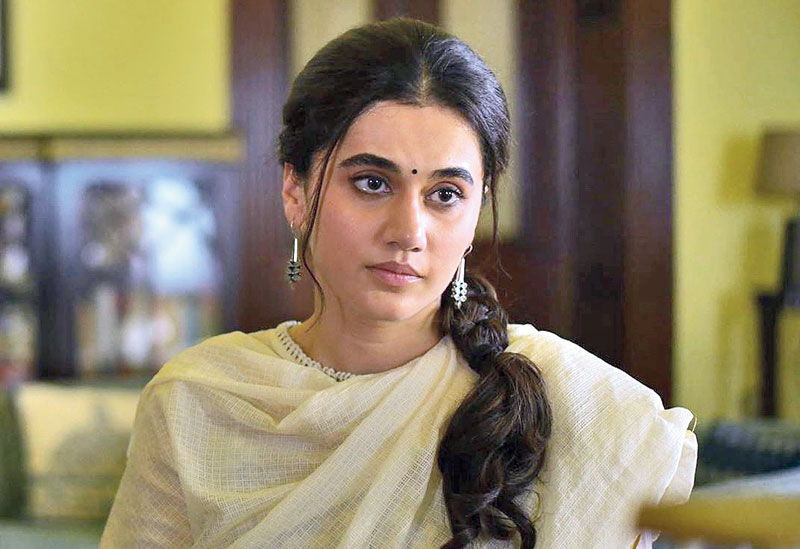 Taapsee Pannu in Thappad
Still from the film
---
Published 28.02.20, 02:54 PM
|
---
The 2018 film October was built around one night when a young girl accidentally tumbled off a ledge and slipped into a permanent vegetative state. That acted as the medium for the protagonist's awakening, defined and redefined equations and had the shadow of death lurking perpetually over it.
Thappad is also about one night. And one slap. An act that changes lives forever, unravels relationships, evokes a deeply foreboding ticking time bomb-like tension, brings the imbalance of gender dynamics out in the open and most importantly, catalyses a woman's awakening.
In a way, Thappad can be considered to be a companion piece to Pink. The common thread is, of course, leading lady Taapsee Pannu. But scratch below the surface and you will realise that both films are about the woman's right and power to say 'No'. Whether it's "No means no" or "Nahin maar sakta".
With Thappad, director Anubhav Sinha rounds off his trilogy of bringing the marginalised into the mainstream. If it was religion in Mulk and caste in Article 15, then it's women in Thappad. In this film, he deep-dives into gender politics, illustrating at every step how it's unfailingly and unflinchingly skewed towards the man. It explores deep-seated patriarchy, with male privilege and entitlement being put under the microscope.
But Thappad sets itself apart by not demonising just the man in the middle. The film indicts not one person, but everyone — women included, sometimes even the victim herself — who help perpetuate this gender imbalance.
Penned by Sinha and Mrunmayee Lagoo Waikul, Thappad opens like any other 'marriage story'. Amrita (Taapsee) is a young Delhi homemaker, content to keep house as husband Vikram (an impressive Pavail Gulati) chases his career dreams. It's a seemingly happy set-up, but the inequity in the marriage shows up through the smallest instances. He chides her, albeit gently, for everything that malfunctions at home and laughingly throws around lines like, "Pehle parathe toh theek se bana na seekh lo," when she expresses a desire to learn driving. Casual sexism defines this marriage — as it defines most marriages, with many not even realising it — as Thappad reiterates how a misplaced sense of power and privilege is ingrained in the psyche of most men.
All these imploding instances gradually build up to that moment when Vikram, upset by a career setback in the middle of a house party, unthinkingly smacks Amrita even as she tries her best to pacify him. Amrita's world grinds to a halt and for days she goes about life like a zombie, questioning everything that's led up to that life-changing moment. A vacant gaze is all that we get from her, with the tears — and the quiet resolve to not let this slide — coming much later.
Thappad focuses on the political in the personal and works largely on the strength of relatability. Amrita's plight holds up a mirror to every woman in the audience and compels men to re-examine how they treat women. Sinha succinctly touches upon how our mental conditioning makes us normalise abuse in a relationship, both physical and mental. Amrita's decision to fight for dignity and respect is constantly thwarted by remarks like "It was just one small episode" and "Shit happens".
At one point, her otherwise supportive mother (played with a mix of empathy and apathy by Ratna Pathak Shah) warns her not to make a public spectacle of her marriage with, "Miya biwi ke beech ki baat hai". Even her lawyer disbelievingly asks her, "So it was just one slap?" When Amrita refuses to go back to Vikram, she's considered to be the difficult one. All this while, there's not even a hint of an apology from the man. Yes, privilege. Yes, entitlement.
Perhaps Bollywood's most woke filmmaker right now, Sinha — aided by a terrific central act from Taapsee, part vulnerable, part volatile but all heart — rips the veil off a society that takes tried-and-tested gender roles for granted. We are all complicit, the film says, cutting very close to the bone. If men inflict it, then many women enable it… with silence, and by "moving on".
Through Amrita, the film examines the relationships of the other women who people her world — from her domestic help Sunita (an excellent Geetika Vidya) who gets bashed up by her drunk husband every night to her lawyer Nethra (a competent Maya Sarao) who takes a hard relook at her own maintained-for-convenience marriage. Dia Mirza sparkles in a cameo as Amrita's sympathetic neighbour but the role is strictly disposable. Taapsee apart, it's Kumud Mishra, as Amrita's doting dad, who contributes the most to Thappad's quieter moments.
At 142 minutes, Thappad may seem a tad stretched, but the monotony of many scenes — Amrita's daily routine, for instance — are essential to the narrative that moves forward on the strength of its everyday look and feel. There's no crescendo, no big twist, no climactic background score, but editor Yasha Ramchandani's scissors ensure that your attention doesn't waver. The other big winner is Soumik Mukherjee's lens that ensures that the frames feel authentic yet cinematic.
Thappad is a soul-searching, layered and slow-burn watch that is bound to trigger off conversations. Every part of it — and not just the slap — stings, because most of it rings true. Women, please watch it. Men, you need to watch it.
Did you like/not like Thappad? Tell t2@abp.in