Tahira Kashyap Khurrana on directing her second short and carving her own journey
After a long, meandering search, this Chandigarh native has finally found her calling as a film director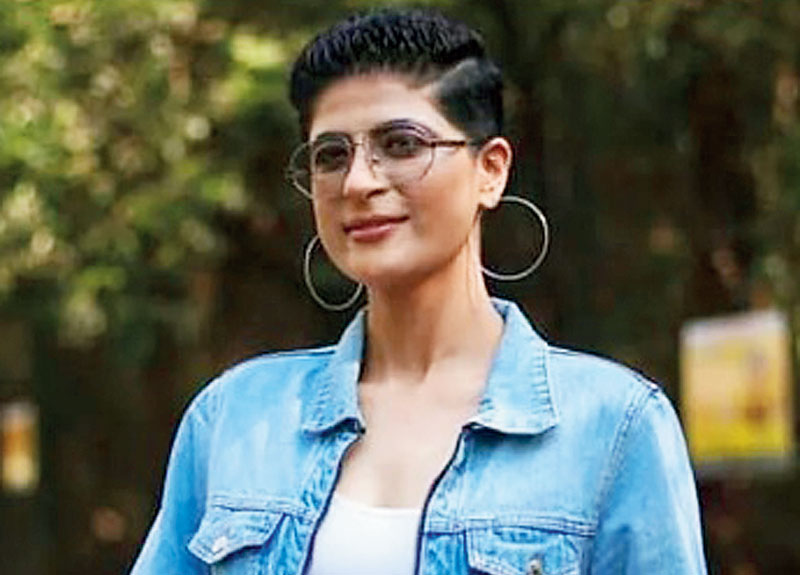 ---
Published 01.03.20, 01:03 PM
|
---
Over the years, Tahira Kashyap Khurrana has tried her hand at professions as varied as public relations, writing, lecturing and radio programming and excelled at all. But they never held her interest for long. After a long, meandering search, this Chandigarh native has finally found her calling as a film director. Her short film Pinni, starring Neena Gupta, is a part of producer Guneet Monga's Zindagi in Short that recently premiered on Flipkart Video. The Telegraph chatted with Tahira recently about her journey to filmmaking and why she doesn't want to take her husband Ayushmann's help.
Is it true that this short is inspired by your mother-in-law?
(Laughs) Yes. Every day I have a pinni which my mother-in-law sends from Chandigarh, and she makes all sorts of pinnis with sugar, jaggery. So, I was just having pinni and suddenly a story started brewing in my head and I immediately started writing it... it took me five-six hours that night.
Does your mother-in-law know?
Yeah, I told her just a couple of days back. I had thought I would only tell her if the film comes out well. Whenever she or anyone is coming from Chandigarh, they get boxes of pinni... it's like a standard thing.
Neena Gupta stars in your short...
She was my only choice. I told Guneet, but I wasn't going to call her directly because she was already working with my husband and I didn't want to take that route at all. Guneet spoke to her but, of course, Neenaji would eventually know it's me. She was on the sets of Shubh Mangal Zyada Saavdhan and agreed to do a call in the evening. I gave her a narration over the phone and she just loved it and said she was on.
It's interesting that you didn't want to go through your husband... don't doors automatically open because of whom you're married to?
Had that been the case, I would have made my feature film three years back. I only started pre-production on my film last year and it didn't happen. Also, I don't know how nepotism would work for directors. I had made Toffee, a short film, a long time back, and had shown it to Guneet back then. She liked it but it wasn't up her alley. Then Eros Now came and they loved and bought it. And then I went through my health ordeal and I've been writing about it.
My husband has also come a long way, he hasn't become an actor in one day. Today, he cherishes that journey. I've been writing for the last five-seven years and this is where I am today and I'm loving my journey. And I'm glad it's not happening instantly because that would take away my credibility from me. I'm happy to be taking baby steps. I made Toffee in 2017... Pinni is coming in 2020, so it's okay. I'm enjoying my journey, I too have a story to tell and I'm creating that story.
When did you feel like you wanted to direct your own stories?
I think it was always a part of me, but it took a very long time to acknowledge it myself. I think there are two sorts of people — the first kind knows what they want to do in life and I envy them a lot. The other category is me, who for the longest time just tried to be good at whatever life placed me with. You just try to give it your best but then you end up being frustrated because you don't like doing what you're doing even though you're good at it. I was pretty much that person.
I belong to a very middle-class family but both my parents have always been working. So for me, the top priority, after finishing my post-graduation, was to earn money. That's the biggest source of stability in anybody's life, so my energies were only directed there. And I've been doing theatre; my husband and I had formed a theatre group together. So, our interests were always the same and we even competed against each other. He saw it as a prospective career and I saw it as a hobby because it was not fetching me any money. I needed financial stability in my life. In that trap, I opened a PR company and when it started doing really well, I ventured into radio programming. Just when I was getting the best from wherever I was, I would put in my papers. I didn't understand why and my frustration levels kept increasing.
Then I came to Bombay, got married and started teaching as a lecturer. I think I did well there too. But deep inside, I always took to writing. In between, I wrote two books. Again, writing for me was a hobby. I follow the Soka Gakkai practice and chant every day. I was told to have faith in myself and my ability and also faith in my dreams. That was the first time at an adult age, after having two kids, that I had the balls to tell myself I want to be a writer and director, and this is what I've always wanted to do. I directed a play when I was pregnant with my second child and had multiple shows staged in Chandigarh and Delhi, but I never had the balls to take it ahead.
Within six months, I made Toffee. That time my husband had helped me... it was financially supported by him and (casting director) Mukesh Chhabra who came on board because he liked the script. I started pitching the film to other people because I wanted to recover the money that my husband and Mukesh had invested. Eros buying Toffee was my first validation, and that encouraged me further and here I am.
Talking about your husband, I have to ask you about Shubh Mangal Zyaada Saavdhan. Was there a conversation at home, with you and the kids, about the film?
I'm so glad he's doing this film because it holds a very special place for me. Yes, I did have a conversation with my son (Virajveer) before the promotions for Shubh Mangal Zyada Saavdhan started. All movies get discussed in school and people have a tendency to turn things into subjects of ridicule. So before that could happen, I sat him down and asked him if he knew what it meant to be gay. To my shock, he did. But his knowing meant love, he doesn't know about sex yet, he's too young. To him, being gay was a man who loves a man. I asked him if he had a problem with it and he said, 'It's his choice'. And that blew my mind... it was so crystal-clear in his pure mind.