'Sandeep Aur Pinky Faraar is not a bedtime story about two people in love' — Dibakar Banerjee
The film stars Arjun Kapoor as a Haryanvi cop called Pinky, and Parineeti Chopra as a corporate honcho named Sandeep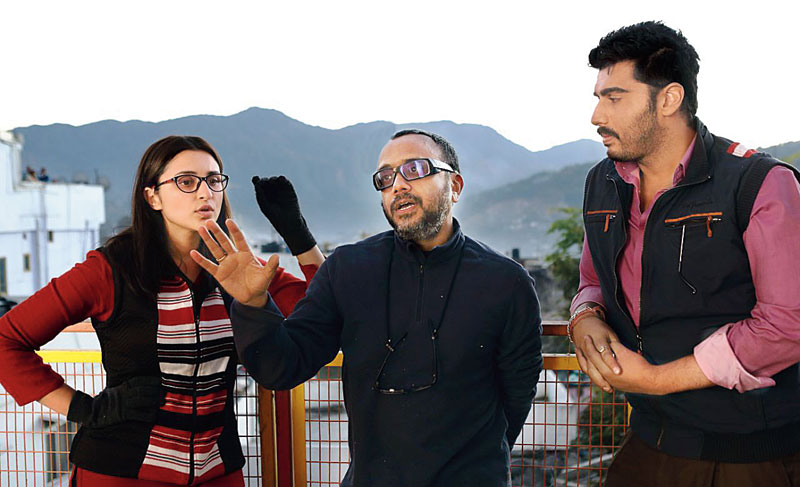 ---
---
The socio-political has always informed Dibakar Banerjee's films. So his latest, Sandeep Aur Pinky Faraar, does seem like a bit of an anomaly. The film, that has been ready for about two years now, is all set to hit screens on March 20, after a hurriedly announced release date. But Dibakar — true to form — was confident and unflappable when The Telegraph caught up for a chat with him recently on the hows and whys of Sandeep Aur Pinky Faraar, that stars Arjun Kapoor as a Haryanvi cop called Pinky and Parineeti Chopra as a corporate honcho named Sandeep whose lives intertwine at one point. "I think it's Parineeti's best performance so far," said the man behind memorable fare like Khosla Ka Ghosla, Love Sex Aur Dhokha, Shanghai and the recent Ghost Stories.
In a business that preps and then executes its promotional campaign over months, you just had a few days to announce the release date and launch the trailer. What has the impact been like so far?
We just had 48 hours to get the trailer and the posters together. I have been so busy shooting my next feature film and I haven't had the time to monitor any reactions. But yes, some people have told me that the film is looking very intriguing and interesting. There have been lots of positive comments for Parineeti (Chopra), especially how she looks and the way her character is coming across. You will know it when you watch the film.
What was the genesis of Sandeep Aur Pinky Faraar, given that it seems quite different from what we've come to expect from you till now?
The genesis was three-four things. My father is a senior citizen and like most senior citizens in this country, he has invested in banks… this scheme, that scheme, whatever. And then one day, I saw a part of his savings wiped out because of corruption and the sheer incompetence of financial institutions. I thought that this is something that affects all of us, most of all retired people who have decided to trust banks, schemes, financial institutions and the government.
The film is the result of many, many things that have happened over the last four-five years. I saw the effect of demonetisation on the middle class, though I must make it clear that this film is not about demonetisation. I just saw that how rich and powerful people do things so casually and how deeply that affects normal, working-class people. A very casual decision for some could have life or death consequences for people like my father.
I also wanted to make a film about two Indias. The India that you and I live in and the India of Arjun's (Kapoor) character in the film… these are two very different Indias. People like us are so cocooned in our existence that we don't really get to connect with the other India, even though we live in the same country. That made me want to make a film about a man and a woman hailing from two Indias that are so different that their paths wouldn't have ever crossed, except in the circumstances of my story. The film arose out of a combination of whim, fancy, spark and a certain hope.
Given that the economy is in terrible shape and financial institutions are closing down, the first reason that prompted you to make the film is a zeitgeist of the times we live in, isn't it?
It is. But that's not a coincidence that I was aiming for! Let me assure you that (laughs).
Arjun and Parineeti haven't been having a good run at the box office of late. You, of course, signed them on the back of the superb chemistry they had in Ishaqzaade…
They are good pals, you know… Arjun and Parineeti. Whenever they meet, they go chak-chak-chak-chak all the time. I always wanted to work with Parineeti, to be honest. I think she's one of the finest actors who hasn't been given enough chances to showcase her talent. If we waste talent of her kind, then I think Indian cinema will be poorer. Arjun's name came to my mind when Adi (Aditya Chopra, the film's producer) was discussing the casting. I realised that Arjun was hungry for this kind of a role that takes him out of his comfort zone. Sandeep Aur Pinky Faraar is not a bedtime story about two people in love, which is anyway something that I can't make (laughs). It seemed to me that he was really interested in doing something that was not commercial-commercial, so to speak.
The film is set in the north-Indian milieu with a tone and texture that you have explored in many of your films. Given that you were born and brought up in north India, is that the setting you are most comfortable in?
One tends to reach into what one has grown up with and what is ingrained in one's DNA. Having said that, I have spent the last 15 years in Bombay. My film Shanghai had nothing to do with Delhi, (Detective) Byomkesh (Bakshy!) was set in Calcutta, while LSD (Love Sex Aur Dhokha) could have played out anywhere. My current film is about Kashmir and Bombay.
Does the hurried release of the film worry you at some level?
It doesn't, actually. I have lived my journey with the film while making it and it was a good journey. Beyond a point, I don't think about things like this. Nothing worries me anymore. I am not getting any younger and I feel delightfully free now. I just concentrate on making films and nothing else really matters to me now. Beyond a point, I anyway can't control things.