Rasika Dugal- Pulling off both vulnerability and grit
She powers the immensely watchable Hotstar series Out of Love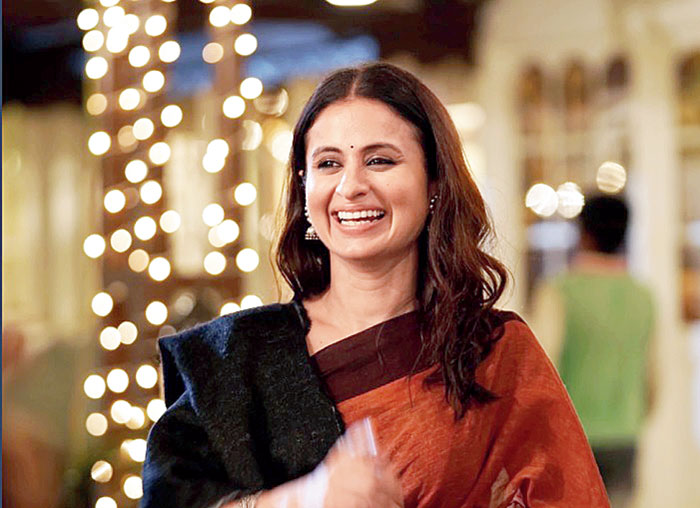 Rasika's Meera drives the narrative of the show, which works as a relationship drama, a cautionary tale and even a thriller in parts.
The Telegraph picture
---
Published 25.11.19, 02:16 PM
|
---
Infidelity. Dark secrets. A family on the edge. Emotions and equations at boiling point. There is a lot that Out of Love has in common with Kapoor & Sons. Like the 2016 film that examined the frailty and fallibility of human relationships, Out of Love — currently streaming on Hotstar VIP — is also shot in Coonoor, with the picturesque town contributing to both the visual appeal and the element of intrigue in this five-episode series.
Examining the unravelling of a family with a cheating spouse as the culprit, Out of Love — co-directed by Tigmanshu Dhulia and Aijaz Khan — is an almost faithful copy of its original, the 2015 BBC show Doctor Foster. Betrayal, heartbreak, blackmail and revenge are at the centre of this series that's powered by a strong, central act from Rasika Dugal. Rasika's Meera drives the narrative of the show, which works as a relationship drama, a cautionary tale and even a thriller in parts.
The glue that holds her family together, Meera has the seemingly perfect life. She's a successful doctor, has a caring husband in her college sweetheart Akarsh (Purab Kohli), a smart school-going kid and many close friends. Just as she's making plans to throw a big bash for Akarsh's 40th, Meera notices a strand of a woman's hair — not her own — on Akarsh's scarf and that sets her off on a never-ending, downward spiral of suspicion and mistrust. As the trailer had already revealed, Meera's fears aren't unfounded — Akarsh is definitely cheating on her — and Meera finds her carefully built life crumbling like a pack of cards… emotionally, socially and financially.
Well acted and competently directed, there's a lot going for Out of Love. What is seemingly a straightforward tale of infidelity is afforded many layers, with the motivations and machinations of each of its players propelling the narrative forward. What also works is relatability, the sense of betrayal that Meera feels as she gradually peels away at Akarsh's lies bringing a lump to the throat and a feeling of anger and helplessness, even if one hasn't experienced it. What hurts Meera much more than Akarsh going astray? His refusal to accept his transgression. Meera's transition — from someone in control of her life to being unhinged enough to almost losing it all — definitely strikes a chord.
Even as Out of Love — the title in itself is intriguing: does it mean falling out of love or the things one does out of love? — functions primarily as an account of a marriage gone terribly wrong, it does well in also tying in the lives of many others who inhabit the laidback town, some of whom may or may not have a direct impact on Meera's actions and decisions. Many of these characters — Meera's doctor friend, Akarsh's secretary at work, the couple's close neighbours — are ambiguous, with the viewer finding it tough to figure out whose side, Meera or Akarsh's, they are on. While it works for the most part, some of the subplots are a #fail and get too much screen time than they deserve. On the other hand, Soni Razdan — playing Akarsh's mother — is saddled with a half-baked role that does the actor no justice.
Out of Love successfully builds up the pressure-cooker-like situation and explodes in its final episode. That's courtesy an incendiary dining table scene — almost as compelling as the restaurant scene that we witnessed in the opening minutes of Season 2 of Fleabag earlier this year — which is probably the most powerfully written segment on the desi screen in recent times. Like the rest of the show, it's Rasika — her kohl-lined eyes a mixture of anger, resentment, grief and steely grit — who powers through this scene. Her walk away from the dining table — one of defeat as well as of triumph — stays on with you.
Rasika is lent able support by Purab in a role that is sure to elicit no sympathy. And yet when he says, 'One can love two people at the same time. If you love one, it doesn't mean you love the other less', you can't help but feel a strange sense of empathy.
Despite some bumps, Out of Love is well worth your time. Plug in. It may hit home closer than you expected.
I liked/ didn't like Out of Love because... Tell t2@abp.in