Pop to Bolly, it's raining hits for Arjun Kanungo
'It's always been about finding the best version of myself'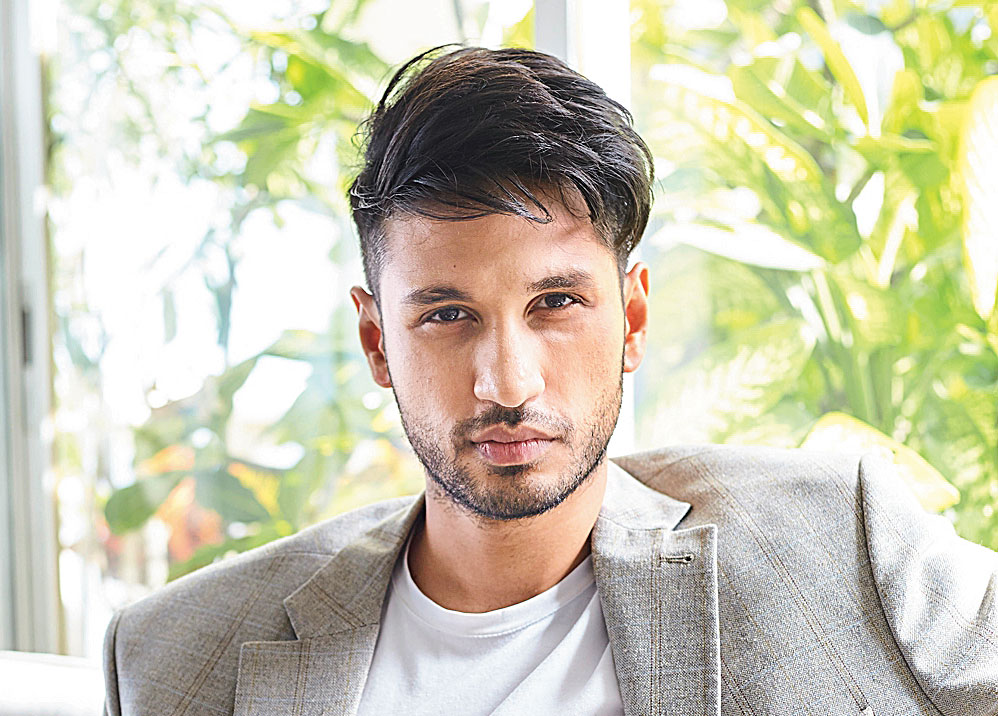 ---
---
Good looks. Check. Great voice. Check. Electric personality. Check. Arjun Kanungo has everything that defines a rockstar. The 29-year-old, who jumped from playing national-level basketball, winning medals in centre-fire pistol shooting and training in acting in New York, to a music career about a decade ago, has made it big both on the independent music scene as well as in Bollywood playback singing. A t2 chat with Arjun on the journey so far, his massive fan following and the road ahead.
Calcutta has a special connection with you, given the number of times you have performed here. But why haven't we seen you much this year?
Over the last few months, things have got really intense. Besides my music, I am shooting a film and also doing stage shows on the side. For some reason, Calcutta hasn't come up on my itinerary so much this year. But I am sure by the time this year ends, I will be there. I love performing in Calcutta. Last year, I was there six times! The crowd there is very informed about music… Bengalis are both passionate and knowledgeable about music.
Much like your previous singles, your latest song Hona chaida is not only a smash hit, but also sees you moving out of your tried-and-tested zone and experimenting with a new genre…
There are songs that you make because you want them to be successful, and then there are songs that you make because you simply want to make them. Hona chaida is a song I wanted to do. It's not a song I did with the intention that it should be a hit and yet it's done well… there are over 10 million views already. The idea was to do something new and not be stuck with the same old stuff that I was doing.
It's growing slowly because it's something very different for the Indian market. It's an international sound, very progressive. People have really liked the video. They are surprised that I can dance! (Laughs) Same goes for my rapping because people hadn't heard me rap before this. I have written the rap as well, which is a first for me.
While making music, are you driven more by instinct or by inspiration?
There's always inspiration... without that there is no spark. Once that happens, instinct takes over. Instinct tells me to use everything that I have learnt over the last decade that I have been in the business and make it palatable for the audience.
My musical inspirations have been diverse. Growing up, I heard everything from Kishori Amonkar to death metal. My mom (Sheila Kanungo) is a big fan of Indian classical music and I have been exposed to it since I was a baby… she would play it in the house all the time. I grew up listening to it and never liked it… I found it boring! (Laughs) But I started appreciating it when I grew up. And I have always been into American pop and British sun… there's nothing under the sun that I haven't heard. My first band was a metal band and it was called Apocalypse, of all things! (Laughs) So it's been quite a journey.
In a very short time, you've carved a career that's been defined by massive hits and diversity in music. Are you happy with how it's panned out so far?
My whole career so far has been a process of finding out who I am and playing to my strengths. More than anything else, it's been about finding the best version of myself. My goal has always been to explore my sound, rather than deliberately looking towards making hit music. I am very grateful for the popularity and the hits I have had, but that's never been the goal. It's always been about exploring myself as an artiste, and now I am doing that as an actor as well.
In a sea of talent, have you ever sat back and assessed what makes you stand out?
It's very easy to say in retrospect… things like, 'This is it and that is it', but I don't think anyone has a clue what works and what doesn't! The most important thing for an artiste is intent… the intent of doing good work, believing in what you are doing and doing things that stand out. People come to the industry with no intent… they just want to be famous, you know. And then nothing works. It's a chain of events, actually… if you don't have the right intent, you don't end up going to the right places or meeting the right people.
And what makes you so popular with women?
(Laughs) I don't know man! I am always struggling to understand what women see in me (laughs). I am not at all the kind of person who knows how to deal with attention, to be honest. I am seeing somebody (model-actress Carla Ruth Dennis) right now… it's the first long-term relationship for me and honestly, I don't know how to deal with the female fan attention that comes my way. When I am not on stage, I am very shy.
Khoon choos le to La la la, you've had quite a few Bollywood hits. At this stage, wouldn't you like to accelerate your playback singing career?
I have always been focused on doing independent music. Film music is something that just comes along every now and then. I am doing a few songs for an Anurag Kashyap film next year. This year, I did Naadaaniyan for The Sky is Pink and House party song for Ek Ladki Ko Dekha Toh Aisa Laga. I have made an effort to work with the music directors I have always wanted to work with. Like Amit Trivedi, who I am working with on the Anurag Kashyap film… I am doing four songs in it. I am doing some songs for Pritamda.
I think Bollywood music is for people who know who they are, they know where they want to go with their sound within the Bollywood space. I don't think that's me… yet. I am still young and there are so many other things I want to do, like for instance, in pop music. Pop music is the new frontier and I think I have a good head-start, so why give it up now? Pop music is a young man's game and I don't want to give up on that so soon. Bollywood is not age dependent and can wait.
Has your background in sports contributed to your music in any way?
For me, discipline is everything. My background in shooting has taught me a lot about how to handle pressure. Sport really gives you life skills that nothing else does.
Do you still play any sport?
Between singing, acting, going to the gym, looking good for the screen… I just have no time! It was a conscious choice to go into music and give up sport. My mum was an international-level shooter… she's a Commonwealth Games medallist. She's been doing it all her life and I just decided to try my hand at it and discovered I was good at it. I still go and shoot at the range and participate in competitions, but it was never a goal. And I realise that no matter how good I get, I will never be as good as I probably would be if I was practising 10 hours a day.
You've also trained in acting at New York's Lee Strasberg Theatre and Film Institute. Now that you are making your acting debut, how far is that helping you on the floors?
I think we are all acting all the time! And I always feel that there is no fixed way to act. A school gives you polish, but your acting skills are naturally gifted. That also comes from perspective, being self aware.
Your social media bio says 'On my own terms, in my own time'. Has that been an advantage or disadvantage for you in the industry that you are in?
I think it's always been an advantage for me. That's my truth as an artiste. If I don't do things on my terms, then what's the point of it all? It's then not really my success. Even if my career flops tomorrow, I will be okay because it's a choice I made. It's my truth.