Calcutta girl Megha Burman chats about slipping into the skin of a kabaddi player in her big break, Panga
Kangana would sometimes come up to me and say, 'I think you should say some of my lines': Megha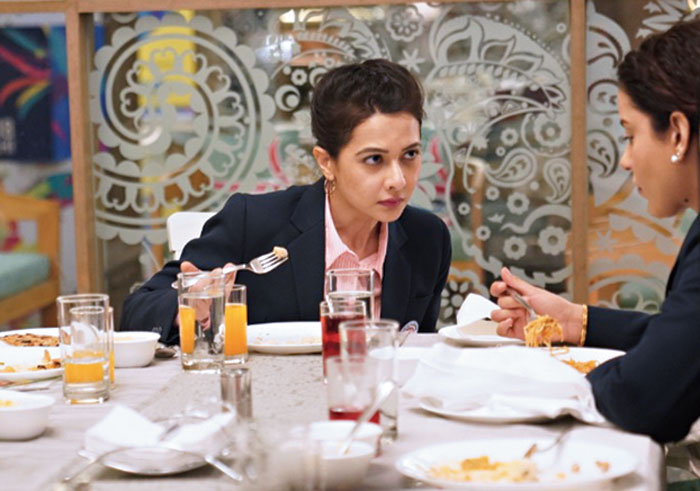 Most are saying I did a good job and looked like a kabaddi player: Megha Burman
Still from the film
---
Published 04.02.20, 02:20 PM
|
---
Did you watch Panga and ask, 'Who's that girl?' after spotting the spunky Nisha Das. Calcutta girl Megha Burman plays the young kabaddi player, walking shoulder to shoulder with Kangana Ranaut and Richa Chadha in the Ashwiny Iyer Tiwari film that's come in for huge praise. The Telegraph caught up with Megha — who has done a few south Indian films before Panga — on training for the film, why authenticity was key for her and her childhood days in the city.
What are people who have watched Panga telling you about Nisha Das?
Most are saying I did a good job and looked like a kabaddi player. They are saying that I held my own opposite actors like Kangana (Ranaut) and Richa (Chadha). A lot of my scenes are with Kangana and they want to know how it was shooting with her. A lot of people in my circle know that I was training for Panga for nine months, mixing up my gym routine with kabaddi sessions.
Did the fact that you played kabaddi in school help you in any way?
This was very different from the kabaddi we played in school, in PT class once a week (laughs). It wasn't the kabaddi that's played professionally or the kind I had to do in the film. When I went for my trials for the film, I was playing the kind of kabaddi where you just run in and touch somebody and try and run out. But there's so much more to it… there is a bonus line, a footing, stepping… things that you do or don't do, ways in which you can get caught… all of that was very new to me. However athletic you may be, each sport comes with its own language and requires a different kind of body awareness. For me, it was about learning something new.
So are you good enough to be able to play a match?
(Laughs) By the end of the film, the kabaddi coach was like, 'You are going to be ready to play… you should join one of the clubs'. The first one or two months involved just drills with me alone because both Kangana and Richa were busy with other projects. I trained for 90 minutes every day, doing drills and footwork, stepping and trying to get the shuffle, how to get out of a catch and a hold… it was a whole lot of that. By the end of it, it became a part of my muscle memory and I would play with the other actors — who were professional kabaddi players — they would be like, 'Are you a kabaddi player or an actor?!' And I would be like, 'Yes, compliment!'
I knew that this was a big film and authenticity was very important. The brief I got from Ashwiny ma'am (Iyer Tiwari, director) was that I needed to really look like a kabaddi player. What was most essential for me was to look the part… I needed to feel tough.
How did you bag the film?
I got called for an audition. The scene I auditioned for was the first scene in the film… when I open the door and meet Kangana for the first time. I felt it was too brief a scene for me to show my range as an actor. I then decided to look the part in the audition. So I wore these jersey shorts, braided my hair and showed up… I could have worn tracks and a T-shirt, but I didn't want to feel like myself. After the audition, I felt I had done a good job, but then I didn't get a call for two months!
One day I got a call saying I had been shortlisted, but ma'am wanted to see me playing kabaddi. I showed up and there were so many real kabaddi players there. They looked really tough… one wouldn't want to go and do a raid with them on the first day! I trained for three days with them and then was called to the production office. I went to the office and it turned out to be a cast and crew narration. Kangana and Richa were both there… someone came and gave me a script with my name watermarked on it. I was sitting next to Richa and I turned to her and asked, 'Does this mean I got the part?' And she was like, 'Yeah, you are in the film! Congrats!' And I was like, 'Oh my god! When can I do my little celebratory dance?!' (Laughs)
What was the energy on set like, given the principal protagonists were women and you were being directed by a woman?
It was the best experience of my life. It was a dream project for me, I was so spoilt! I felt I was thriving in the company of all these women. It wasn't the sort of set where there was jealousy or someone was trying to pull the other down. Richa helped me a lot in some scenes and Kangana would sometimes come up to me and say, 'I think you should say some of my lines'. Two or three times, her lines were given to me because they helped the scene. Everyone was just working in service of the story, without thinking I am bigger than you. Ashwiny ma'am is so accessible and friendly. Through this film, I have ticked so many boxes of the kind of films I want to do and the people I want to work with. I always wanted to do a sports film, work with a female director and I loved Ashwiny ma'am's Bareilly Ki Barfi and always wanted to work with her. I never thought I would get to work with Kangana and Richa in the same film.
How are you planning to leverage this experience to go forward in the Hindi film industry?
I still have to go out there and give good auditions and try and make people believe in me as an actor. At the end of the day, it's a business and one has to make the investments made count. I am going out there, calling people up for auditions.
Did you always want to be an actor?
Not really. I never really grew up in that kind of an environment. I grew up in Calcutta, and it was all about studies. I was really athletic and into horse riding and swimming and squash and tennis. I always wanted to be a dancer and one of the main reasons I wanted to pursue higher studies in Bombay was that I wanted to join Shiamak Davar's dance classes. He had made dancing really cool… I remember watching Bunty Aur Babli and I was like, 'Wow! Imagine dancing for eight hours a day, travelling the world….' When in Bombay, I gave a couple of auditions through a friend and got a few ads. After that, things started rolling for me and the films started coming. And I was like, 'Hey, this is fun!' (Laughs) It's so much more, it's collaborative, high-octane, you get to work with so many emotions, it's so energetic….
Once I started getting more work, I decided that I needed to train more. I started doing theatre and workshops and learnt more about the industry and how casting works and started going in for more auditions.
What was growing up in Calcutta like?
It was a really nice childhood. I studied at Loreto House, my sister was in the same school. Sometimes, it seems like yesterday and then sometimes, it feels so distant. I have such fond memories of school and the lunch breaks! (Laughs) Childhood involved a lot of sports… I would always be at The Saturday Club and enrolling for tennis camps or swimming camps. It was a really joyful time. We would go to Nicco Park for birthdays. After school, we would have a ritual of having jhaalmuri and rolls from Golden Spoon. I remember the breaks so well because there was Mr Roy whose chowmein was so good! We would get Rs 12 for lunch and we could have either chowmein or chola bhatura and then save up money even for orange stick and a peppermint at the end of the day (laughs).
How often do you come back to the city?
I do go back very often because my dad stays there. When I am in Calcutta, I just love being at home because I feel very cocooned, I get the best sleep there. So many new places have sprung up and I like exploring the new places. I hang out a lot at Hindusthan Park and at The Saturday Club. I used to love Kookie Jar pastries, but now I have turned vegan. Hopefully, they will turn vegan some day!