Tea tales with Irrfan
Priyanka Roy remembers the man with beguiling eyes, an actor for the people who wanted to entertain with substance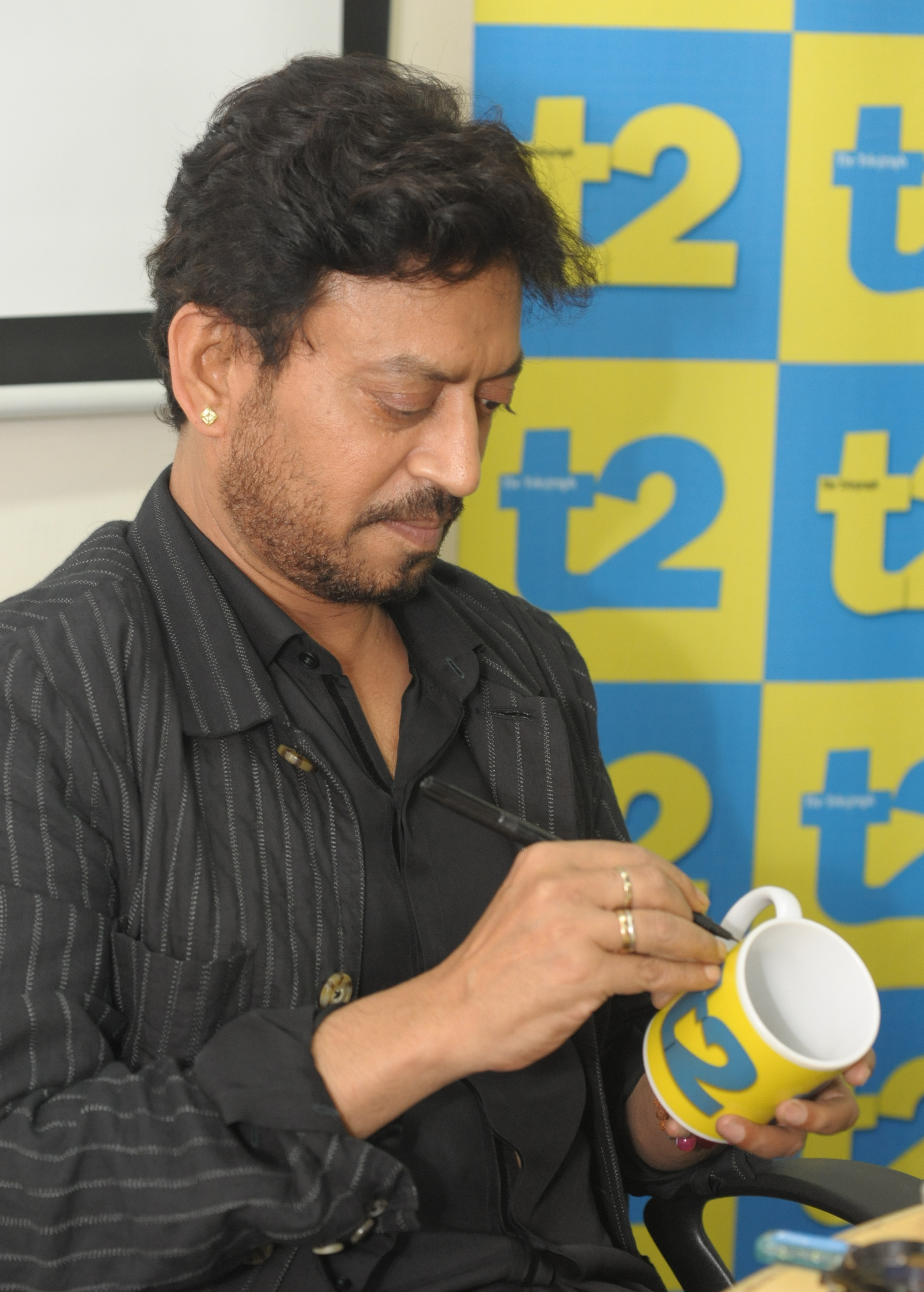 Irrfan Khan signing a t2 mug
The Telegraph
---
Published 29.04.20, 04:14 PM
|
---
Bina doodh aur shakkar ki chai kya chai hoti hai?!" Irrfan Khan was appalled at my request for 'liquor tea' at a nondescript dhaba somewhere on the Calcutta-Durgapur highway. It was a blistering 40-plus-degrees on a sultry May afternoon and we had stopped over for refreshments ("thoda bhaag bhi lenge," he had laughed). The year was 2014 and Irrfan had just wrapped up his portion of shoot — where he played a cop — at the Raniganj coalfields for Gunday, co-starring Priyanka Chopra, Ranveer Singh and Arjun Kapoor. It was yet another forgettable film solely powered by a class Irrfan act, and though he had been shooting in the sweltering heat since dawn, Irrfan looked none the worse for it.
I had been lobbying for an interview, he wanted to do it on the car ride to the Calcutta airport to catch the last flight back to Mumbai. That meant quite a bit of time chatting with him, but who was complaining? The conversation was a delight, as all conversations with Irrfan would always be, and he made sure that I never got my liquor tea. "Samose achhe lag rahe hain," he smiled, insisting I have one too, with some milky-white tea. I did, spending the rest of the day with a bout of extreme acidity, but with a genuine smile plastered on my face.
Such was Irrfan. If he met you once, he behaved like he knew you for life. Over the years, we met and chatted many times, Irrfan always ensuring that he gave me a copy that was worth writing. But most often, it was the chatter that didn't make it to the story and often done with those he felt even slightly comfortable with, that was more engaging.
Every time we met — in the The Telegraph office, where he dropped in twice within the space of a few months to promote Hindi Medium and Qarib Qarib Singlle, or outside it — Irrfan was the man we always knew him to be: real and rooted. "Telegraph ko toh main hamesha interview dene ke liye khush hota hoon," he had told me on many occasions. And he always made good on his word.
Simplicity defined Irrfan. I remember how wistfully he spoke about seeing the Teesta river for the first time and why his heart always beat for shukto and jhinge posto. When he dropped in to promote Qarib Qarib Singlle, wife Sutapa Sikdar in tow, he spoke for a bit, paused in between and then asked, "Woh kha sakte hai kya?" eyeing a plateful of koraishutir kochuri. He was a child at heart.
Irrfan was a man who had travelled the world, met and worked with the biggest, and yet he had the innate ability to blend in and make you feel he was one of you. So long, Irrfan. Here's raising a toast of milk tea, with a few dollops of sugar, to your memory.