Guess who kicked Chulbul
Kiccha Sudeep played Balli to Salman's Chulbul Pandey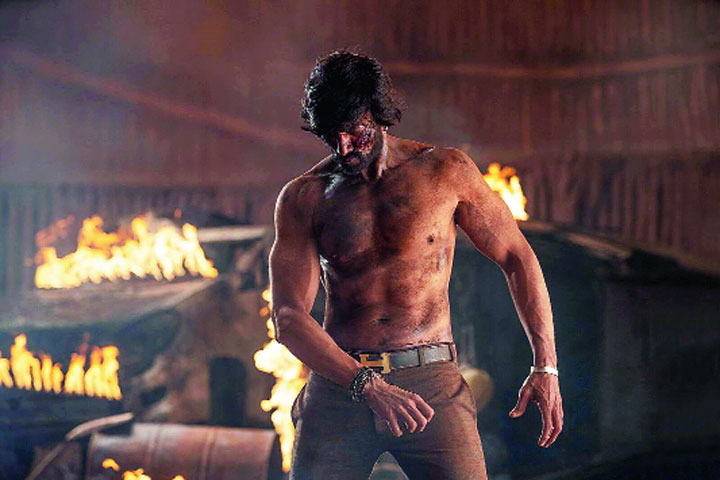 Kiccha Sudeep in Dabangg 3
---
Published 09.01.20, 03:29 PM
|
---
A superstar in the Kannada film industry, Kiccha Sudeep turned the main antagonist for Salman Khan's final 2019 release, Dabangg 3 that has notched up over Rs 130 crore at the box office till now. The Woods caught up with the actor, who played Balli to Salman's Chulbul Pandey, for a chat…
The Woods: has the response been so far?
Kiccha: I debuted in Hindi movies with Phoonk in 2008. Then I did films like Phoonk 2, Rakta Charitra and Rann. Dabangg 3 now is from one of the biggest names in the industry with one of the superstars. It's one of my biggest films there (Bollywood). The response has been really good, everyone is speaking very genuinely about it, there's no icing on it. I see a lot of people online giving their opinions and even those have been very encouraging.
What was the vibe on the set like?
We shot mostly in Mumbai and it was a great team. Everyone connected to each other very well. It was a very positive team and everyone was very nice to each other.
How did you prepare yourself to play such an evil character who fights Chulbul Pandey?
I didn't prepare at all. I just went on set and delivered the requirements. I used to go there and sit with the director to understand what he wants. As far as Chulbul Pandey is concerned, I knew I had to deal with an aura named Salman Khan and not Chulbul Pandey. There had to be some equality on screen, I had to look like a baddie who could give a tough fight to Chulbul Pandey.
How was Salman Khan as a co-star?
I don't think anybody can have a bad experience with him. He is kind man, he has a good heart and very giving. He's very easy to work with and gives you your space. All I have is good memories with him.
Did you work out and build your body up for this role?
I had luckily done a film called Pailwaan (a 2018 Kannada film) for which I had started my workout. During Dabangg 3, I kind of had to keep that momentum going so that till the climax is over, I stay in good shape. I regularly worked out because of that.
Did Salman give you workout tips?
He's not someone who'd barge into your space unless you ask him something. We never worked out together, we would workout by ourselves on set before giving the shot, but we never discussed it.
How difficult was it shooting the big climax fight scene?
Bruises and damages are a part of every fight scene and every actor has a story to narrate of that. We shot the climax scene for 23 days, it was very big climax.
Apparently, there was one scene where your character had to kick Chulbul Pandey but you couldn't do it because of your respect for Salman?
It was the chest area and I did it once. After that I was asked to do it harder and I found it a little difficult to do it. We have punched and pushed each other but it was difficult to kick on the chest. But we did manage at the end of the day.
How is Prabhudheva as a director?
He's a fabulous human being. He's very easy to work with and a superb person. He gets you into the thing and knows how to take it out of you. He's more of a child, actually. This was the first time I worked with him.
Coming from the South Indian film industry, did you ever face any language barrier while speaking in Hindi?
A film is a film at the end of the day and language is something you need to catch up with. Nothing is difficult if you make up your mind. I have never dubbed for myself and I don't find it difficult.
Are there any fun anecdote from the shoot?
There were a lot of funny moments because Salman sir himself is very humorous. I have never seen him blow anything out of proportion and be angry, he always has a funny side to him. There used to be a lot of laughter on set always. We worked hard and everybody was at ease. Prabhu sir himself was smiling all the time.
Any other Hindi movies in the pipeline?
No, I'm back here (South) and have a lot of commitments here. Earlier too, I was shooting two films, a Telugu and Kannada film here. And in between that I did Dabangg 3 because I have huge respect for Salman sir. He has been in the industry for a very long time and when you get to work with such big names, you should just grab it and do it. Someday you can turn back and say, 'These are the great people I have worked with.'