Flashback Friday: Khubsoorat
Life is beautiful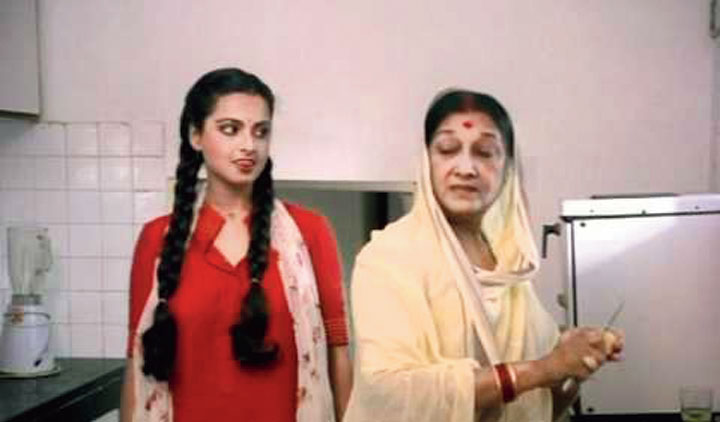 ---
---
Mooh hi dhula hua hai, auntyji. If you bite into an apple and someone asks you to wash it first, here's a lethal quip from Khubsoorat that released in January 1980.
In a year of family melodramas like Sau Din Saas Ke, where Lalita Pawar played the evil mother-in-law without cause or context, director Hrishikesh Mukherjee's finely written film (Gulzar wrote the dialogues) was a breath of fresh air.
Forty years later, watching the uber disciplined Guptas and the fun-loving Dayals is still a treat. And Manju Dayal (Rekha sparkles like champagne) brings so much sass and soul into the film that everyone loves her. Even matriarch Nirmala Devi (Dina Pathak, whose stellar performance makes this character human) unbends.
On the surface, Khubsoorat is about a free-spirited girl clashing with her boyfriend's authoritarian mom, and managing to make her see the error of her ways. But Hrishida's film is way more. It's about life being a fine balance between discipline and fun.
So genial Ram Dayal (David), his daughters Anju and Manju, and a cook (Keshto Mukherjee) live in an eccentric household where everyone speaks in limericks, speaks and laughs loudly. Anju, the older girl, gets married into the Gupta family, which Nirmala rules with an iron hand, and measures out fun with coffee spoons. The two worlds collide when Manju impulsively lands up at her sister's new home. The fact that Anju has a single dewar (Rakesh Roshan good-naturedly plays second fiddle to Rekha) who likes Manju clearly doesn't hurt. Nirmala's husband Dwarka Prasad Gupta (the inimitable Ashok Kumar), her four sons and everyone else take to Manju instantly. All except Nirmala. And playful Manju, seeing the overdose of discipline around her, gets everyone to discover their inner ninja with nirmal anand. Even the eldest bahu (Shashikala) puts on ghungroos for a kathak recital (Ashok Kumar's bols are a treat, so is the RD-Asha magic called Piya Bawari).
Nirmala discovers this and is hurt. She's no power-hungry bad cop, but a well-meaning wife and mother who believes discipline keeps families out of mischief. When she refuses to forgive Manju, Dwarka Prasad, during an emotional rant, gets a heart attack. Everyone is out for a family wedding except Manju. That's when Nirmala discovers Manju is no feckless flibbertigibbet but a responsible caregiver. Even a money-grubbing cardiac specialist has a change of heart after Manju's dressing down. Nirmala accepts Manju as bahu.
Middlebrow fare? Khubsoorat brings a smile to your face that lingers long after The End.