Deepika Padukone walks the talk with Chhapaak
'Chhapaak has certainly been the most challenging film of my career'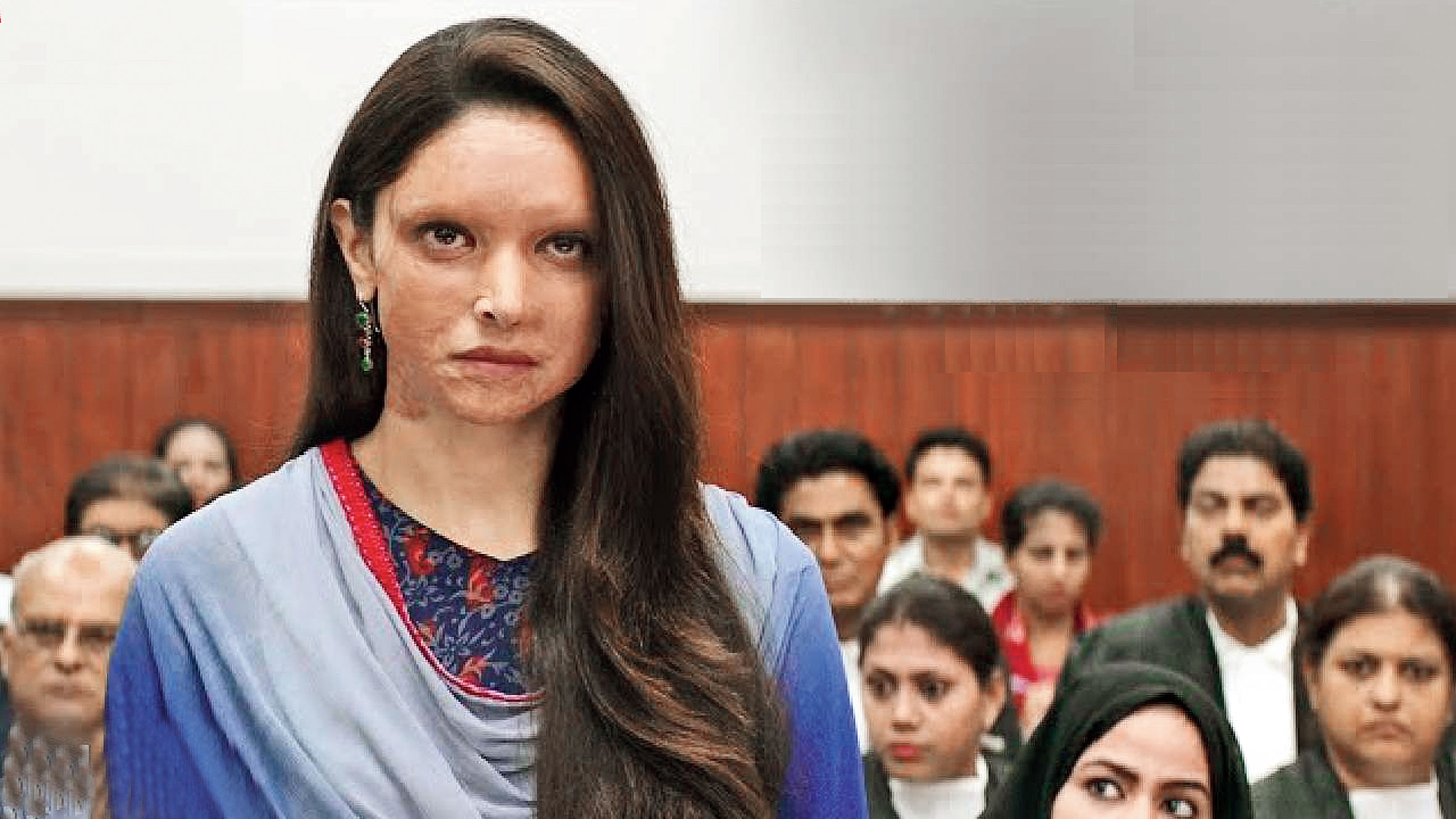 ---
Published 08.01.20, 12:32 PM
|
---
For a little more than a decade, Deepika Padukone has been one of Bollywood's brightest and most glamorous stars. In Sanjay Leela Bhansali's Padmaavat, her last Hindi release, she played a queen whose beauty triggered a war. In Chhapaak, a film that Deepika headlines and has also co-produced, she plays a character based on real-life acid attack survivor-turned-activist Laxmi Agarwal. This doesn't seem like an obvious choice for the actress, but Deepika maintains that she was fascinated by the story. Directed by Meghna Gulzar, Chhapaak, in cinemas on Friday, also stars Vikrant Massey. Deepika shared with t2 the emotional toll this film took on her and the drastic step she took at the end of shoot.
You had spoken about how Padmaavat was an emotionally and physically taxing experience for you. What kind of a film were you hoping to do next?
I was looking at doing a contemporary, light, romantic film and then I got a call saying Meghna wants to meet me. So, I met her and she came with this story that I was instantly attracted and drawn to. And I went for it. So yes, my headspace was completely different, she was also aware of that. But when a good story comes your way, I guess you just get drawn to it.
During the trailer launch of Chhapaak, you spoke about how within the first two minutes you knew you wanted to do this. Was there anything specific that made you think 'This is the film I'm going to spend the rest of the year with'?
I think it was Laxmi's entire life story and narrative that was so exciting, and somewhere we wanted to put that out there. There's also the fact that there's so much acid violence that goes on in our country that we're not even aware of. The film throws light on this and more importantly, talks about the fact that there is hope. It talks about the human spirit, it talks about trying and that, I think, is the overarching message in the film that we want people to see.
How aware were you of the acid violence prevalent in the country before you started the film?
I think I was as aware as everyone else and knew about whatever would get reported. But when you do a film like this, you learn so much more. There's a lot more technicality and detail and you're a lot more invested. I definitely learnt a lot more through the film and post the film, I'm a lot more aware today.
Was there one detail you learnt that took you completely by surprise?
Yes, but I think I'd like to answer that through the film.
This is the first time you're portraying the story of someone who will watch your performance. Was that daunting?
Yes, this is the first time I'm playing a real-life person. You certainly do get nervous, and there is an added sense of responsibility. When you are playing a fictitious character, the sky is the limit and you can do whatever you want with it. But when you're playing a living person, it has to be handled in a responsible manner and with sensitivity. It is trickier to do. I wasn't there when Meghna showed them (Laxmi and her family) the film in Delhi, if I'm not mistaken. But I did interact with her after that and she was extremely proud of the film that we've made.
Do you remember the first time you met Laxmi?
I had the opportunity of bumping into her a couple of times at several events. But meeting her for this film was obviously through a different lens. Apart from getting to spend a lot of time with her, there was also the filter of an actor, which means observing body language and mannerisms. So while Meghna didn't want me to look like Laxmi, there were some nuances like body language which we tried to incorporate. What we did was take inspiration from that — observing her, learning her mannerisms, those kinds of things. Her own personality as well is so magnetic and you can keep talking to her. There are so many sides to her that you'll see through the film and through Malti's character.
Would it be correct to say getting under the skin of this character was tougher than anything you've played before?
Yes, and there was a lot of emotional, mental and physical preparation. But I don't think you can prepare for actually going through it. So, the toughest moments for me were between 'action' and 'cut', and having to actually live the life of an acid attack survivor. It has certainly been the most challenging film of my career.
How do you then prepare yourself emotionally for a role like this, especially in light of your own mental health issues?
It definitely took a toll. I thought I could pull through and do it on my own, but I was spiralling. So at one point, I had to call my counsellor in to be with me. I'm also very claustrophobic and having to sit in that chair through prosthetics for three-and-a-half hours every morning, breathing through one nostril for 16-18 hours a day, really took a toll on me.
At what point did you decide to produce the film and why was it so important to you?
There are certain films you come across where you feel that they need to be handled with kid gloves, they need that extra TLC, they need that little extra involvement. And there's the fact that it's a film I'm extremely proud of. I also felt that adding that additional layer of involvement and contribution meant we could reach a lot more people and impact many more lives.
What kind of films do you see yourself producing in future?
I don't think production is going to consume too much of my time, and I want to set the record straight at least for now. I also don't think I can say at this point that these are the kinds of films we want to produce. We don't want to be stuck producing just one kind of cinema. So much of those decisions are based on where you are in your life and what is it that you want to say through these movies. I do intend making choices the same way that I do as an actor, which is instinct and gut, and we'll see where that takes us.
Glamour and how you look on screen is such an integral part of your stardom. Was it liberating in a sense, for an entire film, to not have to worry about how you look?
I wouldn't say I didn't have to worry about how I looked. It's a perspective, right? For me, Laxmi is extremely attractive and glamorous as well. It's something we all need to open our minds to. I think we've been fed with what glamour and beauty is in a particular way for so long. I think this film is really about challenging that and broadening that perspective.
You spoke about burning the prosthetics on the last day. What made you do that?
It was the intensity. I don't think I've played such an intense character before and I felt by doing that, it would probably help me start the process of letting go emotionally. I don't think I've achieved that entirely yet... I still feel there's a lot of Malti and Laxmi left in me. You'll see that when you see the two of us together. A lot of people have told us that we resemble each other so much and have so many similarities. Emotionally as well, I feel like I've lived her life. I'm able to put myself into her shoes, because not only have I spent a considerable amount of time with her but I've actually lived every moment that she's lived. There is that emotional baggage that I'll continue to carry and I don't think it'll leave my system entirely.
What do you hope the audience takes away from the film?
Many things. That's also one of the things I love about Meghna's films, that it's never just one thing. I think this film will talk to the audience on several levels and there are several things to take away. However, if I had to pick one overarching theme, it would be hope, triumph and the human spirit.
What's 2019 been like for you?
It's been a lot of creative fertility since Padmaavat, spending a lot of time with writers and directors. I've just been creatively nurturing myself and Chhapaak has been a part of that process.
It's also the first year after you got married...
That too (laughs). It's been a lot of fun, just kind of beginning to live with each other. That's been fun and exciting.
Is there a lot of movie talk at home or do you consciously avoid it?
Ranveer (Singh) likes to talk about work. I'm someone who consciously tries not to discuss work, but at the same time, it's not like we're not supportive of each other. It's not like we don't listen. After a long day, if you're playing difficult characters, we do talk about our days, but all our conversations do not revolve around cinema all the time.
You are going to start shooting for Shakun Batra's film this year. What can you tell us about it?
Shakun is someone I really look forward to working with because I'm a huge fan of his work. I think the way he handles family drama or relationships is amazing. He gets the nuances really well. This one is domestic noir and revolves around two couples. We start filming in March, we have Siddhant (Chaturvedi) and Ananya (Panday) on board. There's going to be one more person as well.